Movie Review
It's a Wonderful Life
It's A Wonderful Laugh! It's A Wonderful Love!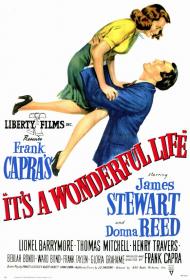 US Release Date: 12-20-1946
Directed by: Frank Capra
Starring
▸
▾
James Stewart

,

as

George Bailey
Donna Reed

,

as

Mary Bailey
Lionel Barrymore

,

as

Mr. Potter
Thomas Mitchell

,

as

Uncle Billy
Henry Travers

,

as

Clarence Oddbody
Ward Bond

,

as

Officer Bert
Frank Faylen

,

as

Ernie Bishop
H.B. Warner

,

as

Mr. Gower
Beulah Bondi

,

as

Ma Bailey
Gloria Grahame

,

as

Violet
Frank Albertson

,

as

Sam Wainwright
Todd Karns

,

as

Harry Bailey
Samuel S. Hinds

,

as

Pa Bailey
Lillian Randolph

,

as

Annie
Charles Lane

,

as

Real Estate Salesman
Ellen Corby

,

as

Miss Davis
Carl 'Alfalfa' Switzer

,

as

Freddie Othello
Robert J Anderson

,

as

young George Bailey
Karolyn Grimes

as

Zuzu Bailey

Reviewed on:
December 20th, 2001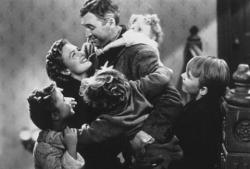 Donna Reed and Jimmy Stewart in It's a Wonderful Life.
It's no wonder that It's a Wonderful Life is one of the best-loved movies ever made. It ranks with Casablanca, The Wizard of Oz, Gone with the Wind and a select handful of other classic films that not only beg repeat viewing but have become cultural icons as well.
Frank Capra directs and Jimmy Stewart stars in this inspiring story of George Bailey. A small town everyman, stuck running his father's, barely solvent, building and loan when what he really yearns for is travel and adventure.
Then on a momentous Christmas Eve, a despairing George, on the brink of suicide, is visited by Clarence, an angel in training, who bestows upon him the 'gift' of seeing his world as it would be if he had never been born.
Donna Reed costars as Mary, George's beautiful and supportive wife. The great Lionel Barrymore, in one of his last screen appearances, is perfectly rotten as old man Potter, the richest and meanest man in Bedford Falls. The rest of the cast is equally good. Still Jimmy Stewart's incredibly heartfelt performance elevates this movie to the rarified status it holds. Anyone not moved by the final scene, where George gets his life back, has a heart of stone.
As a holiday ritual, this movie is particularly appealing to children. After all, the cop and taxi driver, Bert and Ernie, are namesakes for the popular Sesame Street characters. And what child doesn't know what it means when a bell rings?
There really isn't a wasted frame in this timeless masterpiece. Every second either advances the plot or ripens character development.
Though cynics may scoff at It's a Wonderful Life, as an overly idealistic, Capraesque slice of Americana; those of us with even a glimmer of childish innocence will continue to cherish this truly magical movie.
Reviewed on:
December 20th, 2002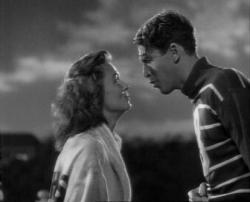 Donna Reed and Jimmy Stewart in It's a Wonderful Life.
Remember when the rights to this movie had expired, and anyone could show it? From Thanksgiving to Christmas Day, it was showing on one channel or another. I miss those days.
Yes, I know it is corny and sappy. I know that nearly every sitcom ever made has beaten the concept into the ground. I know it's going to have the same sugary ending every time. But as God as my witness, I get teary eyed every time Harry Bailey offers that toast to his 'big brother, George. The richest man in town.'
I think that at one time or another, we have all wished we could live, if only for a little while, in Bedford Falls. I know I have.

Reviewed on:
December 20th, 2003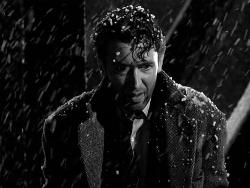 Jimmy Stewart in It's a Wonderful Life.
As great as this movie is Patrick, kids get bored silly with this film. No matter how many Sesame Street muppets are named after characters from this film, its pacing and message is far too adult for children to enjoy. This is however, a great sentimental film that adults, especially middle aged and up, can relate to. It may cause you to re-examine your own life. Children do not reflect on their life as it has just started.
As Scott wrote, It's a Wonderful Life is a heart tugger. George Bailey wants a life of accomplishment. He wants to see places and create things. He wants to leave his mark. Life however, keeps getting in his way. Every time he is about to go somewhere, something else keeps him where he is. He feels trapped.
He takes on his father's business, even though he does not want to. He puts his younger brother through college, even though he has yet to go himself. His mother pushes him to be with Mary. They get married and move into a house he earlier stated he hates. Instead of a fabulous honeymoon, as he planned, the stock market crash forces him to spend his vacation money otherwise. Life is pushing him in a direction he does not want to go.
Then comes the second act. It is Christmas and George seems to have found some satysfaction in the life he has found himself with. His Building and Loan has made many families happy and threatened Old Man Potter's monopoly on the town. His brother Harry is a returning decorated war hero.
Life however, just cannot seem to let George rest for too long. Uncle Billy loses some of the Building and Loan's money, he was supposed to deposit. This could cause it to go under or even force George to go to jail. He does not know where to turn. The stress of the problem brings back all of the frustration of everything that lead him to be at a point in his life that he never intended to be anywhere near. It drives him to resort to begging Old Man Potter and even contemplate suicide.
Stewart does some of the best acting of his career here. From yelling at Uncle Billy, "Where's that money, you silly stupid old fool? Where's that money? Do you realize what this means? It means bankruptcy and scandal and prison. That's what it means. One of us is going to jail - well, it's not gonna be me." He is also good when confronting Potter and crying on the bridge, Stewart, as George Bailey, speaks for any man who ever felt he had nowhere to turn.
George gets some divine help in the form of an angel in training, Clarence. He helps to show George that although he did not get to do the things he originally wanted to, he has still had a wonderful life. Is that not something we would all like validated about our own lives? The final scene of George discovering the full impact of his life by the many visitors is one of the most joyous ever put on film.
Photos © Copyright RKO (1946)