Movie Review
It's a Mad, Mad, Mad, Mad, World
If ever this mad, mad, mad, mad world needed a laugh.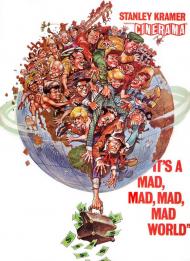 US Release Date: 11-07-1963
Directed by: Stanley Kramer
Starring
▸
▾
Spencer Tracy

,

as

Capt. T.G. Culpeper
Milton Berle

,

as

J. Russell Finch
Sid Caesar

,

as

Melville Crump, DDS
Buddy Hackett

,

as

Benjy Benjamin
Ethel Merman

,

as

Mrs. Marcus
Mickey Rooney

,

as

Ding 'Dingy' Bell
Dick Shawn

,

as

Sylvester Marcus
Phil Silvers

,

as

Otto Meyer
Terry-Thomas

,

as

Lt.Col. J. Algernon Hawthorne
Jonathan Winters

,

as

Lennie Pike
Edie Adams

,

as

Monica Crump
Dorothy Provine

,

as

Emeline Marcus-Finch
Jimmy Durante

,

as

Smiler Grogan
Eddie (Rochester) Anderson

,

as

Cab driver
Jim Backus

,

as

Tyler Fitzgerald
Jack Benny

,

as

Man in car in desert
Joe E. Brown

,

as

Union official
William Demarest

,

as

Police Chief Aloysius
Andy Devine

,

as

Sheriff of Crockett County
Peter Falk

,

as

Cab driver
Norman Fell

,

as

Detective at Grogan's crash site
Sterling Holloway

,

as

Fire Chief
Edward Everett Horton

,

as

Mr. Dinckler
Marvin Kaplan

,

as

Irwin
Buster Keaton

,

as

Jimmy the boatman
Don Knotts

,

as

Nervous man
Jerry Lewis

,

as

Man who runs over hat
Charles Lane

,

as

Airport manager
Zasu Pitts

,

as

Switchboard operator Gertie
Carl Reiner

,

as

Tower controller at Rancho Conejo
Arnold Stang

,

as

Ray
The Three Stooges

,

as

Firemen
Allen Jenkins

as

Cop

Reviewed on:
June 16th, 2004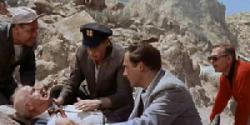 Jonathan Winters, Jimmy Durante, Milton Berle, Sid Caesar and Mickey Rooney in It's a Mad, Mad, Mad, Mad, World.
This is one of a handful of movies that created extreme excitement in the Three Movie Buff household when we were kids. The Wizard of Oz and Willy Wonka were two others. This was before the days of the DVD or even VCR's so the annual showing on television of one of these movies was a major event. I remember at least one time - around 1974 - Mad Mad World was shown on New Years Eve. To this day I associate it with that holiday.
Director Stanley Kramer reportedly made this movie in answer to critics complaints that he could make only serious dramas. He set out to prove them wrong by creating the comedy to end all comedies and I personally think he succeeded. The story is sublimely simple but peopled with a memorable array of funny characters. When a speeding car crashes off a cliff on a desert highway in Southern California, several witnesses stop to help. The dying driver of the car tells them about a large sum of money buried in Santa Rosita Beach State Park, on the Pacific coast, several hundred miles away. After several failed attempts at coming up with an equal system to split the dead thief's money among all of them, a race for the cash begins. Soon the police have them all under observation. Hoping to be led to the stolen money they don't interfere with the race itself, even when the mayhem starts escalating.
Spencer Tracy stands out as the lone serious actor, a steak surrounded by a bunch of hams in this comic smorgasbord. He provides the movie with its emotional core. The rest of the all-star cast boasts some of the greatest funny people in the biz. Milton Berle, Sid Caesar, Ethel Merman, Mickey Rooney, Phil Silvers and Jonathan Winters are but the tip of the iceberg. In fact it became somewhat of a status symbol at the time to be offered a cameo in this movie. Just check out the cast list to get an idea.
This movie has it all in terms of laughs: slapstick, pratfalls, mugging, sight gags, one-liners, verbal sparring, situation comedy, car chases, plane crashes, explosions. Not to mention what I think is the funniest dance ever done in a movie. Sylvester's beatnik girlfriend, with really bad posture, dances a variation of 'The Twist' clad in a black bikini that makes me crack up uncontrollably whenever I watch that scene.
This movie has many quotable lines of dialogue. Often it is not so much what is being said as how it is being said. Here are some of my favorites...
Smiler Grogan: "There's all this dough see. Three hundred and fifty G's. Buried under a BIG DUBBUYA!"
J. Russell Finch: "Did you see the way he just went SAILING right out there?"
Emmeline Finch: "Oh Russell, I feel sick."
J. Algernon Hawthorne: "I'll wager you anything you like, if American women stopped wearing brassieres, your whole national economy would collapse overnight!"
Sylvester Marcus: (crying) "That's what I'm here for. That's why you had me Mama, to save you."
Mrs. Marcus: "Exactly like your father: a big, stupid, muscle-headed moron!"
Lennie Pike: "Even businessmen, who rob and cheat and steal from people everyday, even they have to pay taxes."
Benjy Benjamin: "Now look! We've figured it seventeen different ways, and each time we figured it, it was no good, because no matter how we figured it, somebody didn't like the way we figured it! So now, there's only one way to figure it. And that is, every man - including the old bag - for himself!"
Tyler Fitzgerald: "You know what? I need a drink. There's some ice and stuff back there. Why don't you make us all some old fashioneds?"
Ginger Culpeper: "You keep forgetting if a girl is six-feet-five inches tall, she's bound to have special problems."
Capt. T.G. Culpeper: "BILLIE SUE LISTEN TO YOUR MOTHER!!!"
Capt. T.G. Culpeper: "Culpeper. Things are gonna take just a bit longer than I thought. There was a joker in the deck that nobody knew about."

Reviewed on:
June 23rd, 2004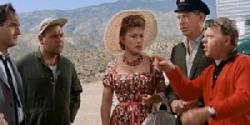 Sid Caesar, Jonathan Winters, Ethel Merman, Milton Berle, and Mickey Rooney in It's a Mad, Mad, Mad, Mad, World.
As Patrick spent so much time on the one-liners, I will go on about the physical comedy. Below are some of my favorite bits of slapstick.
One of the best and funniest uses of symbolism is at the beginning of this movie. Durante dies on the side of a cliff. As he dies, he kicks a bucket lying by his foot.
One of my favorite scenes, from when I watched this as a child, is when Jonathan Winters gets tricked by Phil Silvers. Silvers tells a couple of morons working at a brand new gas station that Winters is a psycho and they need to keep him tied up until someone comes and gets him. Winters breaks free and beats the living crap out of the two gas station attendants and destroys the entire gas station.
Milton Berle, and most English actors, come across as soft and delicate. So watching Berle have a fist fight with Englishman Terry Thomas is one of the funniest scenes in the movie. Both are so pathetic that either one could lose a fight to a 10-year-old.
Another funny scene is when Sid Caeser and Edie Adams take a ride in a very old airplane. It is so slow that the cars below them are moving faster than they are. Adams screams, while in flight, when she sees a bug on the airplane windshield. Caeser tries to kill it. He ends up breaking the windshield, damaging a wing and putting his foot through the floor.
The last scene in the movie is classic. Big mouthed Ethel Merman storms into a hospital ward and is preparing to give everyone in the room an ear full, when she slips on a banana peel and falls on her ass. It is the oldest slapstick device ever used, but it has never been done better.
Reviewed on:
July 4th, 2011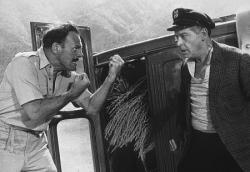 Terry-Thomas and Milton Berle engage in fisticuffs in It's a Mad, Mad, Mad, Mad, World.
As you say Patrick, this movie was a childhood favorite of ours. In fact, just watching it is so steeped in nostalgia for me, that it's difficult for me to even watch it objectively. Although I caught bits and pieces of it over the years, I hadn't sat down and watched it straight through in probably over 25 years, so watching it now was something of an event.
It's funny how memory works. I sometimes forget what I went into the kitchen for, but I remembered every single second of this movie. From the opening scene of the cars racing through the desert, right up until the final banana peel slip that you mentioned Eric. It all came back to me as I watched. Only now I was seeing with the eyes of a grown man, which did skew my perception a bit.
Some of the jokes lived up to my memory, while some did not. I still laughed out loud when Buddy Hackett and Mickey Rooney are in the airplane trying to land it, but some other jokes do go on for too long. Given that this movie is over 2 and a half hours long though, the humor is sustained very well.
I think the biggest change in my attitude watching it this time is simply that I didn't really want any of them to get the money except maybe for Spencer Tracy. As a kid, I remember rooting for this character or that, but really, all of them are greedy, manipulative idiots, who if they'd just act together, could have collected the money quite easily. I remember thinking that Milton Berle's wife deserved the money because she didn't race after it like everyone else, but this time I saw that she's cold and rude, never once standing up to her mother or defending her husband. She's as bad as the rest of them. Only Tracy got my empathy this time, but he squanders it by going after the money himself.
I also noticed a few plot holes this time around regarding how the police are able to keep up with everything that's going on with the racers. For instance, there's no sign of the police around when Jonathan Winters meets Phil Silvers, but they know he's in on the race. They track Sylvester as he's driving to meet his mama, but how do they know to do this? And how do they know Sid Caesar and his wife (whom I never noticed how hot she was until now (check her out in the torn dress when they escape from the basement)) are locked in the basement of the hardware store? None of that is really important, but I did notice it.
Patrick, you mentioned the line, "I'll wager you anything you like, if American women stopped wearing brassieres, your whole national economy would collapse overnight!", which is a good one, but really it's the end line to a whole rant about America being obsessed with bosoms, which is hilarious as well and it leads up to the fight you mentioned Eric, which is the weakest (and funniest) movie fight until Colin Firth and Hugh Grant went mano-a-mano in Bridget Jones' Diary in 2001.
There are so many comic nuggets buried during this movie's long running time. Okay, so maybe it didn't quite live up to my childhood memory of it, but I don't think anything could. Still, this is a very funny movie with many wonderful moments.
Photos © Copyright United Artists (1963)