Movie Review
It
She had 'IT'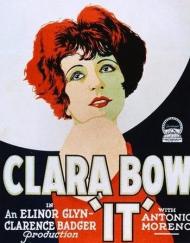 US Release Date: 02-15-1927
Directed by: Clarence Badger
Starring
▸
▾
Clara Bow

,

as

Betty Lou Spence
Antonio Moreno

,

as

Cyrus Waltham Jr.
William Austin

,

as

Monty Montgomery
Priscilla Bonner

,

as

Molly
Jacqueline Gadsden

,

as

Adela Van Norman
Elinor Glyn

,

as

Herself
Gary Cooper

as

Newspaper Reporter

Reviewed on:
February 15th, 2001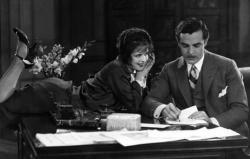 Clara Bow and Antonio Moreno in It.
It is a fun, light-hearted romantic comedy with a winning performance from quintessential flapper, Clara Bow. This movie has become synonymous with her career and movie star image. So much so, that even today she is remembered primarily as 'The It Girl'. She was the last female superstar of the silent era and the one who best represents the jazz-age. When sound came in she was unable to adapt and sadly her career ended as quickly as it had begun. She spent the rest of her life battling mental illness and shortly before her death in 1965 she said the oft-quoted line. "I pass the torch of 'It Girl' not to Taylor or Bardot, but to Monroe." Ironically, Marilyn was already dead at this time.
'It' was coined by novelist Elinor Glyn as a way of describing someone with sex appeal. She even appears in the movie during a scene at The Ritz to explain her meaning of the term; creating a classic moment in early Twentieth Century pop-culture.
The story is a case of opposites attracting. When the common yet incredibly vivacious sales-girl Betty Lou Spence falls in love with her handsome, sophisticated boss sparks fly, until he mistakenly thinks she is an unwed mother. Can they iron out this dirty little wrinkle in their relationship in time for true love to reign supreme?
The movie has several well-known scenes, including the couple's first date at Coney Island and the finale aboard his yacht. Gary Cooper, who appeared in bit parts in dozens of silent movies before becoming a huge star in the talkies, shows up as a journalist covering the shocking story of the 'unwed mother'.
It is not only a breezy seventy minutes of entertainment, it is also the perfect vehicle for Clara Bow's unique charms and a priceless time capsule of American society and male/female relationships from many decades ago.

Reviewed on:
November 3rd, 2010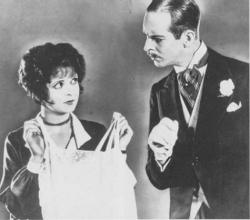 Clara Bow and William Austin in It.
I kept thinking of Liza Minnelli as I watched this. In Caberet, Liza's hair is similar to Clara Bow's. She even imitates Bow in one scene. Liza's role in Arthur is likewise similar to Bow's in It. At a clothing store, a middle class girl meets a very rich man. They fall in love, but their social classes and attitudes cause problems in their relationships. Both films have the rich guy's best friend step in and help. Both also feature a scene in which the girl sneaks into a party he is attending.
Clara Bow was definitely charming. She was as cute and vivacious as they come. She is the best part of this silly little film. It is memorable to film buffs for the star power of Clara Bow only. The entire story hinges on a single misunderstanding. Threes Company did that every week and it only took them a half hour to solve the issue.
Patrick mentioned Clara Bow's quote about Marilyn Monroe. The yacht in the movie reminded me of the one Monroe and Tony Curtis are on in Some Like it Hot. It may not be the same one, but it takes place two years after It was made.
Reviewed on:
April 14th, 2012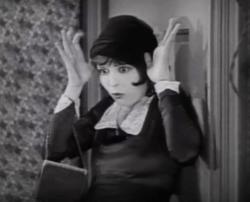 Clara Bow in It.
Both Eric and Patrick used the word "vivacious" in reference to Clara Bow and I completely agree with their description. She is adorable here and so animatedly charming. Adding to the vivaciousness is the fact that she never stops moving. Watch her performance closely. She fidgets, plays with her hair or taps her foot continuously. This constant movement draws your eyes to her irresistibly. It also doesn't hurt that she's as cute as a button.
Patrick, you say that Bow was the actress who best represented the Jazz Age and not only do I agree, but I would say that so does this movie as a whole. It perfectly captures the era. It is so very much of its time. Bow is the perfect flapper. The costumes, the hairstyles, the slang on the dialogue cards and even the locations, which consist of the silent film staples of a department store, amusment park and a yacht, all reek of the 1920s. It's virtually an F. Scott Fitzgerald short story come to life.
I agree with Eric that the plot is simple, but to me that makes it no less enjoyable or less charming. It's a lightweight movie, but there's enough plot to sustain its mere 70 minute running time. There's no filler and the pacing is quite brisk. While it does mainly rest on the waifish shoulders of its star, William Austin does provide some laughs playing Monty, the idle rich friend of both Waltham and Betty Lou.
There's a quote often attributed to Marilyn Monroe that was actually said by Clara Bow. She once said, "Being a sex symbol is a heavy load to carry, especially when one is tired, hurt and bewildered." As Patrick wrote, the end of her life was a sad one. So was the beginning of it. Her mother was institutionalized after threatening Clara with a butcher knife. She grew up in Brooklyn in poverty with her abusive father. The last years of her life were spent as a recluse.
She was a big enough star and still young enough that her career could have continued into the sound era. She was just 22 when The Jazz Singer was released. In fact, she made several talkies and even sang in a couple of them, but as Patrick mentioned, she reportedly couldn't adapt to the microphones. Her fragile mental state also wasn't helped when in 1931, a tabloid called The Coast Reporter printed unfounded stories accusing her of incest, lesbianism, drug addiction and even bestiality.
Bow's star didn't burn for long. Her film career only lasted around 10 years. But it did burn brightly. Never more so than in this film. Whatever "It" is, Clara Bow had it in abundance.
Photos © Copyright Paramount Pictures (1927)