Movie Review
It Started in Naples
It started in Naples. Now see how it ends.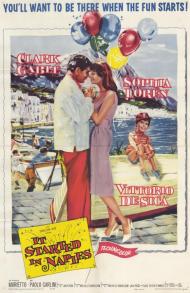 US Release Date: 08-07-1960
Directed by: Melville Shavelson
Starring
▸
▾
Clark Gable

,

as

Michael Hamilton
Sophia Loren

,

as

Lucia Curcio
Vittorio De Sica

,

as

Mario Vitale
Marietto Angeletti

,

as

Nando Hamilton
Paolo Carlini

,

as

Renzo
Giovanni Filidoro

,

as

Gennariello
Claudio Ermelli

as

Luigi

Reviewed on:
April 15th, 2004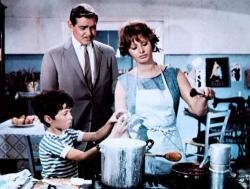 Clark Gable and Sophia Loren in It Started in Naples.
It Started in Naples was Clark Gable's penultimate movie (The Misfits would be the only one he would make after this) and it is really his swansong as a romantic leading man. Gable began his career playing opposite stars like Greta Garbo and Norma Shearer, he would end it with Sophia Loren and Marilyn Monroe. Yes men were - and still are for that matter - allowed to age much more slowly than women on the big screen.
Gable plays Michael Hamilton a conservative Philadelphia attorney who goes to Italy to settle his bohemian brother's business affairs after his untimely death in a car accident, only to discover that his brother left behind a ten-year-old son. He is at first appalled at the way his nephew is being raised. He lives with his twenty-something aunt (Sophia Loren at her most voluptuous) who sings at a local nightclub. The unsupervised boy stays up all night, smokes cigarettes and doesn't go to school. Later when the aunt is afraid of losing custody she sends him off to school telling him to 'just ask someone where it is'. Of course this being a romantic comedy the ending is never really in doubt. You know the stuffy American and the free-spirited Italian will get together and raise the boy.
The isle of Capri is presented as an exotic, decadent enclave of nonstop parties, with a racially and sexually diverse group of citizens. This provides the perfect setting for romance and culture shock.
Sophia does a sexy rendition of 'Americano' wearing just a man's dress shirt and her panties. She also demonstrates a great flair for comedy. Gable is great as always. He exudes a gruff self-confidence, which is one of the sexiest assets a man can have. He also seems like he would have made a wonderful grandfather. Still it is Marietto Angeletti as the precocious Nando Hamilton who easily steals the movie. He delivers most of the pathos and laughs with his exuberant mix of world-weariness and innocence.
The plot may be a bit rusty, but this is still one of my favorite Clark Gable movies. It Started in Naples provides the perfect bookend to It Happened One Night. Long live the King.

Reviewed on:
September 16th, 2006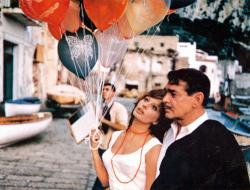 Sophia Loren and Clark Gable in It Started in Naples.
This was Gable's last comedy and he delivers many of the laughs. "Your not supposed to be open minded. Your supposed to be my lawyer." He and Loren work wonderfully together, despite the age difference. In real life, she married a man who was 22 years older than her. In one scene, Loren pretends to be very sad, to which Gable remarks sarcastically, "I forgot, who won the Academy Award this year?" Gable's sarcasm works throughout the movie. When Nando shows Gable his home, he proudly says, "It's 200 years old." to which Gable says, "It doesn't look a day over 199."
It Started in Naples is far more than just a light romantic comedy. Gable arrives in Naples in a suit and tie. Once he starts dating Loren, she takes his tie and jacket off and he ends up dressing more casually when around her. Obvious symbolism of her getting him to relax. The final scene of him asking, "Hey, Anybody here help me get this tie off?" Punctuates it perfectly.
Gable's successful lawyer and Loren's night club performer go to court over custody for Nando. Gable has the money and, more importantly, maturity to give Nando many things. Loren has little, other than love, to give Nando. She allows him to smoke, drink, stay out all night and not go to school. After Loren is given custody, Gable says to Loren, a line that would never appear in today's politically correct, single mother driven world , "You've won, but Nando lost." When did our society abandon such basic logic?
It Started in Naples is a great film for many, many reasons. One that I must mention is the scenery. Shot completely on location, it shows the island of Capri as a great place to visit. The scenery and the night life look very enticing, at least they did in 1960. I wonder how they staged some of the crowd scenes. On several occasions, Gable walks through a group of people and many of the extras stare obnoxiously at Gable or directly at the camera. It almost looks as if the people did not know they were making a movie at all.
Photos © Copyright Paramount Pictures (1960)