Movie Review
It Runs in the Family
In "A Christmas Story" Ralphie raised the roof. This summer, the whole family is bringing down the house.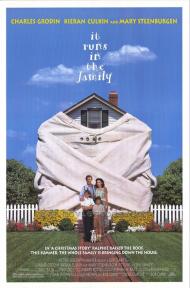 US Release Date: 09-23-1994
Directed by: Bob Clark
Starring
▸
▾
Charles Grodin

,

as

Mr. Parker
Kieran Culkin

,

as

Ralph 'Ralphie' Parker
Mary Steenburgen

,

as

Mrs. Parker
Christian Culkin

,

as

Randy Parker
Al Mancini

,

as

Zudoc, The Old Man's fishing buddy
Troy Evans

,

as

The Old Man's fishing buddy
Roy Brocksmith

,

as

Mr. Winchell the Assessor
Glenn Shadix

,

as

Leopold Doppler, Manager of Orpheum Theater
Dick O'Neill

,

as

Pulaski, Shopkeeper
Wayne Grace

,

as

Emil Bumpus
Tedde Moore

,

as

Miss Shields, Ralphie's Teacher
Whit Hertford

,

as

Lug Ditka
Geoffrey Wigdor

,

as

Flick
David Zahorsky

,

as

Schwartz
Darwyn Swalve

as

Big Dickie Bumpus

Reviewed on:
July 6th, 2014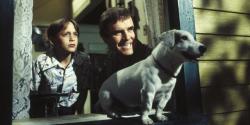 Kieran Culkin and Charles Grodin
It Runs in the Family was originally titled My Summer Story as it was a sequel to the cherished holiday favorite, A Christmas Story (1983). MGM had the name changed just prior to its theatrical release but returned to it when the movie went to video. The assumption being that it was a lesser film and MGM did not want it compared to A Christmas Story. It was a fruitless effort as its association with that Christmas classic is the most it has going for it.
It Runs in the Family/My Summer Story takes place the summer after the winter that brought Ralphie his beloved red rider bb gun. It begins at the end of the school year where the only returning cast member, Tedde Moore as Miss Shields, makes a brief appearance. We meet a new villain, Lug, for Ralphie to deal with. Lug is the local champion top spinner and Ralphie makes it his goal to get the best top he can and beat Lug.
Ralphie is not the only one with a quest this summer. The old man goes to battle with the hillbilly neighbors, while Mrs. Parker loses her patience at a movie theater offering movie star dishware. Mr. Parker blowing his top and Mrs. Parker's collection of Ronald Coleman gravy boats are worth some smiles but none of these events create any actual laughs.
In fact, the entire film is warm and light but it never comes close to being as hilarious as Ralphie getting Santa's boot in his face. Not only are the jokes milder, but the plot is more of a series of events without a central driving plot device. By the end of the film, Ralphie experiences an important moment with his father that all boys need to have, but it is hardly a decent climax to a film, at least not as how it is executed here.
As the original cast is so associated with their characters, it was an uphill battle for these actors to play their roles. Charles Grodin has it the worst portraying Mr. Parker, as Darren McGavin left such an impression on the part. Often, Grodin seems to be attempting an impersonation, making his voice growl, when he should have simply played the role in his own way. Steenburgen fares better but she is never given a truly great moment to shine. Real life brothers, Kieran and Christian Culkin play Ralphie and Randy but neither are anywhere near as charming as Peter Billingsley and Ian Petrella. Ralphie's best friends, Flick and Schwartz, barely make an appearance.
The best I can write of this movie is that the characters are so very familiar and likable that watching this film is like paying a summer visit to some old friends. The producers wisely chose to film it in the exact same house and it is interesting getting a glimpse of the neighborhood without its winter cover. Jean Sheppard once again narrates, bringing his cozy, friendly voice to the proceedings. It Runs in the Family/My Summer Story is worth a watch but unlike its predecessor, you will likely not find yourself wanting an annual viewing.
Photos © Copyright Metro-Goldwyn-Mayer (MGM) (1994)