Movie Review
The Iron Petticoat
Bob and Kate...Simply Great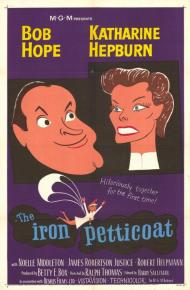 US Release Date: 01-07-1957
Directed by: Ralph Thomas
Starring
▸
▾
Bob Hope

,

as

Major Charles "Chuck" Lockwood
Katharine Hepburn

,

as

Capt. Vinka Kovelenko
Noelle Middleton

,

as

Connie
James Robertson Justice

,

as

Col. Sklarnoff
Robert Helpmann

,

as

Ivan Kropotkin
David Kossoff

,

as

Dubratz
Alan Gifford

,

as

Col. Newt Tarbell
Nicholas Phipps

,

as

Tony Mallard
Paul Carpenter

,

as

Maj. Lewis
Sid James

,

as

Paul
Alexander Gauge

,

as

Senator Howley
Sandra Dorne

as

Tityana
Reviewed on:
December 6th, 2012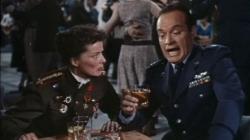 Katharine Hepburn and Bob Hope in The Iron Petticoat.
The Iron Petticoat is quite an odd movie. The screenplay for it was originally titled Not for Money. It was written by celebrated screenwriter Ben Hecht with Katharine Hepburn in mind for the lead role. Cary Grant was the first choice to costar with Hepburn in what would have been their fifth movie together and their first since The Philadelphia Story in 1940. Alas that wasn't to be. Instead, enter Bob Hope. Yes, I said Bob Hope.
It was renamed The Iron Petticoat with major changes to the script courtesy of Hope's gag writers. This so infuriated Hecht that he lobbied unsuccessfully to have his name removed from the script. Hope Enterprises also cut some 12 minutes from the film, mostly of Hepburn's scenes. Hecht and Hope had a public feud over the movie via ads in The Hollywood Reporter. When MGM's distribution rights expired in 1970 the copyright transferred to Bob Hope. He never allowed the movie to be shown on television or be released for sale on video or DVD. As for Hepburn, (according to Robert Osborne of TCM) she never once made mention of the movie in her autobiography or in any interview she ever gave.
Now at long last the movie has been made available through Turner Classic Movies.
The plot is quite derivative of Ninotchka with Hepburn making like Garbo as a Russian pilot that defects to West Germany because she feels insulted as a woman. She is quickly paired with Hope who plays a Major in the United States military and is given the mission of converting her to the joys of democracy and capitalism. Of course all the while she is trying to convert him to socialism and they fall in love in the process.
One of the best jokes comes at a bar when Hepburn orders Hope to dance with her. The bartender asks Hope, "What's your strategy?" "Right now I'm torn between suicide and desertion!" Hope replies with classic comic timing. Although to be fair he plays the role straighter than in most of his films. He is less of the wisecracking coward that he normally played and more of a standard hero who just happens to make a few funny and well timed quips.
Hepburn's Russian accent comes and goes to varying degrees. At times she seems almost embarrassed to be sharing the screen with Bob Hope. At other times her natural comic flair shines through and she is quite funny. She also gets a few brief moments of drama to showcase her immense screen presence. And of course she is stunning to look at with that thick mane of hair, those famous chiseled cheek bones and her stunning red lips.
But no matter how hard they both try (and they do seem to be giving it their all), the styles of Hepburn and Hope just don't mesh. They were both such icons with such different career trajectories that it seems weird to even see them on the screen together. It helps that they are playing such polar opposites but no matter how you slice it Bob Hope and Katharine Hepburn just don't fit together.
The Iron Petticoat provides a few chuckles but lacks in originality. And the pairing of Hope and Hepburn is just so damn strange. At the time this movie was made Bob Hope was 52 and Katharine Hepburn was 48. They would both go on to live long lives and died within a few weeks of each other, in fact, in the summer of 2003, some 47 years after appearing together in this movie. Hope was 100 and Hepburn 96 when they passed away. Now at long last their one and only screen collaboration is available to watch and own. Was it worth the wait? You'll have to be the judge of that.
Photos © Copyright Hope Enterprises (1957)
Related Review