Movie Review
The Irish in Us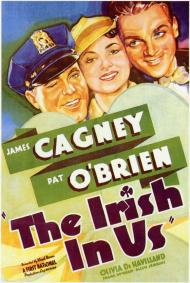 US Release Date: 08-03-1935
Directed by: Lloyd Bacon
Starring
▸
▾
James Cagney

,

as

Danny OHara
Pat O'Brien

,

as

Pat OHara
Olivia de Havilland

,

as

Lucille Jackson
Frank McHugh

,

as

Mike OHara
Allen Jenkins

,

as

Carbarn Hammerschlog
Mary Gordon

,

as

Ma OHara
J. Farrell MacDonald

,

as

Capt. Jackson
Thomas E. Jackson

,

as

Doc Mullins
Harvey Parry

,

as

Joe Delancy
Edward Keane

as

Doctor
Reviewed on:
March 22nd, 2007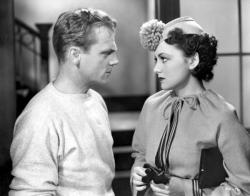 The Irish in Us
It's no wonder Turner Classic Movies ran this on St. Patrick's Day. It's as Irish as shamrocks and leprechauns. James Cagney, Pat O'Brien and Frank McHugh play the O'Hara brothers, Danny, Pat and Mike. Pat's a cop, Mike's a fireman and Danny's a sometime fight manager. They all live at home in New York City with their doting, but tough, mother. Mary Gordon, as Ma O'Hara, delivered her lines with a thicker brogue than Thomas Mitchell used as that more famous O'Hara parent in Gone With the Wind four years later.
The plot of The Irish in Us is flimsy and familiar. Pretty much two things happen. One is that Cagney promotes a fighter named Carbarn Hammerschlog (Allan Jenkins). Whenever a bell goes off Carbarn starts throwing punches. The other is that Danny and Pat both fall for the same girl.
The girl being none other than Miss Olivia de Havilland. This was the follow-up role to her movie debut opposite Joe E. Brown in Alibi Ike. She is pretty and charming and has movie star appeal but her lack of experience before the camera shows. But then she was still a teenager.
Now anyone who has ever watched a Jimmy Cagney picture should know how both of these situations will turn out. First of all, of course he gets the girl. Where would Pat O'Brien get off thinking he could get a girl over Cagney? And as far as the boxing thing goes any true fan could tell you that Carbarn gets knocked out right before the big fight and Danny steps in for him and KO's the champ. I mean could it really end any other way?
As a comedy this movie fails. An example of the humor is Mike mistakenly wrapping his own fingers in with Carbarn's hand while prepping him for the fight. This sight gag was tired in 1935 but that didn't stop Barbra Streisand from recycling it 44 years later in The Main Event.
What does work is the homey sentimentality of the O'Hara family. When Danny packs to move out because of the friction between him and Pat, Ma O'Hara cries that she's never had a son leave home before. Danny contradicts with, "What about the time Mike ran away to Staten Island." Not only is it the funniest line in the movie, it also makes the characters believable even if the story is not.
Photos © Copyright Warner Bros. Pictures (1935)