Movie Review
Invictus
His people needed a leader. He gave them a champion.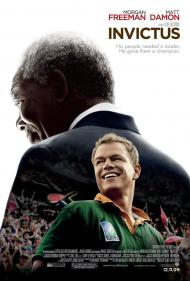 US Release Date: 12-11-2009
Directed by: Clint Eastwood
Starring
▸
▾
Morgan Freeman

,

as

Nelson Mandela
Matt Damon

,

as

Francois Pienaar
Adjoa Andoh

,

as

Brenda Mazibuko
Tony Kgoroge

,

as

Jason Tshabalala
Julian Lewis Jones

,

as

Etienne Feyder
Scott Eastwood

as

South African Springbok kicker


Reviewed on:
December 16th, 2009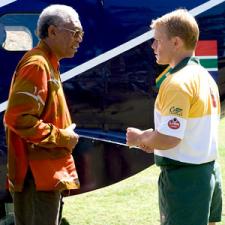 Morgan Freeman and Matt Damon.
Invictus is a film that wants to lift your spirits. It takes a sports team and uses it as symbolism for the unifying of a divided nation. Mostly though, it wants you to believe in the diplomatic genius of Nelson Mandela.
My 16 year old son had never heard of Mandela or apartheid. Although he was bored with Invictus, I was glad he watched it with me as a learning experience. The movie opens with Mandela's release from prison and election as President of South Africa. It fails to mention why he was arrested, which was for sabotage and blowing things up in protest of apartheid. In the movie, a white man calls him a terrorist, but he is made to seem a bigot by saying it. Mandela's action in the early 60's, morally justified or not, were very much terrorist like.
Although Mandela faced many issues, as any new President would, he had the unique problem of having to bring together two different groups of people. The white minority had run most of the government and business's, while the majority blacks were mostly poor. According to Invictus, Mandela decided to use Rugby as a way of helping to bring together the two races. While attending a Rugby match, Mandela noticed that the black Rugby fans rooted for England while the white Rugby fans rooted for their national team, The Springboks. The world cup was a year away and he saw an event to get the entire country behind.
Mandela's bravest moment in the film comes when he addresses a group of blacks who have just voted to change the name and uniform of the Springboks. Mandela tells them that they must find a way to not see the players uniform as representing the old ways of apartheid. They hold another vote and they barely decide to leave it as is. Mandela had already changed the national ensign and anthem anyway. Compared to that, the players uniforms seem rather meaningless, but the movie plays it up.
Mandela meets with the Springboks captain, Francois Pienaar. Mandela becomes a little obsessed with the team's chances of winning the 1995 Rugby World Cup. The Springboks in turn visit black neighborhoods where the children only cheer for the teams one black player.
Morgan Freeman bought the film rights to the 2008 book written by John Carlin, Playing the Enemy: Nelson Mandela and the Game that Made a Nation. Freeman is a producer on the film while his long time friend, Eastwood directs. Matt Damon, to me at least, has grown as an actor and he does a good accent playing Pienaar, as someone a little over whelmed by being asked to help unify a nation.
Mandela's legacy is written in stone. He will forever be remembered for being an amazing person who did great things. He has received hundreds of awards since his release from prison. He had a daunting task, and pulled it out. The movie shows one of his first acts as President was too keep the staff that was in office before him. It can be viewed as an olive branch or maybe he simply needed them to make his transition easier.
Call me cynical, but no man is perfect, and it bothers me that he is being portrayed here as such. Mandela spoke on behalf of the Lockerbie Terrorist, to get him sent home, so he may die of cancer near relatives. I guess Mandela could relate to an imprisoned terrorist more than he could the relatives of the slain victims who protested the release.
The entire point of Invictus is to show Mandella as a peace maker. He did things that upset both sides. He made a point to hire white body guards, which bothered his already on staff black body guards. The blacks called Mandela, Mandiba while the whites called him Mr. President. The movie uses their storyline of getting along as symbolism for the entire nation coming together.
In real life, Mandela still used racism as an excuse to make a point. On January 30, 2003, CBS News World reported, "He (Mandela) accused Mr. Bush and British Prime Minister Tony Blair of undermining the United Nations and U.N. Secretary-General Kofi Annan, who is from Ghana." The article then quoted Mandela as saying, "Is it because the secretary-general of the United Nations is now a black man? They never did that when secretary-generals were white,"
Invictus is a good story, with an uplifting message. The final Rugby match shows how the attitudes of South Africa supposedly changed. I say "supposedly" because this movie should be viewed only as such. My 16 year old pointed out that he watched three different Hollywood made movies in his American West history class. No doubt Invictus will one day find its way into schools. I just hope the teacher will be brave enough to not let the movie be the students entire education on Mandela.
Reviewed on:
December 29th, 2009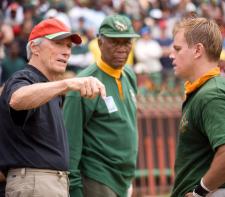 When I first read your review Eric, I thought that you were spending more time reviewing Mandela than you were the movie, but now I do see your point, even if you do bang on about it too much. Yes, this movie does make Mandela out to be a bit saintly. This didn't bother me so much historically (since if someone is relying on this movie for their only knowledge of South Africa, they've got bigger problems) as it did dramatically. Mandela is so saintly and good here that it's difficult to relate to him. He hardly seems human. It's easy for a saint to accomplish things, but had they made him seem more human, with a flaw or two, it would have increased the drama. Or, if you want him to be a saint, don't tell the story from his point of view, but instead tell it from someone around him to whom Mandela seems like a saint.
Clearly though, this movie's biggest problem isn't its depiction of Mandela. The biggest problem is that it is frankly pretty boring. Damon does an okay accent, but other than that is fairly dull and just about any buff blonde could have played the part. Mandela, as I said is so saintly as to be boring. The rugby scenes are short and contain very little tension. I didn't care whether or not they won, especially since we already know the result. I thought some of the minor characters were interesting, like the bodyguards and the rugby players themselves, and might have been more intrigued if the entire story had been told from their point of view.
Also, every sports movie needs that big rousing moment when you can stand up and cheer for them. When they either win or achieve their goal and you feel a bit of that vicariously. Although this movie has a scene like that, I wasn't feeling anything but relief because I knew it meant the movie would soon be over.
Eastwood has grown so much as a film director I was really surprised by how bored I was by one of his movies. Maybe if he had appeared in the movie he could have spiced it up a bit. I can just see him as the grumpy old Rugby coach, "Get off my rugby field, you god damn New Zealanders!"
If this movie does make it's way into schools some day, I just hope the teacher makes sure everyone stays awake during it.
Reviewed on:
November 10th, 2010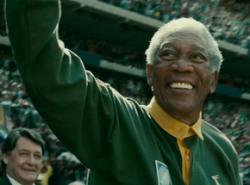 Morgan Freeman is good as Nelson Mandela but the accent comes and goes.
This movie is not about the life of Nelson Mandela, it is about his early years as President of South Africa and his uniting of the strongly divided country using the rugby team. Yes the movie portrays him as saintly but I would just like to point out that the man himself had nothing to do with how he was shown.
He also admitted his culpability in the planned acts of sabotage (which were not intended to physically harm anyone) and has acknowledged the fact that as the leader of the ANC's (African National Congress) armed wing he violated other's civil rights in his protesting of Apartheid. For this the man served 27 years in prison.
As for the movie, it is not so good. It is corny, poorly edited and miscast. Freeman is good as Mandela. He brings the necessary gravitas to the part even if his accent comes and goes. Damon, though, is both too old and too small for his role as a rugby star. The real Francois Pienaar was 28 in 1995, Damon was 38 playing the part, Pienaar is 6'3" and Damon 5'10". Eastwood's normally sure-handed direction seems distant and distracted. He keeps his characters at arms length. And what was up with that cheesy slo-mo scene during the climactic rugby world cup match?
I was curious about the movie's title so I looked it up. "Invictus" is a poem by the English poet William Ernest Henley, first published in 1875. The word comes from the Latin for unconquered. Mandela quotes the poem at the end, "I thank whatever gods may be / For my unconquerable soul. / I am the master of my fate / I am the captain of my soul."
This story is ripe for the cinema; unfortunately Clint Eastwood fails to do it justice.

Photos © Copyright Warner Bros. Pictures (2009)
Related Review