Movie Review
The Intouchables
Sometimes you have to reach into someone else's world to find out what's missing in your own.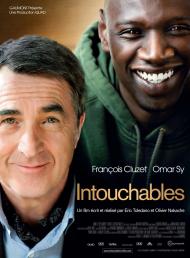 France Release Date: 11-02-2011
Directed by: Olivier Nakache, Eric Toledano
Starring
▸
▾
Francois Cluzet

,

as

Philippe
Omar Sy

,

as

Driss Bassari
Audrey Fleurot

,

as

Magalie
Clotilde Mollet

,

as

Marcelle
Anne Le Ny

,

as

Yvonne
Alba Gaia Kraghede Bellugi

,

as

Elisa
Cyril Mendy

,

as

Adama
Christian Ameri

,

as

Albert
Gregoire Oestermann

,

as

Antoine
Marie-Laure Descoureaux

,

as

Chantal
Absa Dialou Toure

,

as

Mina
Salimata Kamate

as

Fatou

Reviewed on:
October 4th, 2013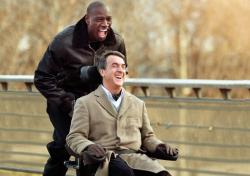 Omar Sy pushes Francois Cluzet in The Intouchables.
On the surface The Intouchables is a charming dramedy with an uplifting message about humanity. It moves along at a brisk pace, mixes humor with emotion effortlessly, and features two of the most likable characters you are ever likely to meet on the screen. By the end of the movie Philippe and Driss will seem like comfortable old friends.
The Intouchables was a huge box office hit in France and around the globe. Well everywhere except here in America that is. According to boxofficemojo.com, with a worldwide take of $426,588,510, this movie ranks as the 158th highest grossing movie in world history to date, but here in the United States it earned a paltry $10,198,820 and is just barely in the top 4,000 highest grossing domestic movies in history. This glaring disparity makes The Intouchables unique in motion picture history.
The plot is simple and based on a true story. A wealthy white quadriplegic living in Paris hires a poor black man to be his caretaker. Said poor black man teaches wealthy white man to loosen up and enjoy life while wealthy white man culturally enriches poor black man's life. It's a bit like a modern day Driving Miss Daisy only without the excuse of being set in the American South in the pre-civil rights era.
If you can get past these stereotypes then there is much to enjoy about The Intouchables. Both François Cluzet and Omar Sy give wonderful performances. Their camaraderie is infectious and watching them get to know each other and form a lifelong bond is entertaining cinema indeed. They enable the movie to rise above its many cliches. Like the scene where wealthy white man exposes poor black man to classical music and poor black man introduces wealthy white man to the concept of rhythm through the music of Earth, Wind and Fire.
The Intouchables is heartwarming and also quite funny even if the script is strictly by the numbers. There may not be many surprises to be found here but it does tell its charming story well. Even though it's painfully obvious where the plot is heading the ride is enjoyable enough, on the surface.

Reviewed on:
October 15th, 2013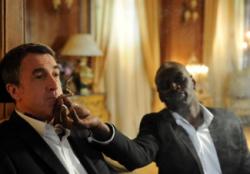 Omar Sy helps Francois Cluzet relax in The Intouchables.
I agree completely with Patrick that The Intouchables is both charming and heartwarming. His description of this film being about a wealthy white quadriplegic, Philippe, living in Paris who hires a poor black man, Driss, to be his caretaker is however, only half accurate. Their financial disparity is a huge part of the story but skin color is never mentioned or even referred to. In fact, at the end of the movie we see the real men this film is based on and the caretaker is not actually African.
As Patrick wrote, Driss becomes exposed to the classic arts, by way of spending time with his wealthy employer, while Philippe learns to enjoy life again by way of his caretaker's outgoing personality and boundless energy. Both men truly benefit from the presence of the other as they each push the other to limits they did not know they could reach.
The real secret to the story though is really quite simple. Philippe and Driss, over time, become legitimate, honest to God friends. Look how Philippe detests his other caretakers. Only Driss makes him smile. Notice how Driss goes above and beyond what he is paid to do. He involves himself in Philippe's personal life and later Philippe does the same for Driss. Philippe sells one of Driss's paintings for him. They truly start to care for each other well beyond a normal employer and employee relationship.
It is within the friendship that these two men, from such different backgrounds, share that we discover a life affirming message. True friendship is not established by financial status, national origin, age or, yes Patrick, skin color. Individually, Philippe and Driss have many strikes against them both, but together they can conquer the world.
Photos © Copyright The Weinstein Company (2011)