Movie Review
The Internship
They just can't click with the new generation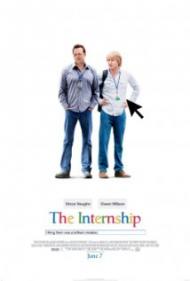 US Release Date: 06-07-2013
Directed by: Shawn Levy
Starring
▸
▾
Vince Vaughn

,

as

Billy McMahon
Owen Wilson

,

as

Nick Campbell
Rose Byrne

,

as

Dana
Aasif Mandvi

,

as

Mr. Chetty
Max Minghella

,

as

Graham Hawtrey
Josh Brener

,

as

Lyle
Dylan O'Brien

,

as

Stuart
Tiya Sircar

,

as

Neha
Tobit Raphael

,

as

Yo-Yo Santos
Josh Gad

,

as

Headphones
Jessica Szohr

,

as

Marielena
John Goodman

,

as

Boss
Will Ferrell

as

Mattress Salesman
Reviewed on:
June 9th, 2013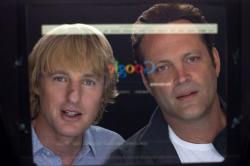 Vince Vaughn and Owen Wilson in The Internship.
Vince Vaughn and Owen Wilson share an effortless chemistry that makes them a terrific comedy duo. However, as good as they can be together, they do need a quality script behind them or their talents are wasted. Unfortunately, The Internship is never able to provide them with one and so their potential is wasted, despite a few nice moments.
The plot feels like a retread of movies we've seen before combined with an advertisement for Google. Vaughn and Wilson play Billy and Nick, two forty-something watch salesmen who find themselves out of work when the watch company they work as salesmen for, suddenly goes out of business. Despite having an unbelievable lack of technological know-how, these two somehow land jobs as Summer interns at Google. They join a team of interns made-up of the rejects and misfits and end up competing with other teams for paying jobs at the company.
Billy and Nick's knowledge of technology is so limited that they barely seem aware of e-mail and refer to putting something online as putting it on the line. You just have to accept that despite this, they get hired by one of the most advanced technology companies in the world. As salesmen, what they do have are people skills, which they use to motivate their team, mainly by referencing the movie Flashdance and taking them to a strip club and getting them drunk.
The film's best and funniest moments are provided by Vaughn and Wilson and their easygoing camaraderie, whether it's arguing over having Alanis Morissette on their "get psyched" mix or working together to motivate their team. Even at their best though, they really only manage chuckles rather than the belly laughs that they managed together in Wedding Crashers. Perhaps keeping this movie rated PG-13 handcuffed the duo compared to the rated R they were allowed for that earlier film. The supporting cast is pretty mild and although likable, fail to generate many jokes. The misfits on their team aren't very strange or unique, with little to mark them as misfits, although Tiya Sircar, as the only female member of their team does get a few funny lines when she talks about cosplay.
Google, which cooperated with the filmmakers and allowed some scenes to be filmed on their campus, is repaid by having their logo plastered everywhere. Many of the products also get a shoutout, such as Gmail, chrome, Google Wallet and others. At times the movie really does feel like a PR stunt by the tech giant.
Despite a couple of amusing scenes and a likeable cast, The Internship feels like a lazy attempt to reteam Vaughn and Wilson. If the two actors really wanted to work together again, they should have kept searching. They probably could have found a better script on the internet. I'm sure Google would have helped them find it.
Photos © Copyright Twentieth Century Fox (2013)
Related Review