Movie Review
Insurgent
One Choice Can Destroy You
US Release Date: 03-20-2015
Directed by: Robert Schwentke
Starring
▸
▾
Shailene Woodley

,

as

Tris
Theo James

,

as

Four
Ansel Elgort

,

as

Caleb
Miles Teller

,

as

Peter
Kate Winslet

,

as

Jeanine
Jai Courtney

,

as

Eric
Mekhi Phifer

,

as

Max
Octavia Spencer

,

as

Johanna
Zoe Kravitz

,

as

Christina
Ashley Judd

,

as

Natalie
Ray Stevenson

,

as

Marcus
Tony Goldwyn

,

as

Andrew
Naomi Watts

,

as

Evelyn
Keiynan Lonsdale

,

as

Uriah
Maggie Q

,

as

Tori
Daniel Dae Kim

,

as

Jack Kang
Jonny Weston

as

Edgar


Reviewed on:
March 25th, 2015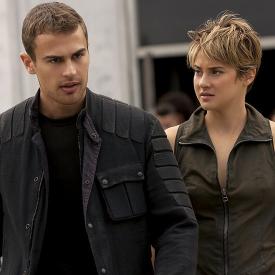 Theo James and Shailene Woodley in Insurgent
I never read any of the books in this series and after suffering through the first two films, have absolutely no intention to. The plots are thin as paper but stretched to tedious lengths due to unnecessary details and ridiculous plot points. The events of the first film could have been told in half the time while this film's plot could have been whittled down to a half hour.
When last we left Tris and Four, they were on the lam with Tris's brother, Caleb and another member of their faction, Peter. This film begins with them hiding out with some hippy type faction that grows food and seems ever optimistic as well as pacifist. Eric and an army show up but the four escape. They find some factionless group, which makes them un-factionless. It is run by Four's estranged mother. Cue Theo James's brooding.
His mom wants them to help her factionless faction take over the city and kill Janine. Meanwhile Janine wants a perfect divergent so as to open some box that was found in Tris's parent's home and can be only opened by a divergent. To save the lives of those who may die to force her to go to Janine, Tris turns herself in. Something she could have done in the beginning of the movie and saved even more lives.
Opening the box is not just a mere twist of a latch or a finger print. It requires the divergent to go into a Matrix type simulation that may kill the divergent. Tris must prove herself in the simulations to be worthy of every faction. Once she does, the box will be open and an important message will be played. The message turns out to be pointless but everyone treats it like proof that God exists.
These stories may be trying to be allegorical to our society of social and economic groups but it never works as these people are forced to stay in them. In real life everyone is divergent, in that we all have different aspects to us that cross over into every other. Here the folks are hopelessly limited. In one scene Tris is in serious danger while her intellectual brother stares unmoved to help her even though he has the means to do it. His faction is not violent. I get the whole faction point of the story but it does not over ride natural survival instincts.
Tris has emotional issues over a kill she made in the first film and memories of her parents death. Four has parental issues as well, making this clearly a story mostly relatable to young people. Their love story is dull as sand. They sleep together and are shown taking off some clothes at one point as if to imply they have sex but it is so vague it could have been to check for cancerous lumps. James has one look he maintains the entire film while Shailene Woodley cannot look or act tough no matter how hard she tries.
The violence is sanitized and just as dull as the romance. People are killed but you would have to look hard to see any blood. I was never invested in anyone on screen, including Tris and Four, to truly care if anyone lived or died. The writing is so horribly poor; nothing in this movie makes the least amount of sense. I turned to my son and asked if he wanted to leave half way through this movie but we stayed as he did not want to waste our money. We stayed but I felt our money was wasted either way.
Reviewed on:
April 11th, 2015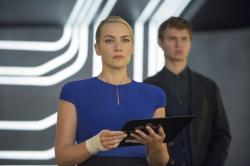 Kate Winslet in Insurgent.
As with the first film in this series, I find myself disagreeing with Eric (and probably Patrick as well once he reviews it, based on his opinion of the original). It's far from perfect, but thanks to some high production values and a nice central performance by Shailene Woodley, I was still entertained in a very minor way.
The Faction system has always been this series' weakest plot point, but I've always considered it as akin to the social groupings in High School (i.e.. nerds, jocks, etc.), which makes sense given the young adult target audience. As Eric said, in real life everyone would be considered divergent. However, the message that is revealed at the end tries to offer a better in-world explanation for the existence of the Factions. I don't understand Eric's comment about the final message being pointless since it alters fundamentally the world in which these characters live. I can only assume from his review that he was so bored that he was no longer paying much attention. It's akin to in our world being told that Aliens exist.
Shailene Woodley delivers another strong performance as Tris. She holds the movie together. Theo James on the other hand is one of those actors who can thank their genes for their career. He has one facial expression and a flat line delivery, but equally flat abs and cheekbones as strong as his acting is weak. The plot tries to introduce some mommy issues for him, but his acting skills aren't up to the task since his, "I'm upset" look is the same as his, "I'm happy" and "I'm sad" looks.
It's definitely the female members of the cast that are the standouts. Kate Winslet makes a good villain, but isn't given enough to do. And Watts is a welcome addition to any cast, but is likewise underused, although it looks as though she'll play a more important role in the final two films. The only male member of the cast to make an impact is up and coming Miles Teller, who plays slimy quite well.
At just under 2 hours, the length of these films are heading in the right direction. This one being 20 minutes shorter than its predecessor. If the next two films each lose 20 more minutes, they might finally reach the ideal length. As Eric wrote, the plot is pretty thin and definitely feels stretched. It takes far too long for Tris to end up plugged into the simulation machine. It's obvious from the beginning that's where she's headed, but we are forced to sit through too much agonizing before she does.
I'm not a huge fan of these movies, but compared to my brothers I appear so. They could definitely use a tighter edit and a more clear cut goal. However, I was still entertained enough to want to see how this all turns out. Unfortunately, that means sitting through 2 more movies since once again Hollywood is splitting the final book in a trilogy into 2 movies. Given how slow paced the first 2 films have been, that doesn't bode well for the final installments.
Photos © Copyright Red Wagon Entertainment (2015)
Related Reviews