Movie Review
Indiscreet
Through one indiscretion--a woman with a future became a woman with a past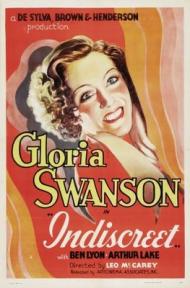 US Release Date: 05-16-1931
Directed by: Leo McCarey
Starring
▸
▾
Gloria Swanson

,

as

Geraldine Trent
Ben Lyon

,

as

Tony Blake
Arthur Lake

,

as

Buster Collins
Barbara Kent

,

as

Joan Trent
Monroe Owsley

,

as

Jim Woodward
Maude Eburne

,

as

Aunt Kate
Henry Kolker

as

Mr. Woodward

Reviewed on:
April 8th, 2006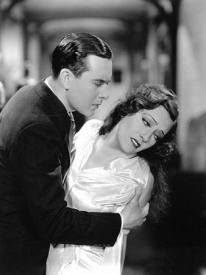 Ben Lyon and Gloria Swanson in Indiscreet.
Indiscreet came at an interesting time in Gloria Swanson's career. Made in 1931, this was her 3rd Talkie. She would make only 4 movies between this one and Sunset Boulevard in 1950. Unlike many silent stars, Swanson was able to easily switch to the sound era. Her very first talking picture, 1929's The Trespasser, was a box office hit and garnered her a Best Actress Academy Award nomination.
She had fine diction, a flair for comedy, and even a surprisingly strong and clear singing voice, which she shows off in this movie. It wasn't sound that ended her career. I think it was the fact that she was middle-aged by the standards of the day and to depression era audiences of the early 30's she remained a symbol of their more prosperous pasts. Though she was only 32 when she made Indiscreet by today's standards she seems more like a woman in her 40's.
This bedroom farce is completely silly. Swanson, a sophisticated Manhattan businesswoman, dumps her philandering boyfriend on New Year's Eve. She quickly meets another man and gets engaged. The man she dumped seeks revenge by dating Swanson's innocent younger sister. All the principals end up together at the slimy ex's parent's estate, where Swanson and the younger sister's equally innocent childhood sweetheart plot to break up the new couple, while keeping Swanson's new man from learning about her sordid past.
The movie only rises above mild amusement in one hilarious scene. I had no idea Swanson could be this funny. At a fancy outdoor meal she tries to convince her younger sister's prospective in-laws that there is a touch of madness in their family. She is quite hilariously successful, with an equally funny assist by their eccentric aunt, who once knew Buffalo Bill.
Swanson's clothes are resplendent in their outrageous glamour, matched only by the fabulous art deco sets. Indiscreet is a wonderful time capsule, though only slightly entertaining as a motion picture.
Reviewed on:
December 15th, 2011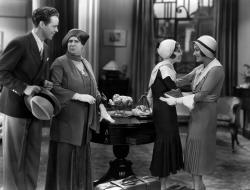 Arthur Lake, Maude Eburne, Gloria Swanson and Barbara Kent in Indiscreet.
This early talkie is a silly little trifle that when at its best borders on the level of screwball comedy. The more dramatic moments are pure melodrama that seem incredibly dated now, but some of the comedy holds up fairly well. And at just barely over an hour it hardly has time to out stay its welcome.
Patrick, I partly agree with you about Swanson. Like you I think she had the talent to remain a star into the talkie era. She had real comic timing and a natural acting style that probably would have grown even smoother given time. She's terrific here and easily the best thing this movie has going for it. Where I disagree with you is when you say that she seems more like a woman in her 40s. I didn't get that at all. I think that she's older than her character is supposed to be, but I didn't see her any older than her 30s.
The scene you mention at the party where Swanson acts crazy is truly the highlight of the movie and is worth watching just for that brief moment. The whole party scene, with that moment at its centerpiece, is the story at its most screwball best. If only that tone could have been sustained for the entire film it would have been a much better movie.
Like so many pre-code films there are moments here that wouldn't be allowed just a few years later. Swanson's romp in the shower is the most obvious example, but the movie also implies and acknowledges sex on several occasions - albeit in a very innocent way by modern standards - in ways that would never be allowed following the code.
Okay, so this isn't a great movie by any standards, but I still found enough things to enjoy about it to make me wish Swanson had made more talking comedies.

Reviewed on:
July 22nd, 2013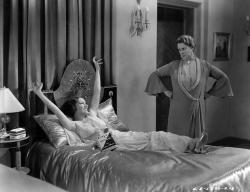 Gloria Swanson and Maude Eburne in Indiscreet
Indiscreet is played almost entirely for laughs. It flies by like a brief visit from a friend who always puts a smile on your face, The shower scene Scott mentioned was a surprise. Although it was played more for laughs than sex, we do get a very quick shot of Swanson's right breast. Granted, I had to play the scene very slowly but it is revealed none-the-less.
The first scene where Swanson breaks up with her boyfriend is kept light and cheery as she tells him she knows of his affairs. His only excuse is, "Oh, ho--after all, my dear: a man must live!" but Swanson comes back with, "I've often wondered why it was necessary in some cases." After he leaves she calls him back. He re-enters the apartment and starts to remove his overcoat with all the swagger of a man about to get laid until he realizes that she called him back to take his golf clubs with him.
Although not always a laugh out loud comedy, there are plenty of humorous moments throughout. After pressing a rose into her book, Swanson places the book on a bed and tells her overweight Aunt to "Press this for me." as she moves her over to sit on it. Her aunt later has a line that surprised me when she says to Swanson, "You're always bitching to me about…" When Ben tells everyone at the table that he proposed to Swanson, he tells them she accepted by saying, "I got the job. I go to work Monday."
I agree with my brothers that the scenes where Swanson acts insane and drunk are a delight. Swanson always thought of herself more as a dramatic actress, but I love her in comedies. She proves again here that she is through and through one of the greatest movie stars of all time. She could dominate a scene with just a smile or a glare. Swanson sings and moves about the screen here as if a special spotlight is shining only on her.
Indiscreet is a quick paced humorous little film that ends as witty as it starts. It has a simple little plot but still entertains. I am not sure why Swanson stopped making films in the early 30s but had she wanted to keep acting she certainly could have.
Photos © Copyright United Artists (1931)