Movie Review
Indiscreet
How dare he make love to me - And not be a married man!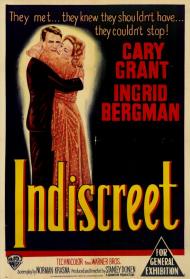 US Release Date: 05-20-1958
Directed by: Stanley Donen
Starring
▸
▾
Cary Grant

,

as

Philip Adams
Ingrid Bergman

,

as

Anna Kalman
Cecil Parker

,

as

Alfred Munson
Phyllis Calvert

,

as

Mrs. Margaret Munson
David Kossoff

,

as

Carl Banks
Megs Jenkins

as

Doris Banks

Reviewed on:
July 15th, 2014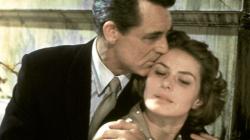 Cary Grant and Ingrid Bergman in Indiscreet
Any opportunity to watch a Cray Grant movie is a chance not to be missed. He was, on screen, the epitome of sophistication and class. He was the very description of debonair, making any man unfortunate enough to share a scene with him look like a step above a cave man. The last half of Grant's movie career almost always paired him with a much younger woman, sometimes by a couple of decades. Although Ingrid Bergman was 9 years younger than Grant, she is clearly playing a mature woman and her age is by no means as noticeable as when Grant played opposite such ingénues as Sophia Loren or Grace Kelly.
Bergman plays Anna Kalman, an unlucky in love stage actress. As the movie opens she returns to her London apartment after her latest romantic relationship has just ended. Mere minutes pass before she turns to find Philip Adams (Cary Grant) standing in her doorway. They go on a double date with Anna's sister and husband, that ends with Anna expressing interest in there being a second date, only to have Philip announce to her that he is married. He states his wife is in the United States and they decide to continue to see each other anyway.
Their relationship soon becomes physical but such a love story made in 1958 had to be handled carefully. Grant and Bergman could not be shown in bed together, so Stanley Donen filmed them in split screen in different beds but as if they were sharing the same one. It is effective, yet silly at the same time. The pretense of puritanism is ridiculous, especially when you consider that in real life Bergman left her husband and daughter when she fell in love with and became pregnant by Roberto Rossellini when he directed her in Stromboli (1950).
Bergman gets the showier part and the film's most famous line, "How dare he make love to me and not be a married man." Grant steals the movie right out from under her none-the-less. The best scene being when Anna and Philip go dancing and Grant surprised with me with just how fleet of foot he was at 54 years of age. He was never a musical star but proves here he could have been.
Based on the play "Kind Sir," Indiscreet has some great lines. When Bergman flirts on the telephone with an old boyfriend, Cecil Parker remarks, "There is no sincerity like a woman telling a lie." Grant gets to recite my favorite line, "Oh, I tell you. Women are not the sensitive sex. That's one of the grand delusions of literature. Men are the true romanticists." And that is how movie lovers always choose to remember Cary Grant. He was the man we all wish we could be, especially when charming a woman in some elegant locale.
Indiscreet is a romantic comedy with a lie as the central issue. Sometimes it is light and entertaining while the love scenes are too often a cliché. They fall in love as they walk around London. The plot seems more suited to a sitcom than a theatrical film. Still, any time spent with Cary Grant is time well spent.
Photos © Copyright Warner Bros.Grandon Productions Ltd. (1958)