Movie Review
Independence Day: Resurgence
We had twenty years to prepare. So did they.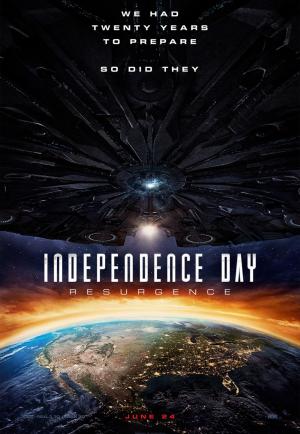 US Release Date: 06-24-2016
Directed by: Roland Emmerich
Starring
▸
▾
Liam Hemsworth

,

as

Jake Morrison
Jeff Goldblum

,

as

David Levinson
Jessie T. Usher

,

as

Dylan Hiller
Bill Pullman

,

as

President Whitmore
Maika Monroe

,

as

Patricia Whitmore
Sela Ward

,

as

President Lanford
William Fichtner

,

as

General Adams
Judd Hirsch

,

as

Julius Levinson
Brent Spiner

,

as

Dr. Brakish Okun
Patrick St. Esprit

,

as

Secretary of Defense Tanner
Vivica A. Fox

,

as

Jasmine Hiller
Angelababy

,

as

Rain Lao
Charlotte Gainsbourg

,

as

Catherine Marceaux
Deobia Oparei

,

as

Dikembe Umbutu
Nicolas Wright

,

as

Floyd Rosenberg
Travis Tope

,

as

Charlie Miller
Chin Han

,

as

Commander Jiang
Gbenga Akinnagbe

,

as

Agent Travis
Robert Loggia

,

as

General Grey
John Storey

,

as

Dr. Isaacs
Joey King

,

as

Sam
Jenna Purdy

as

Voice of Sphere (voice)
Reviewed on:
July 2nd, 2016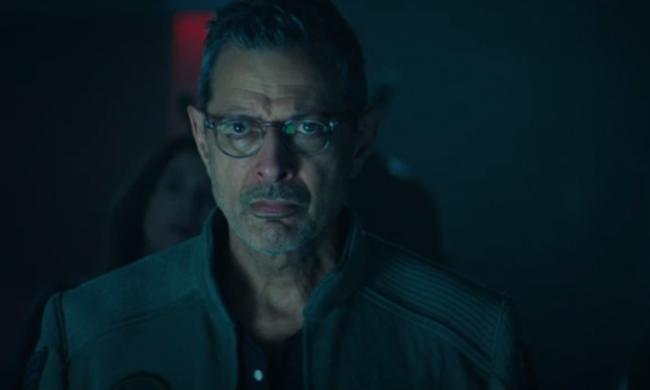 Jeff Goldblum in Independence Day: Resurgence.
With the success of the original Independence Day, it's amazing that it took Hollywood this long to produce a sequel. The first film was not only the biggest hit of 1996, but became at the time, the second highest grossing film ever after the first Jurassic Park film. Reportedly, an earlier sequel was planned, but then scrapped when it didn't feel good enough. Screenwriter Dean Devlin and director Roland Emmerich never gave up on the idea though and 15 years after the first film, met up again to discuss story ideas. A further five years later and we're seeing the finished result. All I can say is, they had 20 years and this is seriously the best they could do? The original was no masterpiece, but at least it was mindlessly entertaining. This one just seems mindless.
One thing the original is known for is being the film that made Will Smith a superstar. There are conflicting stories floating around the internet as to why he didn't return for the sequel. Smith told the BBC that it came down to scheduling and he chose Suicide Squad over the Independence Day sequel, while Emmerich has said that while Smith's character originally played a major part in the sequel, he was written out before Smith was even approached because they wanted to focus on the next generation of characters. Further, uncredited, rumors have said that Smith simply wanted too much money and the studio didn't feel he was worth what he was asking. Whichever reason is true, Smith dodged a bullet. His movie career has been sinking of late and this film would have done nothing to revive it.
The story begins 20 years after the first film and it answers some questions that the first film left open. Apparently not all of the aliens were killed and skirmishes continued for years afterwards. Brent Spiner's character, Dr. Okun didn't die, but has been in a coma for the past 20 years. Will Smith's character has died, during a training flight. Jeff Goldblum returns as David, the scientist who was able to defeat the aliens in the first film with a computer virus, only now he's in charge of Earth Space Defense. Bill Pullman also returns as former president Whitmore, only his mind isn't what it once was, still retaining a connection to the alien hive mind. His daughter, Smith's step-son from the first film, and Liam Hemsworth's new character, Jake, are the younger generation who are along for the film's action scenes, but most of those take place in the cockpit of CGI generated spaceships.
Although lots of things happen in this film, with lots of different characters, there's very little heart or soul in any of it. The original film took its cue from the old disaster films of the 1970s. It featured a large cast, but it took the first 30 minutes of the film to introduce them. By the time the aliens were invading, we felt invested in these characters, but that isn't the case here. We barely get to know some of the new characters. Smith's son has almost zero personality and none of Smith's cocky charisma. If this really was an attempt to introduce a new generation, it fails completely, because the only characters to generate any kind of emotional response from the audience are the returning castmembers. Unfortunately, they also serve to remind us just how much better the first film was.
While advancements in technology allow the filmmakers to shoot scenes that weren't possible in 1996, they fail to create any moment that matches the iconic shots from the first film, such as the alien ships hovering over the major cities of the world, or the blowing up of the White House. The biggest effect shot is the landing of the 3,000 mile wide ship that in reality would probably have destroyed the entire planet. It causes some destruction here, but we are never allowed more than a few glimpses of the devastation it may have caused.
Although there are a few lighthearted moments, the film also lacks the humor of the original. Judd Hirsch returns as Goldblum's father and he provides some much needed laughs, as does Spiner's eccentric scientist. But even the jokes that do work aren't enough to make this much of a feel good film. And there are no stand-up and cheer moments.

Emmerich has said that he has another sequel in mind already, and the film ends with a direct setup to that sequel. Given the lukewarm reception to this installment, it's a sequel we might never get to see. Based on the quality of this one, that's no great loss.

Photos © Copyright 20th Century Fox (2016)
Related Review