Movie Review
In the Name of the King: A Dungeon Siege Tale
Rise and fight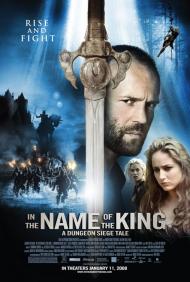 US Release Date: 01-11-2008
Directed by: Uwe Boll
Starring
▸
▾
Jason Statham

,

as

Farmer
Leelee Sobieski

,

as

Muriella
John Rhys-Davies

,

as

Merick
Ron Perlman

,

as

Norick
Claire Forlani

,

as

Solana
Kristanna Loken

,

as

Elora
Matthew Lillard

,

as

Duke Fallow
Ray Liotta

,

as

Gallian
Burt Reynolds

,

as

King Konreid
Brian J. White

as

Commander Tarish

Reviewed on:
April 23rd, 2008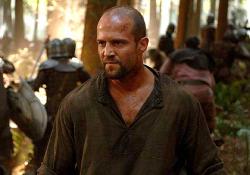 Jason Statham in In the Name of the King: A Dungeon Siege Tale.
As a fan of both fantasy films and Jason Statham, I looked forward to this film, when I first heard about it. My anticipation for the film dimmed when I saw who made up the rest of the cast.
Statham plays a farmer named Farmer, of all things. Even his wife, Solana, calls him that. They have a son. Their neighbor is Ron Perlman. One day Solana and their son go to visit her parents. They get attacked by some creatures that looks suspiciously like the orcs from The Lord of the Rings. Their son is killed and Solana taken. Back at the farm, Farmer and Perlman get attacked by the same extra's from LOTR. Farmer, Perlman and Solana's brother form a fellowship and head out to rescue her.
Meanwhile, the King, played by Burt Reynold's of all people, is being betrayed by his whiney nephew, Shaggy, who is in league with an evil Wizard, played by Ray Liotta, who hams it up almost as badly as Jeremy Irons did in Dungeons and Dragons. There is also LOTR leftover, John Rhys-Davies as the king's loyal wizard.
The movie moves along with plenty of well choreographed fights and battles, but the film never engages the audience. The final insult, and plot twist, that anyone who has ever seen a fantasy film, or read a fantasy, can see coming, is when Farmer finds out that he is the Bandits son.
The plot is quite generic, but even a cast of complete unknowns could have, and probably would have, done a better job than this baggage laden acting group. If you are casting a role for a southern sheriff, then Burt Reynolds is your man. If you want a Las Vegas slime ball, then Reynolds is your man. If you want a football coach, Reynolds is your man. If you are casting for a European inspired King in a fantasy/action film, Reynolds should not even be considered.
With a complexion like Ray Liotta's, it is obvious why he often gets bad guy roles. Bad guys, as in street hustlers or mob hitmen. Liotta can also do a cop when need be. The guys mannerisms and voice scream New Jersey. Who in the hell thought he could be convincing as a fantasy wizard from the middle ages?
Photos © Copyright Brightlight Pictures (2008)