Movie Review
In the Good Old Summertime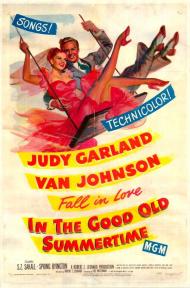 US Release Date: 07-29-1949
Directed by: Robert Z. Leonard
Starring
▸
▾
Judy Garland

,

as

Veronica Fisher
Van Johnson

,

as

Andrew Delby Larkin
S.Z. Sakall

,

as

Otto Oberkugen
Spring Byington

,

as

Nellie Burke
Clinton Sundberg

,

as

Rudy Hansen
Buster Keaton

,

as

Hickey
Marcia Van Dyke

,

as

Louise Parkson
Lillian Bronson

,

as

Aunt Addie
Liza Minnelli

,

as

Daughter of Veronica and Andrew
Anna Q. Nilsson

as

Woman with Harp

Reviewed on:
April 16th, 2012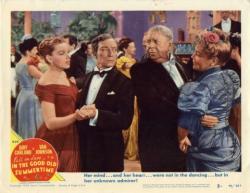 Judy Garland, Buster Keaton, S.Z. Sakall and Spring Byington dance in a still from In the Good Old Summertime.
In the Good Old Summertime, starring Judy Garland and Van Johnson, was based on the 1940 movie The Shop Around the Corner, starring James Stewart and Margaret Sullavan (which was itself based on the 1937 Hungarian play Parfumerie by Miklós László). Whereas Shop had been set in 1930s Budapest, Summertime changed the time period and locale to turn-of-the-century Chicago. And instead of a gift shop the pen-pal lovers/bickering coworkers toil in a music store. Summertime also adds songs to the mix. It would be remade again in 1998 as You've Got Mail with Tom Hanks and Meg Ryan playing rival Manhattan bookstore owners corresponding via email.
In the Good Old Summertime was directed by Robert Z. Leonard, produced by Joe Pasternak and shot in a muted Technicolor palette. It vividly evokes the time period. The musical numbers add to the general nostalgia. These include the title number, which was originally published in 1902 and is sung by several key members of the cast along with a chorus, but minus Judy Garland, and "Wait Till the Sun Shines, Nellie" a popular hit in 1905 and performed here by a barbershop quartet. Garland fans needn't worry because she gets ample opportunity to showcase her powerful voice and trembling vulnerability with five songs of her own, including, "Meet Me Tonight in Dreamland", "Put Your Arms Around Me, Honey" and "I Don't Care".
The slight story is more sweet than romantic. Garland and Johnson work at the same music store where they bicker and compete all day long. Unbeknownst to them is the fact that they also share a heartfelt, but anonymous, correspondence through letters they receive at the same post office. There is never any doubt about the outcome of course. It also features a nice little subplot involving the longtime relationship between the music store owner (S.Z. Sakall giving one of his least caricatured performances) and his secretary (the always enjoyable Spring Byington) that contains more heart than the central love affair between Garland and Johnson.
The movie is cute and the script has some clever moments but it also shows Garland's biggest weakness as a movie star. For all her immense talents as a singer/dancer/comedienne and dramatic actress Garland was not a great romantic leading lady. Her chemistry, or rather lack thereof, with her leading men was always the dullest element to her movies. Johnson gives a good light-comic performance, narrating the story and setting the scene for us.
Interestingly, for a movie titled In the Good Old Summertime a good portion of the story takes place at Christmastime with Garland introducing a new holiday song called simply "Merry Christmas". Also of trivia interest is the fact that Garland's daughter Liza Minnelli made her movie debut here at the tender age of three. She shows up as Garland and Johnson's baby in the brief final scene.
Silent movie legend Buster Keaton had been fired from MGM in 1933. He had recently been rehired as a gag writer for the studio. He put his pratfall expertise to good use in devising a manner in which a violin gets smashed in a pivotal moment in the movie. MGM quickly realized that nobody but Buster could do the gag justice so they cast him in the movie. He brings a certain bit of physical comedic charm to his role as Hickey, the boss's nephew (even though he was a bit old for the part). He takes another pratfall down some steps in one scene and also came up with the funny bit where Garland and Johnson collide outside the post office. Rehearsing extensively with Johnson to get his timing just right and directing the scene himself.
In the Good Old Summertime is a pleasant 100 minutes of old fashioned movie entertainment although it lacks any truly great stand-out moments. It features a funny bit of dialogue near the end, delivered by Garland, after Johnson, who earlier had discovered the truth about their correspondence, reveals his identity to her. As they embrace she quips, "Psychologically, I'm very confused, but personally I feel just wonderful."

Reviewed on:
May 15th, 2012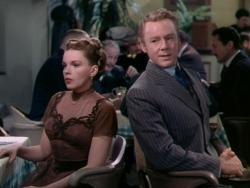 Judy Garland and Van Johnson In the Good Old Summertime
Other than the final scene shown in That's Entertainment, I watched this film with no knowledge of it. As a huge Buster Keaton fan, I enjoyed seeing him in middle age, but he is very under used. Thanks to Patrick playing Judy Garland records when we were kids, I recognized one of her songs, "I Don't Care." Other than that, I took very little away from In the Good Old Summertime.
Filmed nicely in color and taking place at Christmas time, the film seems almost too vibrant. The clothes and holiday decorations seem to jump from the screen. In one scene, Garland's lips are as red as I have ever seen on any woman. It really speaks volumes about a movie when the best I can write about it is how outstanding the film's color was.
Patrick mentioned the scene that Buster Keaton directed, and it is the movie's best moment. As Van Johnson is leaving the Post Office and descending some stairs he collides with Garland. A routine follows with Garland getting more and more messed up. It is the film's most imaginative, as well as entertaining, part. It also revealed that Garland was not as unattractive as I have always thought. The more disheveled she got, the better looking she became. With her hair cascading down her face she was actually good looking.
Made near the end of her tenure at MGM, where Judy Garland had spent the last ten years as one of their biggest stars. From 1939's The Wizard of Oz until her final film Summer Stock (1950), she was MGM's reigning musical star. One of her biggest hits being Meet Me in St. Louis (1944), which seems to be somewhat of an inspiration for In the Good Old Summertime. Both movies take place around the turn of the century and both feature a Christmas segment with Judy singing a Christmas song. Both were filmed in beautiful Technicolor, but Meet Me in St. Louis is a vastly more entertaining film.
Reviewed on:
July 15th, 2012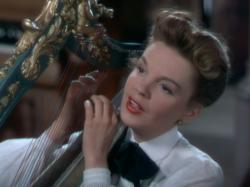 Judy Garland in In the Good Old Summertime.
Patrick, you hit the nail on the head regarding this movie's biggest problem, although it seems to have bothered you less than it did me. The relationship between Veronica and Andrew lacks any sort of spark. I never really cared if they ended up together and in a romantic comedy that's the kiss of death. Although you seem to imply that it's Garland's fault, I blame Johnson. He made a great supporting character, but he lacked leading man charisma.
The most interesting aspect of the movie for me was comparing it to You've Got Mail. I always knew that it was based on this movie and The Shop Around the Corner, but I never realized that some scenes from it were lifted directly from this one. Nora Ephron recreated the scene where Andrew goes to meet Veronica in the restaurant for the first time almost exactly. Likewise the scene where Andrew goes to visit Veronica when she's sick was also recreated in that later version.
Although You've Got Mail isn't perfect, it does improve on this one in several key ways. Most notably in that it treats the male and female characters as co-leads, where here it seems that Van Johnson is the star and Garland the supporting player. Nora Ephron gave each character a chance to develop in the e-mail mini-essays that they write and read aloud in voice-overs to each other. Those are some of my favorite moments in that version and it shows a real reason for the characters to fall in love, where here the only parts of the letters that we get to hear are soppy and kind of silly.
The songs are completely forgettable. Garland could belt out a tune better than any woman working in the movies during the Golden Age of Hollywood, but even she can't do much with the lackluster numbers in this movie.
Yes, it's nice to see Keaton in a movie, but I can't say I was as impressed with the scene he directed outside the post office as my brothers were. It seems very staged and silly, but not in a good way. At 54, he definitely seems too old for the part he's playing even if he is still able to throw himself around and take a fall. Still, his mere presence serves to add a touch of novelty to the proceedings.
Like Patrick, I thought that Garland's last line was quite good. Although maybe part of the reason that I liked it was because it also marked the end of the movie.
Photos © Copyright Metro-Goldwyn-Mayer (MGM) (1949)
Related Reviews