Movie Review
In the Bedroom
A Young Man. An Older Woman. Her Ex-husband. Things Are About To Explode.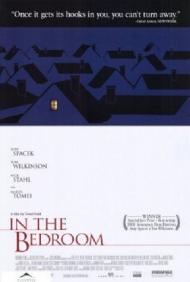 US Release Date: 11-23-2001
Directed by: Todd Field
Starring
▸
▾
Tom Wilkinson

,

as

Matt Fowler
Sissy Spacek

,

as

Ruth Fowler
Nick Stahl

,

as

Frank Fowler
Marisa Tomei

,

as

Natalie Strout
Karen Allen

,

as

Marla Keyes
William Mapother

,

as

Richard Strout
William Wise

as

Willis Grinnel

Reviewed on:
November 25th, 2001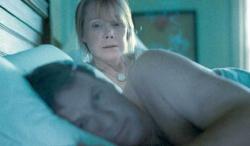 Tom Wilkinson and Sissy Spacek in In the Bedroom.
First time director Todd Field gives us this realistic and tragic family drama. The cast is incredible and the script is unflinchingly unsentimental. So don't expect to walk out of this one feeling light hearted.
Sissy Spacek and Tom Wilkinson are Ruth and Matt Fowler. He's a doctor, she's a music teacher. They lead a typical and idyllic life in a small New England community along with their twenty year old son Frank (Nick Stahl) who, because of his involvement with an older woman (Marisa Tomei) and her two sons, is unsure whether to leave for college in the fall.
Without giving away too much I will say that most of the movie is concerned with a family tragedy and how the Fowlers deal with it. It is here where the director rises to the occasion by not letting his characters become saints. They are simply real people behaving as real people might in similar circumstances.
The pacing is rather methodical but necessarily so. The gentle manner in which the movie is filmed adds to the moments of explosive drama. A highly recommended movie experience for anyone who doesn't need a pat ending.
Reviewed on:
November 28th, 2001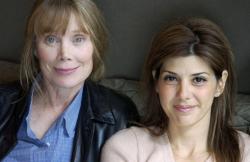 Sissy Spacek and Marisa Tomei in In the Bedroom.
About a half hour into this movie I looked at my watch and thought, damn this movie is slow. The next time I looked at my watch was an hour and half later when the lights came up and thought, damn that was a great movie.
The other thought that kept flitting through my mind while watching this movie was a quote from The Way We Were, 'So true to life. So true to life.' And believe me, this movie is true to life. It's character's could be people from Camden, Maine, or Three Rivers, Michigan. Their problems and the way they react to them are so real, that at times it almost seems less like a movie and more like voyeurism into these people's lives.
The acting is no less than superb, definitely Oscar worthy, particularly Tom Wilkinson. He probably won't win the Oscar for this role and it's a damn shame. Anyone who doesn't respond emotionally when he breaks down crying in his son's room, is dead inside.
And the direction is also outstanding. More is told in moments of silence in this movie, than is told in reams of dialogues in your average Hollywood film. Another technique used to increase the sense of realism, is the lack of a soundtrack. A strange absence that takes a while to be noticed.
Were Oscars given to those movies truly deserving, than In the Bedroom would walk away with the golden statue, but will it?

Reviewed on:
November 30th, 2001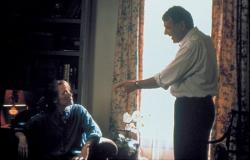 Sissy Spacek and Tom Wilkinson in In the Bedroom.
Patrick and Scott both commented that they found In the Bedroom to be very realistic. I concur. After the family tragedy, the parents do what comes naturally. They attempt to lay blame. Who better to receive it than the person you see most often?
This movie says so much with a minimal amount of dialogue. One scene has Marisa Tomei approach Sissy Spacek and ask if they can talk. Spacek simply stops what she is doing, slaps Tomei and continues with her work. A definitely powerful statement that required no speaking.
The married Doctor and Music Teacher dance around each other for half the movie with out saying what they really want to say. They give each other pleasant nods and an occasional 'How was your day?' The tension between these two is so thick it nearly suffocates them. The scene where it all comes to a head is emotionally therapeutic. It was as if two dams finally burst from all the stress.
I do disagree with the tempo of the film. Its pace is funeral procession slow. I was not expecting more action, but how many times do we need to see a car drive under the 'Welcome To Camden' sign?
I also disliked the ending. A movie is so very realistic. Yet, it ends with the characters doing what I thought was way out of character. It was a dramatic finale but seemed out of place.
A good movie that is a great study on what capable actors can do with little dialogue.
Photos © Copyright Miramax Films (2001)