Movie Review
In & Out
An out-and-out comedy.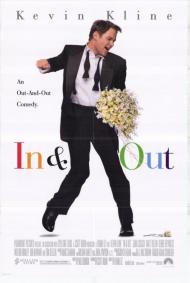 US Release Date: 09-19-1997
Directed by: Frank Oz
Starring
▸
▾
Kevin Kline

,

as

Howard Brackett
Joan Cusack

,

as

Emily Montgomery
Tom Selleck

,

as

Peter Malloy
Matt Dillon

,

as

Cameron Drake
Debbie Reynolds

,

as

Berniece Brackett
Wilford Brimley

,

as

Frank Brackett
Bob Newhart

,

as

Tom Halliwell
Gregory Jbara

,

as

Walter Brackett
Shalom Harlow

,

as

Sonya
Shawn Hatosy

,

as

Jack
Zak Orth

,

as

Mike
Lauren Ambrose

as

Vicky

Reviewed on:
May 8th, 2009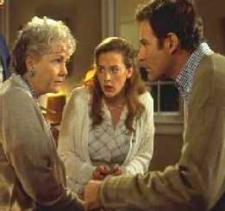 Debbie Reynolds, Joan Cusack and Kevin Kline.
As a huge Barbra Streisand fan this movie has a special place in my heart. Her name is mentioned many times and she is an important character in the movie even though she is never seen. Joan Cusack gets to deliver the best lines in the entire movie when she gets dumped at the alter by Kevin Kline after he finally accepts the fact that he is gay. To the packed church she asks, "Do you have any idea how many times I've had to watch Funny Lady?" Then the kicker, "Fuck Barbra Streisand!"
This was a part of the gay friendly Hollywood movies that were in vogue for a short time in the mid 1990's. After the dramatic Philadelphia opened the closet door, Tinsel Town began making lighthearted gay movies like To Wong Foo Thanks for Everything, Julie Newmar, The Birdcage and In & Out. Kevin Kline plays a small town English teacher who is outed by a former student at the Academy Awards. The only problem is that he isn't gay, or at least has never admitted to himself that he is gay. Of course this changes his life completely as he not only has to deal with the reactions of his family, friends and students but also of the media attention that follows him around.
What shines about In & Out is the amazing cast. Kevin Kline is perfect as the uptight reluctant gay teacher. Joan Cusack is hilarious in everything she does but here she steals many scenes. Matt Dillon, with blond hair, plays the student turned movie star who outs his former teacher at the Oscars. Tom Selleck is charming as a gay television reporter who relentlessly stalks Kline to get a good story, but eventually helps support him. Debbie Reynolds and Wilford Brimley are Kline's loving and open-minded parents. Bob Newhart does a funny turn as the bigoted high school principal who can barely bring himself to utter the word homosexual.
The ending is a bit too Feel-Good and perhaps it relies too much on gay stereotypes but hell this is a comedy and it has some very funny dialogue and a great cast.

Reviewed on:
April 26th, 2011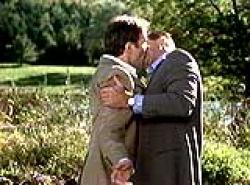 Lip locked Kevin Kline and Tom Selleck.
Patrick wrote that Howard, "has never admitted to himself that he is gay." As portrayed by Kline, Howard actually does not think he is gay for the first 40 minutes of the film. It does not make sense that he does not know. I would have bought it had he been young, but the guy is middle aged. All this time he never realized his dick twitched when he saw a hot guy and not a hot girl? He had to have known, yet we are lead to believe that he did not.
Patrick, Scott and I had an uncle who stayed in the closet through a long marriage and five children, before coming out. I understand some segments of our society have not been accepting of homosexuals, and as such many gays have stayed in the closet. Having had Howard knowingly be a closeted homosexual would have made more sense, but it would have made him a less likable character as his lie to Emily would have seemed more selfish and cruel.
As Patrick wrote, this is a gay friendly Hollywood movie. It takes place in a beautiful small American town. Everyone is nice and cordial. The Principal is not so much a homophobe, as he is just uncomfortable about Howard's sexuality. The entire point is to show Howard as a wonderfully nice guy who also happens to be gay. There are very few objections to Howard's sexuality. His students have a couple of questioning conversations about it, "There's only two times when that kind of thing's okay: In prison where it's a substitute and guys in space." Howard's real conflict is with himself coming to the realization that he is gay.
Some issues could have been explored, such as Howard being a coach going into the boys locker room. Would we want a straight male teacher going into the girl's locker room when the girls are getting dressed? This is however, a gay friendly comedy and everything is kept light.
In & Out has many laughs to be found. The Oscar nominations and the bachelor party fight about Barbra Streisand are hilarious. It also has many funny lines. One reporter asks, "Should gays be allowed to handle fresh produce?" After a female student claims to be gay in front of the entire graduating class, a teacher says to her, "You can't be gay! You're a tramp!" In & Out is not progressive, but it will put a smile on your face.
Reviewed on:
January 11th, 2012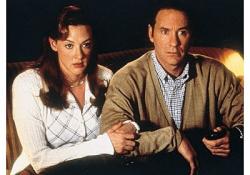 Joan Cusack and Kevin Kline in In & Out.
Eric, Howard is a closeted homosexual. What on earth makes you think he didn't know he was gay? This isn't a movie about him learning that he's gay. It's a movie about him accepting that he's gay. He spends the first 40 minutes of the movie denying that he's gay, not learning that he's gay.
I agree completely that Joan Cusack is a scene stealer. She also knows that Howard is gay, by the way. She nearly admits as much in the backroom after the aborted wedding when she tells Howard how she tried to ignore the Barbra Streisand thing. One odd casting choice is that Matt Dillon is playing a former student of hers when he's only 2 years younger than her in real life. It doesn't interfere with the story in anyway, but I always got the impression that Dillon's character is supposed to be much younger.
The opening scene at the Oscars contains some very funny moments. I love the nominees for Best Actor as read by Glenn Close, "This is Cameron's first nomination and he's in extremely good company. Tonight he joins fellow best actor nominee Paul Newman for Coot, Clint Eastwood for Codger, Michael Douglas for Primary Urges and Steven Seagal for Snowball in Hell". Another odd little thing, which I must nitpick, is that according to this movie the Oscars are held on a Thursday in late May or early June instead of the more traditional Sunday or Monday in February or March.
Patrick, you mentioned the jokes at Howard's Streisand obsession and they are funny. Peter asks Howard, "What was Barbra Streisand's eighth album?" to which he replies, "'Color Me Barbra' everybody knows that." Later Howard's dad asks, after he's learned that he's gay, "Did that Barbra Streisand do something to you?"
This is a gay friendly movie as you both mentioned, with the townspeople showing almost universal support. Although maybe that's not so odd. While not always universal, I think acceptance comes easier than most people think it will. Sure, there will always be a few assholes, but most people will either support you, pretend to support you, or be too busy worrying about their own hangups to really care about yours. So this movie is played in an idyllic small town. Who cares? It's a light-hearted film with some big laughs and a couple of great comic performances in Kevin Kline and Joan Cusack.
Photos © Copyright Paramount Pictures (1997)