Movie Review
In Name Only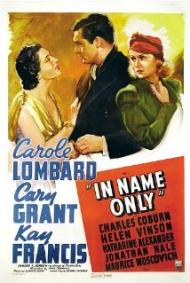 US Release Date: 08-18-1939
Directed by: John Cromwell
Starring
▸
▾
Carole Lombard

,

as

Julie Eden
Cary Grant

,

as

Alec Walker
Kay Francis

,

as

Maida Walker
Charles Coburn

,

as

Richard Walker
Helen Vinson

,

as

Suzanne Ducross
Katherine Alexander

,

as

Laura Morton
Jonathan Hale

,

as

Dr. Ned Gateson
Nella Walker

,

as

Grace Walker
Alan Baxter

,

as

Charley
Maurice Moscovitch

,

as

Dr. Muller
Peggy Ann Garner

,

as

Ellen Eden
Charles Coleman

,

as

Archie Duross
George Rosener

as

Dr. Hastings at Hotel
Reviewed on:
January 22nd, 2015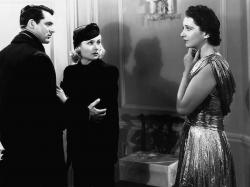 Cary Grant, Carole Lombard and Kay Francis in In Name Only.
You would think that a movie costarring Cary Grant and Carole Lombard in 1939 would have been a screwball comedy (this was actually their third picture together following Sinners in the Sun (1932) and The Eagle and the Hawk (1933) (neither of which was a comedy either)). On the contrary, In Name Only is a melodramatic soap opera. RKO originally purchased the rights to Bessie Breuer's 1935 novel, Memory of Love, as a vehicle for Katharine Hepburn. It was intended to reunite her with Cary Grant, but after the disappointing box office performance of Bringing Up Baby – when Hepburn was famously labeled "box office poison", the role went to Lombard instead. She was newly married to Clark Gable at the time and was anxious to fill her days while her husband was off playing Rhett Butler in a little picture called Gone with the Wind. John Cromwell was hired to direct and fading movie star Kay Francis was cast in the pivotal role of Maida Walker.
This is the type of story that could never happen today. Modern audiences will probably find it a bit absurd but in those days social mores were strictly adhered to, especially among the upper classes. Cary Grant is unhappily married to Kay Francis. He falls in love with Carole Lombard and Francis refuses to give him a divorce. The plot is that simple but it generates enough melodrama to fill this ninety minute picture.
The cast is uniformly terrific. Grant and Lombard will both be forever remembered as the premiere practitioners of screwball comedy in the history of film. Lombard does some physical comedy at the beginning of the movie with a fishing rod. Grant already had his polished timing and delivery down pat. When a flirting woman tells him he's very direct, he quips back, "You're not exactly oblique yourself." Yet as funny as they were, both were also quite accomplished dramatic actors, as they prove here. Each really shines near the end of the picture when the drama reaches a full boil. Grant plays a sick man near death convincingly, and Lombard's eyes well up with tears several times.
Kay Francis had been a top star at Warner Brothers in the early 30s before her position was usurped by Bette Davis. Her resume included the seminal comedy The Cocoanuts with the Marx Brothers (she started out with Paramount before going over to Warner's) and the tearjerker classic One Way Passage opposite her frequent costar, William Powell. By the late 30s, however, her career was in serious decline. She had gained weight and was drinking heavily. Despite this, Francis managed to pull herself together, lose twenty pounds, and give one hell of a performance as Maida Walker. She's all smug superiority. A woman you'll love to hate.
The supporting cast includes Helen Vinson as Maida's backstabbing best friend. It is she whom Grant delivers the line I quoted above to. She brings some comic relief to all the romantic but somber proceedings. Charles Coburn has a few scenes as Richard Walker, Grant's disapproving father, and little Peggy Ann Garner plays Lombard's daughter from a previous marriage. She would receive a special juvenile Academy Award for her starring role in A Tree Grows in Brooklyn in 1945.
In Name Only offers a fascinating glimpse into the past. It features a glamorous and sophisticated cast playing glamorous, sophisticated people. Lombard's outfits, most of which would have been considered casual at the time, seem extravagant by today's puerile standards. Kay Francis is the absolute picture of the chic society wife. Grant is Grant, which simply means that he looks impossibly debonair in every scene. Even with pneumonia he's the most handsome man who ever lived.
In Name Only is for anyone who enjoys a good old fashioned melodrama featuring a cast to die for.
Photos © Copyright RKO Radio Pictures (1939)