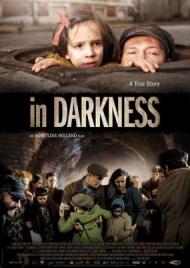 US Release Date: 09-09-2011
Directed by: Agnieszka Holland
Starring
▸
▾
Robert Wieckiewicz

,

as

Leopold Socha
Benno Furmann

,

as

Mundek Margulies
Agnieszka Grochowska

,

as

Klara Keller
Maria Schrader

,

as

Paulina Chiger
Herbert Knaup

,

as

Ignacy Chiger
Marcin Bosak

,

as

Yanek Weiss
Julia Kijowska

,

as

Chaja
Jerzy Walczak

,

as

Jacob Berestycki
Oliwer Stanczak

,

as

Pawel Chiger
Milla Bankowicz

,

as

Krystyna Chiger
Krzysztof Skonieczny

,

as

Szczepek
Kinga Preis

,

as

Wanda Socha
Ireneusz Czop

as

Janowssa SS Man

Reviewed on:
October 12th, 2012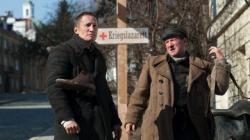 Benno Furmann and Robert Wieckiewicz in In Darkness
With In Darkness, Agnieszka Holland again visits the subject of the Jewish persecution and survival under the Nazis. Europa Europa is one of my favorite films, telling the true story of a Jewish boy who attended a German school as a Nazi. He went through great lengths to keep his secret and survive the war.
In Darkness tells another true story of what extremes some Jews went to in order to survive. Leopold Soha was a plumber who worked in the city sewers of Lvov (formerly Poland). As the film starts, he is a self serving person taking bribes and stealing to help out his family. He starts to help hide some Jews because they are paying him. When the Nazis start to liquidate the Lvov ghetto, he ends up hiding them and more in the sewers. A Russian officer, whom Soha has known for awhile, asks him to help look for Jews in the sewer, pointing out the amount of ransom that is paid per Jew.
Soha started as an opportunist but ended up risking his own life to save a dozen Jews. He used their money to buy them food. In one scene the lady at the grocers asks how is it that his wife had no money yesterday but today he can buy enough food for an army. When the Jew's money ran out he still found ways to provide food for them. For fourteen months these Jews lived, prayed, fell in love, had sex and had a baby in the filthy dark sewers.
Benno Furmann is one of my favorite German actors working today. He shares a love story with another Jew hiding out in the sewer. They have a nice romantic scene when he finds her an old pair of shoes and later an erotic one when he comes across her showering. Love can happen in the most unlikeliest of places.
As you would expect from a film with this subject matter, there are some very dark moments and death lurks everywhere. What we learn from these types of stories though is that humanity can dig deep and find great strength and fortitude when the need arises. The legacy of the holocaust is not the destruction of groups of people deemed unworthy but the resilience of those who survived.
In Darkness was Poland's entry for the Academy Award for Best Foreign Language Film, but lost to A Separation from Iran. Still, In Darkness remains a powerful film with a message that even when the world is at its darkest there are still lights of hope.
Photos © Copyright Schmidtz Katze Filmkollektiv (2011)