Movie Review
The Importance of Being Earnest
Everybody Loves Ernest... But Nobody's Quite Sure Who He Really Is.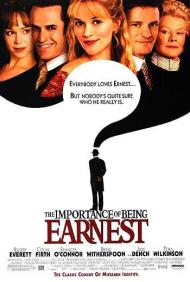 US Release Date: 05-17-2002
Directed by: Oliver Parker
Starring
▸
▾
Rupert Everett

,

as

Algy
Colin Firth

,

as

Jack
Reese Witherspoon

,

as

Cecily
Judi Dench

,

as

Lady Bracknell
Tom Wilkinson

,

as

Dr. Chasuble
Frances O'Connor

,

as

Gwendolyn
Anna Massey

,

as

Miss Prism
Charles Kay

,

as

Gribsby
Edward Fox

as

Lane

Reviewed on:
May 19th, 2002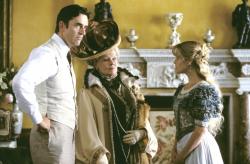 Rupert Everett, Judi Dench and Reese Witherspoon in The Importance of Being Earnest.
Ok, according to the purists the writer/director of this movie (Oliver Parker) has played fast and loose with the original play this is based upon. Which is fine, let them bitch and complain. For those people, like me, who have never seen or read the Oscar Wilde play, and therefore aren't caught up in worrying which bit has been changed, this movie is a wonderful comedy of manners done as only the British can do them. It's witty, charming, entertaining and a whole slew of other platitudes.
The plot goes something like this... Jack Worthing (Colin Firth) is a proper country gentlemen who likes to slip up to London and enjoy a bit of decadence now and again. While staying in London he goes by the name of Earnest. He tells his young ward, an eighteen year old girl (played by Reese Witherspoon) and his servants and friends that he must travel to London frequently to take care of his miscreant brother; Earnest. Just to be clear, he doesn't have a brother, he is in fact, an orphan. Algernon Moncrieff (Rupert Everett) is everything Jack Worthing is not. He's a cad, a womanizer, he dodges his debtors, and just tries to get away with doing as little as possible.
It is through Algernon that Jack meets Gwendolen and he quickly falls in love. There are two things standing in the way of their true love. First there is Gwendolen's Mother (Judi Dench), an iron-handed old woman by whom all potential suitors must pass. And secondly, Gwendolen has got it into her head that she could only ever love a man named Earnest, which is the name by which she knows Jack.
While Jack is pursuing Gwendolen, Algernon, in an attempt to avoid his debtors and perhaps meet the beautiful young Ward, leaves for the country, arriving at Jack's home, proclaiming himself to be, who else?, Jack's younger brother Earnest.
He quickly discovers that the young ward, Cecily, is already in love with him, having fabricated an imaginary life for him based on his exploits as related to her by her guardian, Jack. He also finds, somewhat to his horror, that he has sincerely fallen in love with her.
Naturally, Jack arrives back home, Gwendolen arrives, and so does her mother, and everyone becomes rapidly confused over which Earnest is which.
The cast in this movie is all wonderful. Both Colin Firth and Rupert Everett are marvelously proper and funny at the same time, and even carry off a duet together over the end credits. They share a camaraderie that really holds this movie together and makes you think that they really could be brothers.
It is Judi Dench who steals this movie though. Her portrayal of the matriarch with the acid tongue is priceless. She gets to spout lines like, "To lose one parent, Mr. Worthing, may be regarded as a misfortune; to lose both looks like carelessness." and "Thirty-five is an attractive age. London is full of women of the highest birth who have, of their own free choice, remained thirty-five for years."
The Importance of Being Earnest is the perfect counter-programming in a Summer already overly-heavy with special effects extravaganzas. It's a movie where the script is the most important thing. It's sophisticated, witty, and charming. Let's hear someone describe Spider-man or Attack of the Clones like that!

Reviewed on:
May 22nd, 2002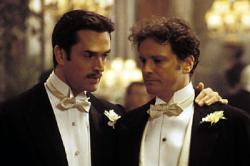 Rupert Everett and Colin Firth in The Importance of Being Earnest.
The Importance Of Being Earnest is a nice little movie. It plays like a cute sitcom. A small group of players mistake each other for people they are not.
Colin Firth and Rupert Everett are great as members of the British upper class who each invent a person who takes them away from their real life. Rupert decides to pretend to be Colin's long absent pretend brother Earnest. When in London Jack pretends to be Earnest. As Earnest he has fallen in love and gotten engaged. All players gather at a nice country estate and some slightly amusing situations occur.
It can be charming watching the stuffy refined British upper class attempt to express feelings. They always seem awkward in these movies when it comes to love. Firth and Everett are two polar screen opposites. Firth is stiff and masculine where Everett is limp and feminine. Yet they make a good acting team. They have worked together since Another Country more than 10 years ago. They play off each other very well.
A nice, mostly British, cast and some good dialogue, "The very essence of romance is uncertainty." can only do so much to raise this above the mediocre situation comedy film it is.
Reviewed on:
August 22nd, 2013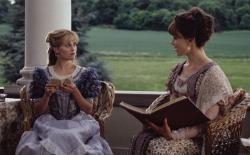 Reese Witherspoon and Frances O'Connor in The Importance of Being Earnest.
As Scott wrote, your enjoyment of this movie seems to depend on whether or not you are a fan of Wilde's play. The general consensus online by those who love the play seems to be that the 1952 film version is far superior. I guess you cannot miss butter if all you've ever known is margarine. Those unfamiliar with the play can enjoy its sophisticated wit without knowing that much of the original dialogue is missing or that Parker has added a few lowbrow touches in order to make it more cinematic.
These include Gwendolen having "Ernest" tattooed on her rear-end in a disreputable London District before donning goggles and cap to drive a motorcar to the country, and a flashback of Lady Bracknell as a dance hall girl in her youth. On the other hand one scene that was in the original draft of the play but was later dropped at the producer's request is included here. It's the scene where the solicitor Mr. Gribsby pursues Jack to Hertfordshire to collect a debt.
As I'm in the camp of those who've seen neither the stage play nor the 1952 movie adaptation, I must confess to enjoying Oliver Parker's rendition of The Importance of Being Earnest. Sure one can argue that Parker has "dumbed-down" Wilde's work in order to appeal to modern audiences and he may have cut much of the dialogue. But what's left, as both my brothers stated, contains some wonderfully memorable lines and speeches.
When it appears that neither "Ernest" will get to marry his betrothed, Jack remarks, "Then a passionate celibacy is all that any of us can look forward to." Lady Bracknell (describing Jack's father), "The General was essentially a man of peace, except in his domestic life." I also laughed when Algy (posing as Ernest) compliments Cecily and she responds by taking out her diary to transcribe his words. The fact that she was carrying on a love affair with "Ernest" all by herself for months is quite hilarious and Reese Witherspoon is better in the role than you would expect.
My absolute favorite speech is delivered by the scene stealing Lady Bracknell during her interview with Jack to ascertain whether or not he is a suitable spouse for her daughter. When the subject of knowledge comes up she launches into this diatribe, "I do not approve of anything that tampers with natural ignorance. Ignorance is like a delicate, exotic fruit. Touch it, and the bloom is gone. The whole theory of modern education is radically unsound. Fortunately in England, at any rate, education produces no effect whatsoever. If it did it would prove a serious threat to the upper classes, and probably lead to acts of violence in Grosvenor Square."
The sets and gowns are exquisite and the cinematography quite gorgeous to look at. As an introduction to Oscar Wilde's most enduring play Oliver Parker's The Importance of Being Earnest works just fine. Purists, however, should stay far away.
Photos © Copyright Miramax Films (2002)