Movie Review
Imitation of Life
The glossy Technicolor update of Fanny Hurst's heartbreaking novel explodes on the screen!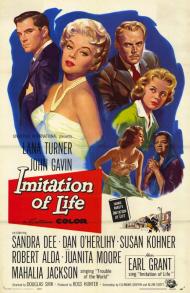 US Release Date: 04-17-1959
Directed by: Douglas Sirk
Starring
▸
▾
Lana Turner

,

as

Lora Meredith
Juanita Moore

,

as

Annie Johnson
John Gavin

,

as

Steve Archer
Sandra Dee

,

as

Susie, age 16
Susan Kohner

,

as

Sarah Jane, age 18
Robert Alda

,

as

Allen Loomis
Dan O'Herlihy

,

as

David Edwards
Troy Donahue

,

as

Frankie
Karin Dicker

,

as

Sarah Jane, age 8
Terry Burnham

,

as

Susie, age 6
Mahalia Jackson

as

Choir soloist

Reviewed on:
April 17th, 2001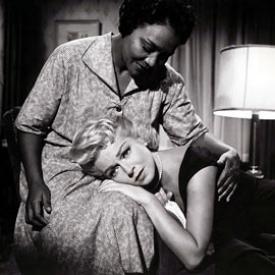 Juanita Moore and Lana Turner in Imitation of Life.
Twenty-five years after the original black & white movie version of Fanny Hurst's novel, director Douglas Sirk updated Imitation of Life with this glossy Technicolor production. This would be his last Hollywood movie. The general plot remains the same but many of the details, such as all of the main character's names, have been changed. Gone is the dated pancake company. Instead the Lana Turner character, Lora Meredith, is an aspiring actress who eventually becomes a big star on Broadway. The rest of the story is unchanged: struggling white actress and recently widowed Lora and her young daughter meet widowed black Annie Johnson and her young white-looking daughter and their lives become forever entwined. This time the meeting takes place under the boardwalk on Coney Island sometime after the second world war and covers the years up to the late fifties.
Unlike Claudette Colbert in the original version, Lana Turner's Lora is portrayed as a neglectful ambitious mother. She has little time for her daughter and takes her maid Annie completely for granted. In one scene she even expresses surprise that Annie would have friends and a life outside of Lora's household. During Annie's death scene Lora goes into hysterics, but is it because she truly loved Annie as a person or is she simply frightened at losing her? Douglas Sirk takes a much more cynical view of American society than the original movie did. The result is a less subtle but more emotionally powerful movie.
Juanita Moore is quite moving as the heartbroken and hard-working Annie, disowned by her only child because of her skin color. Lana Turner is also good. But in my book it is Susan Kohner, as the tormented Sarah Jane, who walks away with the movie. She is one of the most unhappy characters you will ever find in a movie. Her every word drips with bitterness and self-pity. In one memorable scene she takes a tray of refreshments in to Lora and her guests. She carries the tray on her head and puts on an affected Southern Negro accent. 'Fetched y'all up a mess 'a crawdads, Miss Lora...fo' you an' yo' friends!' An embarrassed Lora responds, 'Well, that's quite a trick, Sarah Jane...where did you learn it?' 'Oh, 'tain't no trick ta' totin', Miss Lora! I learned it from my mammy, an' she learned it from ol' massa, 'fo' she belonged to you.'
But it is the final scene that will cause projectile tears to spring from the eyes of any living being with a soul. Annie leaves Lora a detailed list of what she wants for her funeral. She wants the service at St. Patrick's Cathedral with her body to be carried in a coach up 5th Avenue, led by four white horses and a marching band. Mahalia Jackson appears as a choir soloist and sings a haunting version of 'Trouble of the World'. As they are carrying the casket out through the throngs of people lining the street, Sarah Jane pushes her way through the crowd yelling, 'Let me through, that's my mother!' She rushes up to the coffin and hysterically begs her mother's forgiveness.
Douglas Sirk certainly knew how to elicit an emotional response from his audience. Fannie Hurst deserves credit for creating these classic characters and Frank Skinner for composing a melodramatic score that would have made the great Max Steiner proud. The critically acclaimed Far From Heaven was clearly influenced by this movie and by Sirk's cinematic style in general. My one small complaint is that the first thirty minutes drag a bit, but once the girls grow up this movie is flawless right up to the final moment.

Reviewed on:
March 1st, 2006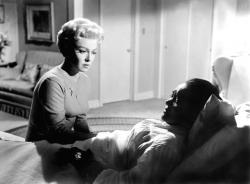 Lana Turner and Juanita Moore in Imitation of Life.
Imitation of Life is pure soap opera. It drips with melodrama from start to finish. Everyone talks in romantic platitudes such as, "How do you explain to your daughter that she was born to be hurt?" and "I'm loving you now and tonight. Thank you." At one point Lora gets offered a movie role that she describes as being, "Only the best part since Scarlett O'hara!"
The movie's most over the top moment comes when Sarah Jane tries to talk her boyfriend into running away with her. She says she would do anything, hint hint, to be with him. He in turn asks, "Is your mother a nigger?" He then beats her up.
I cannot imagine this scene being filmed today. In a current world where people riot over a little cartoon and Bryant Gumble whines about the winter Olympics not having enough blacks participating in them I doubt anyone in Hollywood would have the balls to make a movie today where a white character asks that question let alone beats up a harmless girl because she is not white.
Imitation of Life is a historically interesting movie. As each generation passes away, so do bigotries and stereotypes. And those who do still harbor such thoughts have been very much closeted by the politically correct police. This film is a great look at attitudes that use to exist out in the open.
As a fan of old Motown songs, I am betting that the Supremes' song I'm Living in Shame, about a young black girl who denies her mother's humble beginnings, was inspired by Sarah Jane.
Photos © Copyright Universal International Pictures (1959)
Related Review