Movie Review
I'm No Angel
A Story About A Gal Who Lost Her Reputation - And Never Missed It!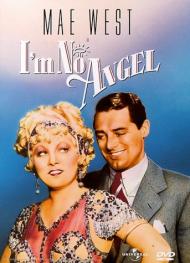 US Release Date: 10-06-1933
Directed by: Wesley Ruggles
Starring
▸
▾
Mae West

,

as

Tira
Cary Grant

,

as

Jack Clayton
Gregory Ratoff

,

as

Benny Pinkowitz
Edward Arnold

,

as

Big Bill Barton
Ralf Harolde

,

as

Slick Wiley
Kent Taylor

,

as

Kirk Lawrence
Gertrude Michael

,

as

Alicia Hatton
Hattie Mcdaniel

as

Tira's Maid-Manicurist
Reviewed on:
October 6th, 2001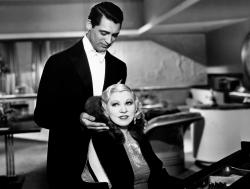 Cary Grant and Mae West in I'm No Angel.
When I think of seeing movies with my brothers there are different periods of my life that stand out for each of them. With Scott it is theatrical movies from the mid-eighties, but I'll save that for another review. With my brother Eric I remember watching old movies on television in the seventies. The most memorable are... Sunset Boulevard which we stumbled upon late one summer night, Viva Maria (I can still picture Brigitte Bardot and Jeanne Moreau blowing up bridges together), Stand Up and Cheer with Shirley Temple that we watched at our grandparents house, and the great Mae West in I'm No Angel. This movie affected us profoundly. We had only recently discovered classic Hollywood and this movie helped make it an obsession. It was around this time that we started a scrapbook of photos of any old time stars we could get our hands on. I recently watched this movie again for the first time in over a quarter of a century. I hadn't really thought much about the details of the story but it all came rushing instantly back to me.
Mae West is Tira, a flamboyant lion tamer in a fifth rate circus. She's also been around the block a few times. Desperate for more money she agrees to put her head in a lion's mouth and very quickly finds herself playing Madison Square Garden and being visited in her hotel room by swells. One of these is a boyishly young Cary Grant. He falls for her charms (it was practically a rule in a Mae West movie that every man would fall instantly in love with her) but then due to a misunderstanding, backs out on their wedding plans. Not being one to take things lying down, she hauls him to court in the movie's hilarious finale.
Mae West was quite possibly the most original star ever. She was not an actress at all, but a personality, a saloon singer from Brooklyn who made it big on Broadway before going Hollywood.
Did I mention that she wrote the script herself? This movie features many of her famous one-liners. Here's a sample. "Beulah, peel me a grape." "When I'm good, I'm very good. But, when I'm bad, I'm better." "It's not the men in your life that counts, it's the life in your men." And her signature line. "Why don't you come up some time and see me?"
This simple little comedy is a Hollywood gem thanks to its captivating star. Her wardrobe is ghetto-fabulous, she struts through a couple of honky-tonk numbers, spouts funny wisecracks non-stop and gets Cary Grant at the end. What more could any movie want?
Photos © Copyright Paramount Pictures (1933)