Movie Review
The Illusionist
From the creator of The Triplets of Belleville.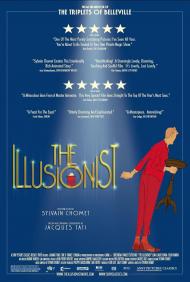 US Release Date: 12-25-2010
Directed by: Sylvain Chomet
Starring
▸
▾
Jean-Claude Donda

,

as

The Illusionist / French Cinema Manager (voice)
Eilidh Rankin

,

as

Alice (voice)
Duncan MacNeil

,

as

Additional Voices (voice)
Raymond Mearns

,

as

Additional Voices (voice)
James T. Muir

,

as

Additional Voices (voice)
Tom Urie

,

as

Additional Voices (voice)
Paul Bandey

as

Additional Voices (voice)
Reviewed on:
February 8th, 2011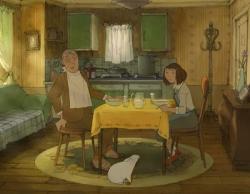 The beautifully animated but slow-paced The Illusionist.
Artfully animated, dripping with bittersweet melancholy, quite beautifully rendered and rather slow paced, The Illusionist is one of the other Oscar nominated animated films. I say "other" because obviously Toy Story 3 is going to walk away with the top prize. Although there are some great things about this movie, I don't think it deserves the Oscar anyway, even if Toy Story 3 wasn't its competition.
The story is rather simple and sweet and comes loaded with sentimentality. A down on his luck magician takes his show from Paris in 1959 and winds up in a remote part of Scotland where he meets and befriends a young maid at the Inn he's staying at. She follows him on his travels and the two of them land in Edinburgh where the magician takes on various odd jobs and the young girl becomes more worldly (transforming into a young Audrey Hepburn), eventually meeting a young man and the magician realizes that their time together can not last.
Although there is sound and a small amount of dialogue, this is basically a silent film. You could remove what conversation there is and all of the sound effects and you wouldn't affect the story in the slightest. As I'm not a huge fan of silent film to begin with, this wasn't a plus for me. The story is slim and the running time only about 75 minutes, but even so, because of the lack of dialogue the story is stretched out even longer than it needed to be. Some people might enjoy the slow leisurely pace this provides but I found it rather boring if I'm honest.
There are some nice moments. Little touches here and there that are quite brilliant. The drunken magician is a cute moment and the acrobats are a nice touch. Edinburgh certainly looks beautiful and is shown off to quite good effect. It will make you want to visit.
I was touched by the ending of the story, but the sentimentality is laid on pretty thick. The suicidal clown was a bit much. A little more restraint might have evoked more emotion by letting the audience come to the story instead of the other way around.
I'm sure that some people will enjoy this movie much more than I. It is quite beautiful, but I'd have preferred cruder animation and a stronger story with dialogue. Maybe it's just too French for my taste as it's certainly not my cup of tea.
Photos © Copyright Pathe (2010)