Movie Review
I'll Be Home for Christmas
This yule, be cool.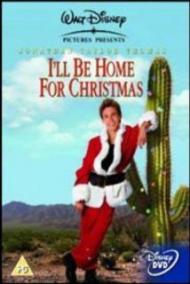 US Release Date: 11-13-1998
Directed by: Arlene Sanford
Starring
▸
▾
Jonathan Taylor Thomas

,

as

Jake
Jessica Biel

,

as

Allie
Adam LaVorgna

,

as

Eddie
Gary Cole

,

as

Jake's Dad
Eve Gordon

,

as

Carolyn
Lauren Maltby

,

as

Tracey
Andrew Lauer

,

as

Nolan
Sean O'Bryan

,

as

Max
Lesley Boone

,

as

Marjorie
Peter Kelamis

as

Conway The Bus Driver

Reviewed on:
December 9th, 2014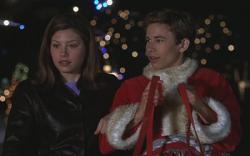 Jessica Biel and JonathanTaylor Thomas in I'll Be Home for Christmas
One of the most common themes of any Christmas story is one of redemption. There have been such wonderfully redeemable characters as The Grinch and Ebenezer Scrooge. They learn, in their own way, to love and care about others. In I'll Be Home for Christmas, we have a spoiled self-centered college student in California, who learns to think of others. Well, that was the intention anyway.
Having spent the last eight years on the highly rated Home Improvement and having dominated the covers of teen magazines, Jonathan Taylor Thomas was, in 1998, at the very height of his soon to be over career. Thomas plays Jake, a smooth talker who uses and abuses those around him for his own got and gain. He has a lackey, Ian, whom he treats like a servant. His girlfriend, Allie, wants to go home, back east, for Christmas while he wants to take her to a resort.
After not being able to deliver all of the test answers to some jocks, Jake wakes up in the desert wearing a Santa Claus suit. After making it to a phone, his father tells Jake that if he can make it home by Christmas, he will give Jake his prized red Porsche. The rest of the film is Jake hitch hiking his way across the country, having adventures and along the way helping people, more out of necessity than actual generosity. His girlfriend is meanwhile driving across country with Jake's arch enemy, Eddie. They occasionally bump into each other along the way.
Jake's journey puts him into contact with an assortment of interesting people and situations. One of my favorites is a dim bulb thief, Nolan, driving a van full of stolen electronics. He runs over Jake along the highway. "Oh, man, I went and killed Santa!" Jake helps a police officer to get back with his waitress wife, during her shift. Through his adventures, challenges and learning experiences, Jake is intended to grow into a more mature person.
When Jake arrives home he turns down his father's reward, as a demonstration to his girlfriend that he is willing to put her first. However, he ends up with Allie and the Porsche, so what exactly was the lesson? Scrooge had his lonely life disrupted by some ghosts while the Grinch spent years in a cave with only a dog for companionship. All Jake has to do is wear a Santa suit for a few days and meet some new people. He never makes amends with Ian or pays for any of his petty school crimes. Although the point of the tale is that Jake is now a new and improved young man, I did not buy it.
I'll Be Home for Christmas has some entertainment value. The fat Santa Claus's running the 5k is worth a chuckle. Jessica Biel is adorable and far too good for Thomas. She is noticeably taller than the 5'6" actor. In real life she was then dating Adam LaVorgna, who plays Eddie. Another reference to Biel's romantic life comes with the closing credits being accompanied by the song, "Merry Christmas, Happy Holidays" sung by Biel's future husband, Justin Timberlake with NSYNC.
Photos © Copyright Walt Disney Pictures (1998)