Movie Review
If I Stay
Live for Love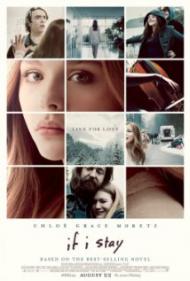 US Release Date: 08-22-2014
Directed by: R.J. Cutler
Starring
▸
▾
Chloe Grace Moretz

,

as

Mia Hall
Mireille Enos

,

as

Kat
Jamie Blackley

,

as

Adam
Joshua Leonard

,

as

Denny
Liana Liberato

,

as

Kim
Stacy Keach

,

as

Gramps
Gabrielle Rose

,

as

Gran
Jakob Davies

,

as

Teddy
Ali Milner

,

as

Liz
Aisha Hinds

as

Nurse Ramirez

Reviewed on:
August 28th, 2014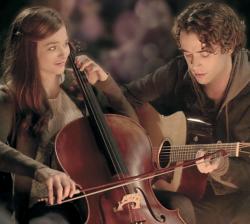 Chloe Grace Moretz and Jamie Blackley in If I Stay
If I Stay is a three hankie weeper. From beginning to end it is intended to make you awww and cry. A girl's life hangs in the balance for most of the film as her spirit pines over her boyfriend. Picture Endless Love meets Ghost.
Mia is a shy cello prodigy whose passion comes out when playing. Her parents are former rockers who have calmed down since having children but while Mia is an introvert, her parents are still very much extraverts. Mia, a junior at a Portland, Oregon high school, falls for Adam who is a senior in a rock band. Yeah, it is the classic good girl/bad boy scenario.
Shortly into the movie, Mia and her family get into a severe car accident with Mia ending up in a life threatening coma. The rest of the film switches back and forth between Mia's spirit walking among her loved ones at the hospital to flashbacks of Mia with her family and, most importantly, falling in love with Adam. The entire film's plot not only balances on whether or not Mia will survive but whether or not she even wants to.
Through Mia watching her family and friends visit her body and flashbacks to her love life with Adam, we see how her life was changed. Adam brought her out of her shell. She spent more time practicing her cello than anything else, before she met him. She experiences sex with Adam and they begin to plan a future.
When they first met, she was a junior and he a senior. By the time she becomes a senior, Adam has graduated and his band is playing dates out of town and on tour for weeks at a time. Mia has an opportunity to go to Julliard, in New York. Adam and Mia's relationship seems about to end. Then comes the car accident where not everyone lives.
Of course we're thinking that she will live, right? What kind of movie would let her die? Then we get the films best dramatic scene where Stacy Keach, as Mia's grandfather, cries to her body that it is okay if she wants to let go and pass on. We also see that her relationship with Adam is in severe crisis. If she stays with Adam, she has to give up her dream of Julliard. If Adam goes with her to New York, his band will break up and his dream will end.
Come on! Only someone as young or naïve as Mia could imagine that her relationship with Adam will last. If she lives, there is no way in hell that Mia and Adam will live happily ever after. With that said, will Mia live or die? That is the question that we sit and wait to be answered.
There are plenty of sad moments and my wife thoroughly enjoyed this chick flick. This movie's target audience is not a demographic I fit into but sometimes a little crying is not so bad and I will be honest, I cried a bit as well. If I Stay is that kind of film. The pace is slow and clichéd but, depending on your level of sentimental tolerance, it may create some emotional reaction in you.
Photos © Copyright Metro-Goldwyn-Mayer (MGM) (2014)