Movie Review
Ice Age
They Came. They Thawed. They Conquered.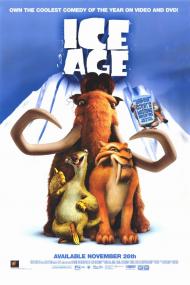 US Release Date: 03-15-2002
Directed by: Carlos Saldanha, Chris Wedge
Starring
▸
▾
Ray Romano

,

as

Manfred
John Leguizamo

,

as

Sid
Denis Leary

,

as

Diego
Cedric the Entertainer

,

as

Carl the Rhino
Jane Krakowski

,

as

Rachel the Sloth
Goran Visnjic

,

as

Soto
Jack Black

,

as

Zeke
Alan Tudyk

as

Lenny / Oscar / Dab

Reviewed on:
March 17th, 2002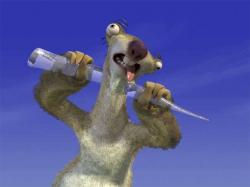 Sid from Ice Age.
Ice Age is hands down one of the funniest movies of recent times, animated or otherwise. It is full of hilarious characters, incredibly well voiced, silly situations, and the best computer generated animation done yet, and that includes Shrek, the Toy Story movies, and Monsters, Inc..
It tells the story of a group of oddball pre-historic characters, Manfred the Mammoth, Sid the Sloth, Diego the Sabretooth Tiger, and Scrat the squirrel. Together they discover a human baby and set out on a quest to return it to its human herd. Along the way they have numerous adventures and just generally get sidetracked to great amusement.
This is a movie filled with great moments, of which some of the best are Scrat's quest for the Acorn, the Dodo's rather rapid extinction, a delightful Star Trek reference, a quick view of evolution, and dozens of others. And the jokes are aimed at both children and adults alike. The theater I saw this in was jam packed with kids and their parents, and it would be tough to say which group of them was laughing loudest.
All of the actors do a great job with their voices, but John Leguizamo's Sid the Sloth easily steals the movie. His ditzy, but warm hearted, and well meaning character is the heart of the film and has all the best lines.
Without even seeing any other animated movies or knowing what's coming, I think it's safe to say that Ice Age should take home the Best Animated feature award. But don't take my word for it, go see this movie, you won't be sorry.

Reviewed on:
March 20th, 2002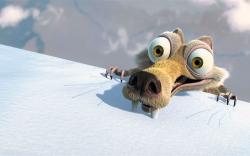 Scrat from Ice Age.
Scott, just a suggestion for the next time you go see a movie and review it, go sober, because you must have been drunk off your ass when you saw Ice Age.
'Best animation' ? Did you actually watch this movie? The background was about as realistic as the scenery in the perennial Rudolph The Red Nosed Reindeer television show. Shrek had much more eye popping animation with tons more detail. Watch it again.
Scott, you also gushed over the humor, and particularly liked the rodent trying to bury his prized acorn sequences. I have seen funnier Tom And Jerry cartoons and they are as predictable as they come. Okay, Leguizamo was great as Sid, but his slur was sometimes hard to understand. Ray Romano has the best slow burn since Charles Grodin, but a depressed talking woolly mammoth is hardly what I call entertainment.
Sid and the Dodo's part were really the only parts I found myself laughing at. My sons liked the slapstick but with Romano's sarcasm and Sid's speech impediment the verbal jokes were almost nonexistent for them.
The film goes for the moral throat by trying to make a point about what makes a family (herd). Through a cave drawing flashback, that goes way over kids heads, we learn that the Mammoth lost his wife and child to hunting humans. Still he risks his life to save the life of a human baby. Aaaaaahhh. Pooooeeey spit Excuse me while I get the saccharine out of my mouth. Even the treacherous saber-toothed tiger turns good. As if we ever thought he wouldn't.
Okay, its a kid's movie so plot surprises are not expected, but come on, not a whole lot even happens. They find the baby. They travel while bickering and return the baby.
Scott, I take back what I wrote in the first paragraph. I should have gotten drunk before I saw this movie as well. I probably would have enjoyed it a whole lot more.
Reviewed on:
March 5th, 2013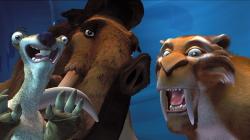 Sid, Manny and Diego in Ice Age.
Eric, you sound like a cranky old man in your review. Ice Age is pure fun from start to finish. It may not have the most original of plots but it is filled with lovable misfit characters, a witty script, and clever animation. Scrat and his eternal quest for that acorn that always seems to be just beyond his reach is quite hilariously done.
I had somehow never seen this movie -or any of its sequels- until today, but I vividly recall the first time I saw the trailer for it. I was intrigued by that funny looking squirrel thing chasing that acorn around that huge glacier, although clearly not enough to actually go see the movie. Anyway, eleven years later I finally got around to it and I was pleasantly surprised at how good it was.
The one thing I agree with Eric about is the details of the animation. It really isn't that great. The quality of the CGI improved a lot between the first Ice Age in 2002 and the second Ice Age in 2006. There is a less noticeable improvement between the second and third installments. Oh and the one other flaw Eric mentioned that I concur with is in the scene where the baby is reunited with his human family. I too found it a bit too saccharine with the swelling music and all.
Still the cast is good, the characters are funny and memorable, and the story is a simple but exciting adventure. I've always wondered how the Dodo bird went extinct. Now I know how. I cracked up at the two hottie female sloths in the hot mud spring. They have this exchange after Sid leaves. Rachel: "He's not much to look at, but it's so hard to find a family man these days." Jennifer: "Tell me about it. All of the sensitive ones get eaten."
This movie even includes a same sex marriage joke. When Diego meets Manfred, Sid and the human baby, Sid makes an offhand reference to the three of them as "Us." Diego says, ""Us"? You two are a bit of an odd couple." Manfred chimes in with, "There is no "us"!" Diego replies, "I see. Couldn't have one of your own, so you decided to adopt."
Ice Age is entertaining from start to finish. It runs less than 80 minutes, which is the perfect length for a kid's cartoon. Oh and Scott, Ice Age lost the Best Animated Feature Oscar to Spirited Away.
Photos © Copyright Twentieth Century Fox (2002)
Related Reviews