Movie Review
Ice Age: Dawn of the Dinosaurs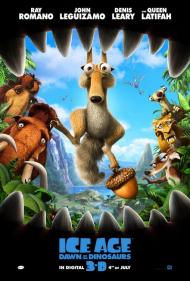 US Release Date: 07-01-2009
Directed by: Carlos Saldanha
Starring
▸
▾
Ray Romano

,

as

Manny (voice)
John Leguizamo

,

as

Sid (voice)
Queen Latifah

,

as

Ellie (voice)
Denis Leary

,

as

Diego (voice)
Simon Pegg

,

as

Buck (voice)
Seann William Scott

,

as

Crash (voice)
Jane Lynch

,

as

Diatryma Mom (voice)
Josh Peck

,

as

Eddie (voice)
Bill Hader

,

as

Gazelle (voice)
Kristen Wiig

as

Pudgy Beaver Mom


Reviewed on:
July 9th, 2009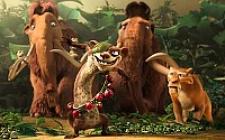 Simon Pegg adds some life to the franchise.
Ice Age: Dawn of the Dinosaurs is more of the same of what we have come to expect from our favorite prehistoric misfits. Manny and Ellie are expecting a baby. Diego is starting to feel his age. His prey gets away and then taunts him about it. Sid is still stupid. He finds some T-Rex eggs and thinks he is the mother. The squirrel is still chasing his nut, only now he has to deal with a hungry female squirrel as well. The plot involves the gang finding an underground world of dinosaurs where they meet a dino fighting weasal named Buck. Adventure and mirth follow.
A problem with the Ice Age movies is that Sid is the only funny character from the first movie. As such, they had to add Crash and Scrat in the second film for needed laughs. For this installment they have added Scott's favorite Brit, Simon Pegg as Buck. He is the brightest spot in this otherwise uninspired film. Tiny Buck likes to fight a huge dinosaur with great enthusiasm. "Let me tell you about the time I used a sharpened clam shell to turn a T-Rex into a T-Rachel."
For some reason, this children's movie has several penis jokes. Sid tries to milk a bull, but ends up getting chased by him, yelling, "I thought you were a female." After Ellie gives birth, Sid says "It's a boy!" but Diego corrects him, "That's a tail."
Ice Age: Dawn of the Dinosaurs is still just harmless fun that should entertain most kiddies. It continues the message established by the other two films, that family is important, whether it be by blood relation or convenience.
Reviewed on:
August 17th, 2009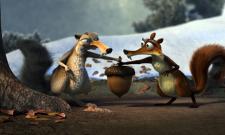 Scrat must chose between a wife and his nuts in Ice Age: Dawn of the Dinosaurs.
This third installment in the Ice Age franchise is feeling tired and played out. Like you say Eric, it is only the addition of Simon Pegg as Buck that gives this story its spark. Even Sid, the main source of laughs in the first two Ice Ages, takes a back seat to him.
Manny and Ellie, the two wooly mammoths, are as dull as a couple of hairy elephants and their pregnancy storyline doesn't do much to spice them up. Diego barely gets a moment to shine and even Sid has lost his comic edge. They manage to evoke some chuckles, but seem shadows of themselves from the earlier movies.
Only when Buck appears does the movie rise above its mundane trappings. His Ahab to Rudy the Great White Dinosaur's Moby Dick is the most enjoyable part of the story. He easily gets the best and funniest lines. "Did you hear that?" he asks at one point. "The wind is speaking to us." "What's it saying?" Eddie asks. "I don't know," Buck replies. "I don't speak wind." He also has a very funny comic moment when he appears to be speaking on a cell phone that is really a rock.
Along with Buck, I must confess that Scrat the nut chasing squirrel also makes me laugh. His encounters with love, which momentarily distract him from his nut, are also good for a laugh, but like the first two movies his part has nothing to do with the main plot.
The first two Ice Age movies were fairly enjoyable cartoons and I had some expectations for this one. After seeing it though, the idea of a fourth Ice Age (if it isn't called The Adventures of Buck) leaves me cold.
Reviewed on:
March 5th, 2013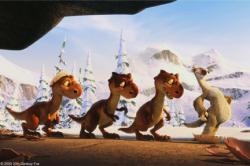 Sid and his kids in Ice Age: Dawn of the Dinosaurs.
Ice Age: Dawn of the Dinosaurs was the biggest hit thus far in the franchise. It was the first Ice Age movie to be released in 3-D. As the title suggests it includes those giant extinct reptiles from millions of years ago. Although it includes some laughs and some mildly exciting adventure, it feels a bit like the franchise is running out of steam at this point. I mean really, dinosaurs?
Thank god for the addition of Buck. He is the best thing about this installment. He gets the best lines like when he disturbs a large butterfly and then quips, "I knew that guy when he was a caterpillar, you know, before he came out." His manic persona (reminiscent of Crocodile Dundee) really adds to the proceedings.
As for the other familiar faces; Sid is still capable of generating a few chuckles as he tries his best to be a good mother to his three little T-Rex's (see photo), and the relationship between Manny and Diego still provides some heart. Manny and Ellie have a baby but the one thing I kept waiting in vain for in these sequels is for the human baby they saved in the first movie to return as an older child. Maybe in the upcoming fifth Ice Age he will (which reminds me that I still have the fourth movie Ice Age: Continental Drift to watch).
Ice Age: Dawn of the Dinosaurs isn't bad for the third movie in a franchise. Judging by the box office results these characters are entertaining and beloved enough to keep going for quite some time. Who knows they might still be making Ice Age movies at the dawn of the next actual Ice Age.
Photos © Copyright 20th Century Fox (2009)
Related Reviews