Movie Review
I Killed My Mother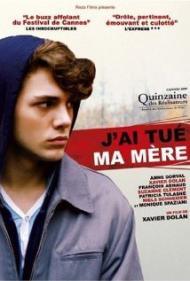 US Release Date: 07-15-2009
Directed by: Xavier Dolan
Starring
▸
▾
Anne Dorval

,

as

Chantale Lemming
Xavier Dolan

,

as

Hubert Minel
Francois Arnaud

,

as

Antonin Rimbaud
Suzanne Clement

,

as

Julie Cloutier
Patricia Tulasne

,

as

Helene Rimbaud
Niels Schneider

,

as

Eric
Monique Spaziani

,

as

Denise
Pierre Chagnon

,

as

Richard Minel
Justin Caron

as

Jeune Hubert

Reviewed on:
October 8th, 2013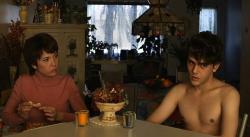 Anne Dorval and Xavier Dolan in I Killed My Mother.
I Killed My Mother (J'ai tué ma mère) is a remarkable movie debut from Canadian writer/director/actor Xavier Dolan. The former child actor was just 16 when he wrote this semi-autobiographical screenplay. 3 years later he directed and starred in the movie. In it he plays Hubert Minel, a teenager living with his single mother in suburban Montreal. I Killed My Mother takes a look at the volatile relationship between a mother and her son. The details may vary from family to family but anyone that's been either a mother or a son will be able to relate to this stunningly honest film.
The title comes from the fact that when assigned to write about his parents in school he lies to his teacher and tells her his mother is dead. When his teacher learns the truth she confronts him by saying, "You killed your mother." This statement inspires Hubert to write a paper titled, "I Killed My Mother".
Since the script was actually written by a teenager it rings true. Hubert is smart and artistic but he cannot always express exactly what he feels. He only knows that his mother bugs him to no end and he suffers from more than his share of angst. Hubert is also gay, a fact that his mother discovers from Hubert's boyfriend's mother. She is more hurt by the fact that her son doesn't trust her enough to confide in her than she is over the fact itself. If this were a Hollywood movie, no doubt more time would have been spent on her agonizing over her son's sexuality and eventually coming to terms with it. Fortunately I Killed My Mother is more complex than that. Hubert's homosexuality is but one aspect of his life and it isn't overly dwelt upon.
My favorite scene happens after Hubert's parents (his father also lives in Montreal but only sees his son at the holidays) send him away to boarding school. Hubert, high on drugs, wakes his mother up in the middle of the night. In a state of drug induced euphoria he excitingly tries to explain his feelings to her. Being a parent, she only shows concern that her son is high. It is a great scene and Xavier Dolan gets to show off his acting chops.
Anne Dorval is equally good as his mother. From the outside she doesn't seem to be a bad parent. Sure she is tired from working all day and suffers from the stress of raising a son without the help of his father. We see her mostly through the eyes of her son. She has one great scene where she tells off the principal of Hubert's boarding school.
Xavier Dolan was born in 1989 but he has already directed 4 feature films (his newest movie Tom at the Farm opens this month). In 2009 I Killed My Mother was the official Canadian entry for Best Foreign Language film at the 82nd Academy Awards, and it received an 8 minute standing ovation at Cannes. Xavier Dolan is a talent to be reckoned with, but don't take my word for it, watch I Killed My Mother and you'll soon see what I mean.

Reviewed on:
October 9th, 2013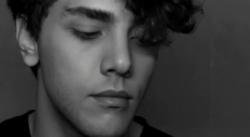 Why did the word "narcissistic" come to mind as I watched this?
As Patrick wrote, this is told from a teenage boy's perspective. As I have two teenage sons, I saw this film from the parent's perspective. Although Hubert is shown as intelligent, articulate and artistic, I found Hubert to be a self-centered arrogant disrespectful prick. He thinks the world revolves around him. From his extraordinarily angry outbursts to such subtle moments as making his mom wait 45 minutes in the car, show an unhappy youth who cares nothing for his mother's feelings. He yells hateful things at her whenever he feels like it.
As a product of a broken home, Hubert's actions are not surprising. Would any father come close to letting their son talk to his wife the way Hubert talks to his mother? As a single working mother, she spent many hours away from Hubert who consequently developed a life she knows nothing of. The dramatic scene that Patrick mentioned has a man from the school tell his mother that Hubert needs some male authority figure. She takes it as a personal attack as if he is blaming her for how Hubert turned out. The man from the school is partially correct but his suggestion of a lineup change is far too late in the game.
Hubert's mother concerns herself with the daily needs of her son such as food and rides to school but she does not know her son very well. It is both of their faults that they do not connect. She always wants to talk during dinner while he would rather sulk and insult. The only time he wants to talk to her is when he wants something or is stoned. When he decides to talk she is often "busy" watching her favorite show. His mother truly wants the best for Hubert but he is so self righteous that it is impossible for him to see it.
In contrast, Hubert's boyfriend's mother is extremely easy going. She allows them to smoke weed in her house. She flaunts her boy toy in front of her gay son and Hubert, whom she is fully aware are a couple. A gay son may appreciate her but she acts more like a friend than a parent.
Xavier Dolan does a decent job but I was not so enamored with it all as Patrick. Dolan's performance is anything but subtle. He yells as often as he speaks. He tries several times for artistic symbolism and scenes that add nothing to the story. In fact, there really is not a story to speak of. The entire plot is Hubert constantly yelling in frustration at his mother, who reacts in a not-so-bad way. By the end of the film, we have come to better understand Hubert and his mother but there is no indication that they will have any better of a relationship.
Photos © Copyright Mifilifilms (2009)