Movie Review
I Heart Huckabees
An existential comedy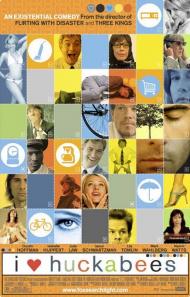 US Release Date: 10-01-2004
Directed by: David O. Russell
Starring
▸
▾
Jason Schwartzman

,

as

Albert Markovski
Isabelle Huppert

,

as

Caterine Vauban
Dustin Hoffman

,

as

Bernard
Lily Tomlin

,

as

Vivian
Jason Schwartzman

,

as

Brad Stand
Mark Wahlberg

,

as

Tommy Corn
Naomi Watts

,

as

Dawn Campbell
John Rothman

,

as

Corporate Board
Talia Shire

,

as

Mrs. Silver
Richard Jenkins

,

as

Mr. Hooten
Isla Fisher

,

as

Heather
Jonah Hill

,

as

Bret
Tippi Hedren

,

as

Mary Jane Hutchinson
Jean Smart

as

Mrs. Hooten

Reviewed on:
September 30th, 2004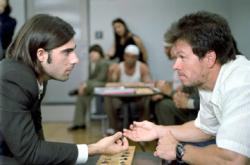 Jason Schwartzman and Mark Wahlberg in I Heart Huckabees.
The thing about philosophy is that it only matters if you believe it matters. You can easily go your whole life without putting too much energy into the broader questions. Therefore a movie in which the central character's journeys are philosophical and not physical, only matters if you believe it matters. In the case of I Heart Huckabees, despite an outstanding cast of actors and some funny moments, I never cared enough to believe that this movie was anything other than pretentious; the kind of movie they might show in Philosophy 101 classes.
Jason Schwartzman stars as Albert Markovski, a whiney environmentalist/poet, who's more concerned about getting his poems in his coalition's flyers than he is about the movement. When charming but phony Brad Stand (Law), an executive for department store chain Huckabees, takes over Albert's efforts to save an area of marshland, Albert begins to question the meaning of things. After a small but meaningless coincidence Albert believes that the universe is trying to tell him something. He enlists the help of existential detectives Bernard (Hoffman) and Vivian (Tomlin). In an effort to solve his 'case', the detectives follow and observe Albert throughout his day and try to teach him their philosophy.
There are a lot of ideas floating around in this movie, such as Bernard's use of a blanket to describe the interconnectedness of all things. There are also several fantasy sequences as Albert tries to get inside his own head to work out his problems. They're sometimes amusing but if anything Albert needs to get out of his own head and deal with the real world rather than sink deeper into his own.
The film definitely works best in the lighter moments. Hoffman and Tomlin work well together and provide the most laughs. Mark Wahlberg, who plays a troubled firefighter, is mildy amusing, if only because it's funny to hear someone like him expounding upon the meaning of existence. However, the jokes are never enough to keep you entertained, especially as the movie wears on and the novelty of its quirkiness grows thinner.
Studying philosophy is a little like mental masturbation. It can be a fun exercise but in the end it doesn't accomplish very much. If rather than spending his time trying to decipher the meaning of the universe, Albert had spent more time in the real world, he might have been able to alter the outcome of his relationship with Brad, and we might have been given a movie that entertained instead of merely one where writer/director David O. Russell mentally plays with himself.

Reviewed on:
January 14th, 2010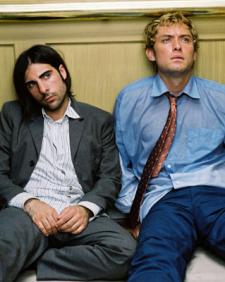 Jason Schwartzman and Jude Law in I Heart Huckabees
It would have been very appropriate to show I Heart Huckabees in my Philosophy 101 class. We could have dissected it whenever a character said something like, "How am I not myself?" or "How come we only ask ourselves the really big questions when something bad happens?" Outside of that class, I could only imagine this movie working as a five minute skit on SNL.
Although this movie leaves much to be desired, some of the dialogue is entertaining. Richard Jenkins says to Wahlberg, "God gave us oil! He gave it to us! How can God's gift be bad?" Wahlberg responds, "I don't know. He gave you a brain too and you messed that up pretty damn good." Then he throws this odd line in, "If Hitler were alive, he'd tell you not to think about oil."
It seemed as if the writers were more interested in filling the dialogue with philosophical sounding lines like, "There is no remainder in the mathematics of infinity." and "Everything is the same, even if it's different." Than actually creating an interesting plot. Again making this film only valuable to a bored freshman philosophy class.
As a father of existentialism, Soren Kierkegaard once said, "Be that self which one truly is." This review is just my opinion, and since existentialism is the philosophy of the individual, you cannot possibly rate this review, as my thoughts are merely my own. Too judge my opinion, would express your opinion, and that would make us the same, only different.
Reviewed on:
June 29th, 2012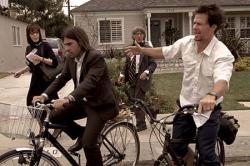 Lily Tomlin, Jason Schwartzman, Dustin Hoffman and Mark Wahlberg in I Heart Huckabees.
I Heart Huckabees features a talented cast and has some funny lines but overall it's a bit of a muddled mess. The comic pairing of Dustin Hoffman and Lily Tomlin is inspired, although Tomlin had several intense arguments with writer/director David O. Russell that were caught on film and put online in 2007. This was also the movie debut of Jonah Hill. I hadn't realized before (although to be honest, I never thought much about Jason Schwartzman) that Talia Shire, who plays his mom in the film, is his real life mother.
Mark Wahlberg definitely steals his scenes as the petroleum hating firefighter Tommy Corn, spouting lines like, "The man-poet who banged France's dark lady of philosophy. The parking lot crusader of truth... who turned his back on his other like a cold-blooded gangsta."
Like Eric, I think the nutty dialogue (that sounds like philosophical alphabet soup) is definitely the best thing this movie has going for it. Here's a sampling of some of the lines I liked best...
Albert: "We're not in infinity; we're in the suburbs."
Vivian Jaffe: "Have you ever transcended space and time?"
Albert Markovski: "Yes. No. Uh, time, not space... No, I don't know what you're talking about."
Albert Markovski: "The interconnection thing is definitely for real."
Tommy Corn: "It is! I didn't think it wasn't! It is!"
Albert Markovski: "I know, I can't believe it, it's so fantastic!"
Tommy Corn: "It's amazing!"
Albert Markovski: "I know."
Tommy Corn: "But it's also nothing special."
This movie does with philosophy what Dogma did with religion (only it's not as funny as that movie). It takes a large big-name cast and pokes fun at a well established school of philosophical thought. Although it tries hard and wears its quirky heart on its sleeve, I Heart Huckabees is not as funny or clever as it wants to be. At best it's a cinematic curiosity.
Photos © Copyright Fox Searchlight Pictures (2004)