Movie Review
Hyde Park on Hudson
The President. The First Lady. The King. The Queen. The Mother. The Mistress...One weekend would unite two great nations...After cocktails of course.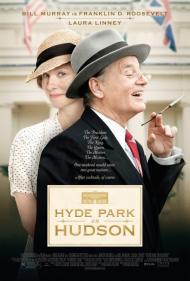 US Release Date: 12-07-2012
Directed by: Roger Michell
Starring
▸
▾
Bill Murray

,

as

FDR
Laura Linney

,

as

Daisy
Samuel West

,

as

Bertie
Olivia Colman

,

as

Elizabeth
Elizabeth Marvel

,

as

Missy
Olivia Williams

,

as

Eleanor
Elizabeth Wilson

,

as

Mrs. Roosevelt
Martin McDougall

,

as

Tommy
Andrew Havill

,

as

Cameron
Eleanor Bron

,

as

Daisy's Aunt
Samantha Dakin

as

Mary the Maid

Reviewed on:
December 7th, 2012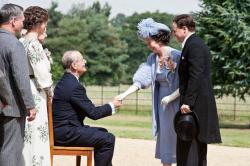 Bill Murray, Olivia Colman and Simon West in Hyde Park on Hudson.
Hyde Park on Hudson has its moments. When it focuses on the first visit by an English monarch to the United States it works very well. Too much time however, focuses on the rather creepy love affairs of President Franklin Delano Roosevelt.
The story is told from the point of view of Daisy, a distant cousin of FDR's. It's loosely based on real events, although the exact nature of Daisy and Roosevelt's relationship is disputed. Daisy is invited to the President's home in Hyde Park, on the Hudson River, where he spends a good deal of time. She's supposed to be there to keep him company, but in reality is there to provide him with sexual relief, something that first happens during one of their many car rides together when she jerks him off in a very uncomfortable scene. We're meant to believe that the two share a special, loving relationship but it's never demonstrated. Apart from his power, it's never clear what she sees in him and he, who also has a couple of other mistresses, never seems to see her as anything but a distraction.
It doesn't help that Daisy is almost completely without personality. Laura Linney is a great actress, but there's not much even she can do with this character. Daisy lives a lonely life, taking care of her aunt. She expresses an interest in traveling at one point, but beyond that displays very little to distinguish her.
A good portion of the film takes place in June of 1939 when the King and Queen of England come to visit. Everyone knows it's an attempt by the British to gain American support for the impending war with Germany, but such issues have to be dealt with diplomatically. The relationship between FDR and the King is far more interesting than the one between him and Daisy.
There's a lighthearted tone to much of the story and most of the laughs come from the clash of culture between the English and the Americans. Olivia Colman as the future Queen Mum is a scene stealer. Her reaction to the idea of eating hot dogs is played for laughs, while the act of eating them is highly symbolic later on. Simon West plays Bertie, the stuttering King that Colin Firth played so memorably in The King's Speech, as a man out of his depth living in the shadow of his more dashing brother. West and Murray share a scene together in the middle of the film where FDR charms the young King as effectively as he does any of his many mistresses.
Murray does a good job portraying FDR. However, because the story is mostly told from Daisy's point of view, it's difficult to really get a handle on his character. Interestingly, the best scene, the one I mentioned earlier between FDR and the King, betrays the narration by Daisy. She's not present and wouldn't know what was being said, but we are shown the scene anyway. The same goes for the scenes between the King and Queen when they are alone in their rooms.
The film is well made and at times quite funny. Overall though, mainly because of its structure and rather boring narrator, it feels like a wasted opportunity.

Reviewed on:
December 9th, 2012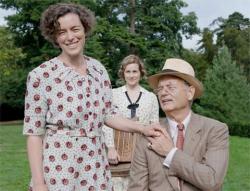 Olivia Williams, Laura Linney and Bill Murray in Hyde Park on Hudson.
I enjoyed this movie despite its uneven tone and lack of plot. I agree with Scott that Daisy is one dull and uninteresting character. Most of her dialogue comes in the form of narration. For two people in a supposedly romantic relationship, she and FDR say very little to each other. Who knew stamps could be an aphrodisiac? According to this movie the President used his stamp collection to seduce women. It was based on letters and a journal found among Margaret Suckley's possessions after her death at the age of 99 in 1991.
The filmmakers took this information and ran with it – all the way to that certain-to-become-infamous, and very awkward, hand-job scene in the car that happens very early in the movie. Daisy's transition from 5th or 6th cousin keeping FDR platonic company to her jerking him off in that picturesque field is quite abrupt. The story certainly shines a rather misogynistic -and alcoholic- light on one of America's greatest Presidents. Although he tells her otherwise, FDR's treatment of Daisy is that of a convenient sex toy.
The movie improves by leaps and bounds when the King and Queen enter the picture. The British Royal Family meeting America's First Family is amusing in its awkwardness. They tiptoe around each other at first but eventually let their guards down and start behaving more naturally. The scene Scott mentioned where FDR and the King bond over a late night drinking and smoking binge is the highpoint of the entire movie.
Unfortunately the story includes one night of heavy drama where Daisy learns about FDR's numerous other mistresses. This scene contrasts sharply with the lighthearted tone of the rest of the movie. The writing is to blame. It makes Daisy not only dull but also stupid. She knew the President was married when she began a sexual relationship with him. But the movie portrays her as so naive that she is actually surprised to discover he has had – and continues to have – affairs with other women.
The story recovers during the picnic where hot dogs are served to the Royals. The story should have focused entirely on this historic visit at Hyde Park and left Daisy out of the picture. It seems like the filmmakers' intent was to knock FDR off his pedestal in the minds of most Americans. They show him to be brilliant and charming as a politician but also as a man that shamelessly used many women to satisfy his sexual needs right under his wife's nose.
As good as Murray is as FDR, the supporting cast outshines him. Olivia Williams is good -but underused- as Eleanor Roosevelt and Olivia Colman is quite amusing as the Queen, but the standout performance belongs to Samuel West as the famous stuttering King. He gives an award worthy comic performance that should garner attention this award's season.
Hyde Park on Hudson is a mixed bag, but for me the good parts outweigh the bad. Hence three stars.

Reviewed on:
April 11th, 2013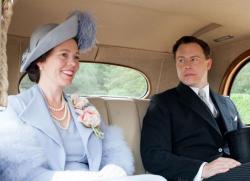 Olivia Colman and Samuel West in Hyde Park on Hudson
As Scott and Patrick began their reviews, this story is told from the point of view of Daisy and is supposedly based on letters discovered after her death. Historically speaking, it may have been fascinating to find and read those letters, but the best parts of this movie are the scenes that do not feature Daisy. Had this only been about the meeting between the British monarchs and FDR, this would have been a much better movie.
Watching the Queen of England get into a tizzy over having to eat hot dogs is amusing. She is somehow offended by the meal. The phallic symbolism is too obvious to ignore. They are, after all, there to kiss up to FDR and beg for his financial and military help. At one point FDR has The King of England push him in his wheelchair. They both fully understand what this meeting is all about.
The meeting in Hyde Park is historical fact, but no one knows what happened behind closed doors when FDR and the King conversed in his study. The scene, as depicted here, is brilliant. FDR, with the help of alcohol, relaxes Bertie as they become acquainted. Later that night, Bertie goes to his wife's room without the slightest sign of a stutter. Amazing what a good drunk can do for you.
Anytime the movie focused on Daisy, I started to nod off. She is such a dull, blank slate that I would rather stare at wall paper than watch her mope around a field pining for a married man. She was, in a single word, pathetic. The only time she generates any interest is in the much talked about car ride scene where she lends FDR a helping hand.
That one act has garnered this movie most of its attention, but it has more to offer. The private conversations and the interactions between the world leaders are the meat of this film. If the movie had stayed focused on them and much less on Daisy, this movie may have found a much larger audience.
Photos © Copyright Focus Features (2012)