Movie Review
Hustle & Flow
Everybody gotta have a dream.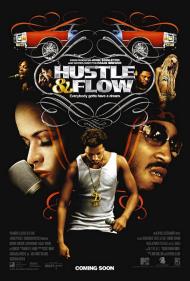 US Release Date: 07-22-2005
Directed by: Craig Brewer
Starring
▸
▾
Terrence Howard

,

as

DJay
Anthony Anderson

,

as

Key
Taryn Manning

,

as

Nola
Taraji P. Henson

,

as

Shug
DJ Qualls

,

as

Shelby
Paula Jai Parker

,

as

Lexus
Elise Neal

,

as

Yevette
Isaac Hayes

,

as

Arnel
Ludacris

as

Skinny Black

Reviewed on:
February 8th, 2006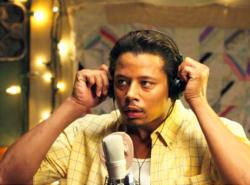 Terrence Howard in Hustle & Flow.
Hustle & Flow tells the struggles of Memphis pimp and marijuana peddler DJay as he begins to follow his dream of being a rapper. What makes the story unique and gives it a much broader appeal is the fact that DJay is a man in his 30's. He's not a teenager with his whole life before him, but is instead a man facing middle age, who knows his time to achieve his goals is fast running out.
Terrence Howard gives a star making turn as DJay. He is simply brilliant in the role. He might just be the De Niro of his generation. He takes the part of DJay, a man that by most people's standards is living a despicable existence, and somehow makes you care about him. What makes it even more remarkable is the fact that DJay doesn't really change. There is no moment where he realizes the error of his ways. His circumstances change but the guy's nature doesn't. And yet I still empathized with him. This is totally due to the talents of this amazing actor.
While this is for the most part a drama, there are a few lighter moments. The scene where DJay is accompanied to his music producer's house by two of his "ho's", and the producer's poor wife is forced to entertain the "ladies" while the two men talk music, is quite funny.
The climax of the movie occurs at a local bar on July 4th. DJay sets up a plan to give his demo tape to a local rapper who has gone big-time but has returned for a visit to his hometown and is going to be at the bar that day. Real life rap star Ludacris, who was also in the Oscar nominated Crash, does a surprisingly decent job as Skinny Black.
The rest of the cast are all good in this impeccably professional small-budget indie.
The ending of Hustle almost flows too far in the Happy Hollywood direction, but not enough to tip the scales against it. It's not a perfect movie but it's pretty damn good and writer/director Craig Brewer proves himself a talent to be reckoned with.
Reviewed on:
February 28th, 2006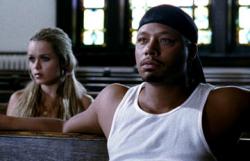 Terrence Howard in Hustle & Flow.
Big or small, we've all faced moments of truth. In the climactic scene in Hustle & Flow, the hustling pimp turned rapper, DJay, faces his. With his future on the line, he has to do the greatest hustle of his life to get professional rapper, Skinny Black, to take his demo tape. Faced with having to put his bullshit to the test, at first it seems that he isn't up to the challenge, but then you see a change come over his face. He takes a drag from his cigarette so deep that the audience can feel the nicotine surging through their veins and suddenly his hustle begins to flow. For this scene alone Terrence Howard earned his Oscar nomination.
The movie, though, doesn't quite live up to his performance. There are entertaining moments and mostly good performances, but the writing does border on the melodramatic and the happy ending has the feeling of being tacked on following test audience reaction. It's so much of a happy ending that it feels like a betrayal of what's come before it.
I think one of the interesting things about this movie is that, as Patrick said, here is a despicable person, but you end up, not really caring for him, but at least rooting for him to succeed. There is no attempt to make him noble or good. Anything he says that is noble or good is only part of his hustle. Here's a guy who is only looking out for himself, despite what those around him might choose to believe, and yet in that big scene, you want him to come out on top.
In a recent interview Terrence Howard stated that it's taken 37 years for him to become an overnight sensation. It is one of life's little ironies that without those 37 years of struggle, he might not have been able to pull off this part. As he proves here though, win or lose on Oscar night, it's not going to be another 37 years before he's a sensation again.

Reviewed on:
January 21st, 2010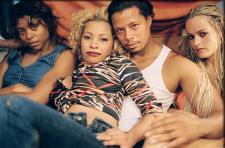 A sensitive drug pushing pimp and his bitches.
Although Hustle and Flow has contemporary rap music, it is nothing more than an old Judy Garland/Mickey Rooney Lets put on a show musical. Sure it has whores and drugs and a shoot out, but that is all decorations. A guy has a dream of being a star. He practices, has some set backs and then makes it. The plot has a new setting, but it is practically as old as the movies themselves.
Howard is the best thing about this movie. Djay is not a socially redeeming person on any level, but you do not hate him. The women in his life are working for him of their own free will. Howard makes you sympathize with this sensitive drug pushing pimp. That is an acting triumph, but the movie remains unoriginal.
Photos © Copyright Crunk Pictures (2005)