Movie Review
The Hunger Games: Mockingjay - Part 1
Fire burns brighter in the darkness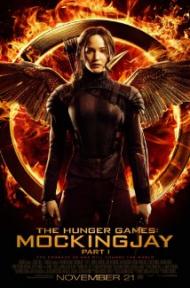 US Release Date: 11-21-2014
Directed by: Francis Lawrence
Starring
▸
▾
Jennifer Lawrence

,

as

Katniss Everdeen
Josh Hutcherson

,

as

Peeta Mellark
Liam Hemsworth

,

as

Gale Hawthorne
Woody Harrelson

,

as

Haymitch Abernathy
Donald Sutherland

,

as

President Snow
Philip Seymour Hoffman

,

as

Plutarch Heavensbee
Julianne Moore

,

as

President Alma Coin
Willow Shields

,

as

Primrose Everdeen
Sam Claflin

,

as

Finnick Odair
Elizabeth Banks

,

as

Effie Trinket
Mahershala Ali

,

as

Boggs
Jena Malone

,

as

Johanna Mason
Jeffrey Wright

,

as

Beetee
Paula Malcomson

,

as

Katniss' Mother
Stanley Tucci

,

as

Caesar Flickerman
Natalie Dormer

,

as

Cressida
Evan Ross

,

as

Messalla
Elden Henson

,

as

Pollux
Wes Chatham

,

as

Castor
Sarita Choudhury

,

as

Egeria
Stef Dawson

,

as

Annie Cresta
Patina Miller

,

as

Commander Paylor
Robert Knepper

as

Antonius

Reviewed on:
November 22nd, 2014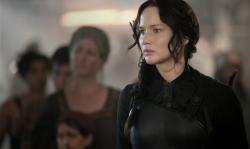 Jennifer Lawrence in The Hunger Games: Mockingjay - Part 1
Of all the many competing YA fiction adaptations being pumped into cinemas these days, The Hunger Games franchise remains at the top of the heap. This is in large part due to its leading lady Jennifer Lawrence, who delivers a dramatically intense performance as Katniss Everdeen, a flawed, but admirable character. Unfortunately, the producers of the franchise made the decision that has become common with these types of films, to split the final chapter into two parts, which means the pace of this latest film is much slower than the first two, with more exposition than is really necessary.
In case you've forgotten, the previous film ended with Katniss being rescued from the Hunger Games arena by the rebels, while Peeta, her Hunger Games partner and the second corner of the film's love triangle, was left behind. Katniss is taken to the rebel base where she becomes the face of the revolt while Peeta, under duress, is used in a similar fashion by the Capital and the evil President Snow. The action is kept to a minimum with only one battle scene. Much of the film is taken up by Katniss's reaction to the war and dealing with the fact that she is now its symbol. There's plenty of politics and maneuvering by the leaders of the rebels, President Coin (Julianne Moore) and Plutarch Heavensbee (Hoffman in a final role after his death). Katniss and Gale (Hemsworth), the third corner of the triangle, get to spend some time together as well. All of this exposition leads to the climax, which is a cliffhanger to what promises to be a much more action packed final installment.
As a fan of the books, I enjoyed the chance to spend time with the familiar characters as well as some new ones who are introduced in this film. Those who only know the story from the films are likely to be more bothered by the talky nature of the script. My brother Patrick, who has been the least fan of the series out of the three of us on this site, is unlikely to have his mind changed by this one.
It's the cast that really saves the story. Lawrence is the anchor and she treats her character with a serious earnestness in a dramatic performance that forces the audience to take the story seriously. The rest of cast, which features several heavyweight acting names, all follow suit. It is they who take the film with its fairly simplistic political situation and give it weight. They are also the reason we care to see what is going to happen in this world even though, to be completely honest, it's fairly obvious how it's all going to turn out. It's the caliber of acting that really puts this franchise head and shoulders above the imitators.
The decision to split the final story into two parts is obviously a financial one. The studio is clearly thinking, two films equals twice the number of tickets sold. Despite the inherent greediness of this strategy, it still could have worked for them if instead of producing a 2 hour installment here and probably a 2 and a half hour installment the next time, they had kept this one to 90 minutes or so. Instead they stretch it too far and so produce a film with a languid pace that lacks tension in many scenes. The biggest difference between the third book and the first two is that it grows grander in scope. Where the first two each revolved around a Hunger Game in the arena, the final installment takes place all over Pan-Am as the rebellion spreads from district to district. Why then does this filmed version feel so claustrophobic with too many scenes set underground in the rebel's bunker?
I remain entertained by this series and look forward to seeing the resolution of the story even if this installment is a little disappointing. Hopefully the payoff in part 2 will be equal to all of the build-up featured here.

Reviewed on:
November 25th, 2014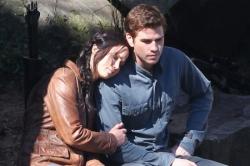 Jennifer Lawrence and Liam Hemsworth in The Hunger Games: Mockingjay - Part 1
Yeah, after sitting through this somewhat tedious movie, I am also hoping for a big payoff in Part 2. There is damn little action here and, as Scott noted, far too much detail. Early on, Plutarch Heavensbee tells President Coin that Katniss could be a valuable asset to the rebellion. He has to convince her to use Katniss in a propaganda video and then talk Katniss into doing it. She finally does but has some demands. Then they must discuss what clothes she will wear in it. They finally film it several times but do not like the results so they move to another location and do it all again. They could have, and should have, just skipped everything up to that final video shoot/action sequence.
I agree completely with Scott that Jennifer Lawrence is the dramatic anchor of this series. Just as Katniss gathers supporters through her emotional actions and speeches so does Lawrence through her performance. She wears her feelings like others wear clothes. You can see, every step of the way, just how she feels about everything going on around her.
Although Lawrence makes this series, my favorite character has always been Peeta. Just as Josh Hutcherson has always played second fiddle here to Lawrence, as she is the clear cut star, Peeta has always seemed to struggle to find his voice. He lacks Katniss's confidence but he has grown over the course of the first two films. He unfortunately only appears in a few scenes while Liam Hemsworth's Gale finally gets more screen time. However, Hutcherson demonstrates more acting prowess in his very limited screen time than Hemsworth does in his much bigger role. The final shot of Peeta, in which Hutcherson has no lines, is far more memorable than anything Hemsworth does the entire movie.
I have not read the books but I am hoping for Katniss and Peeta to end up together. Gale is too romantically pitiful to root for and Hemsworth is too dull to imbue any interest in him. The end of this movie still frustratingly leaves the love triangle up in the air. As disappointed as I was in this film, I will eagerly watch the final movie to put it, and hopefully Katniss and Peeta, to bed.
Reviewed on:
April 7th, 2015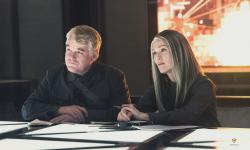 Philip Seymour Hoffman and Julianne Moore in The Hunger Games: Mockingjay - Part 1
Scott's right. This installment did nothing to change my mind about this movie series. In fact this was easily my least favorite of the Hunger Games movies so far – and I didn't enjoy either of the first two all that much. Once again the plot begins at a snail's pace, only this time it never really picks up. There is only the one big action scene to speak of and it's quite obvious that the plot is spinning its wheels in place so that the studio can rake in more money from a fourth installment. I say enough already.
Jennifer Lawrence even seems a bit bored this time around. Or perhaps that's just because nothing much really happens. She has just one really good scene. It's after a building Katniss has just left gets bombed by President Snow and she speaks out defiantly against him. It's easily the best scene in this disappointing movie.
Snow is a completely forgettable villain. He's pure evil, and as such is as one-dimensional as Lord Voldemort. He's presented as this slick politician but he's clearly not the smartest guy in the world. His actions help incite the masses against him. The last thing anyone in his position would want to do is create a martyr to rally the cause against the oppressors, yet that's exactly what his decisions lead to.
The supporting cast is pretty solid. Julianne Moore is a welcome addition to any movie and it's nice seeing Philip Seymour Hoffman once again. Elizabeth Banks and Stanley Tucci have been my favorite supporting characters since the beginning and they remain so here. Banks as Effie has had the most interesting story arc. Jena Malone returns too but she's given very little to do. I agree with Eric that Liam Hemsworth is easily the weakest link in the acting department, but at least he's easy on the eyes.
At this point I just want the Hunger Pains (oops Games) to go away, so bring on the final movie already. After this paltry meal it had better be a visual feast.
Photos © Copyright Lionsgate (2014)
Related Reviews