Movie Review
The Human Comedy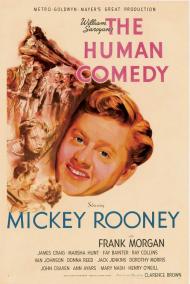 US Release Date: 03-02-1943
Directed by: Clarence Brown
Starring
▸
▾
Mickey Rooney

,

as

Homer Macauley
Frank Morgan

,

as

Willie Grogan
James Craig

,

as

Tom Spangler
Marsha Hunt

,

as

Diana Steed
Fay Bainter

,

as

Mrs. Macauley
Ray Collins

,

as

Mr. Macauley
Van Johnson

,

as

Marcus Macauley
Donna Reed

,

as

Bess Macauley
Jackie Butch Jenkins

,

as

Ulysses Macauley
Robert Mitchum

,

as

Quentin Horse Gilford
Carl 'Alfalfa' Switzer

,

as

Auggie
Hobart Cavanaugh

,

as

Drunk at Bar
Mary Nash

as

Miss Hicks
Reviewed on:
September 18th, 2007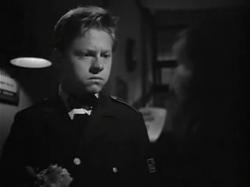 Mickey Rooney in The Human Comedy.
The Human Comedy is a nostalgic slice of small-town Americana set during the second world war. It features an impressive cast headed by Mickey Rooney and supported by Frank Morgan, Jackie 'Butch' Jenkins, Van Johnson, Fay Bainter and Donna Reed. In cameo roles are Carl 'Alfafa' Switzer shortly after his Little Rascals period and Robert Mitchum at the very beginning of his career. The legendary Clarence Brown directs from a story by William Saroyan. Not very subtle mythological references abound. Two of the characters are named Homer and Ulysses and the story is set in the town of Ithica.
The movie begins with a voice-over narration from beyond the grave as the camera pans over a small suburban neighborhood. A similar opening would be used more than 50 years later in the movie American Beauty. The narrator is the deceased father of the Macauley family. The story revolves around his children. Van Johnson is Marcus, the oldest son off learning to be a soldier. Next comes daughter Bess (Donna Reed), followed by Homer (Mickey Rooney) and the young Ulysses (Jenkins).
The story unreels in a series of vignettes. Homer gets a job after school working as a telegram messenger. He works with old-timer Willie Grogan (Frank Morgan) who instructs the innocent Homer how to rouse him when he gets drunk on the job. Also working at the telegraph office is the dashing Tom Spangler (James Craig) engaged to society girl Diana Steed (Marsha Hunt).
In one scene Homer delivers a telegram informing a woman that her son has been killed in action. In another a group of boys sneak into an old man's yard to steal apricots from his tree. Small town American life is unabashedly romanticized. The country was at war and the way of life depicted in this movie was even then vanishing.
This movie is extremely sentimental. However, I am a sucker for this type of sentimentality and I shed a tear or two along the way. Cynical types should stay far away from this one but anyone who appreciates straightforward storytelling that wears its heart on its cinematic sleeve then you will enjoy The Human Comedy.
Photos © Copyright Metro-Goldwyn-Mayer (1943)