Movie Review
How to Eat Fried Worms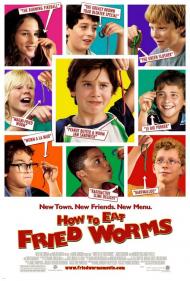 US Release Date: 08-25-2006
Directed by: Bob Dolman
Starring
▸
▾
Luke Benward

,

as

Billy Forrester
Adam Hicks

,

as

Joe Guire
Hallie Kate Eisenberg

,

as

Erika Tansey
Kimberly Williams

,

as

Helen Forrester
Ty Panitz

,

as

Woody
Tom Cavanagh

as

Mitch Forrester

Reviewed on:
January 4th, 2007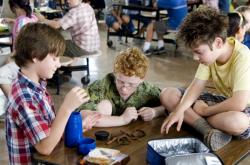 How to Eat Fried Worms
How to Eat Fried Worms may be a beloved book, by some, but I doubt the movie will be fondly remembered by anyone other than the cast, as this will likely be the only movie that any of these kids will ever appear in.
Worms tells the story of a new kid in town, Billy. On his first day at school a bully and his toady put a bunch of worms in his thermos. In front of all of the other kids at school, Billy flings a worm and hits the bully in the face. This causes an encounter with the bully. To save himself, Billy says that he is not bothered by the worms and eats them all the time. The boys create a contest in which Billy has to eat 10 worms in one day. It also causes the other kids to take notice of Billy for standing up to the bully.
These kids live in that wonderful Charlie Brown world where adults are about as necessary as the plague. These kids bike, and overact, all around town. They Trespass in an old ladies home. They destroy one boy's absent parent's kitchen in the name of cooking the worms in gross manners for Billy to eat. Along the way, Billy is given the responsibility to watch his younger brother whom he pushes off on to a girl friend, whose not allowed to partake in the worm contest festivities because, well, she's a girl, duh. Billy's parents are off playing tennis while their sons gallivant around town.
The moral of the story is to stand up for yourself and always keep your word or you may have to eat them. Hahaha. Over the course of the day, Billy inspires some of the bully's toadies to switch to his side and by the end of the day, Billy has as many boys rooting for him as are on the bullies side. Aaaaawwwhhh.
This cast of boys are some of the worst actors put on film. Not to blame them entirely, perhaps the director did not know how to get the best from them. More likely it was the casting director's fault for putting kids in a movie who have no talent for the job. Luke Benward, who plays Billy as hyperactive, could possibly have a future on a Nickelodeon television show playing some supporting part. The rest of this cast needs to definitely stay in school.
Photos © Copyright New Line Cinema (2006)