Movie Review
How to Be Single
Welcome to the party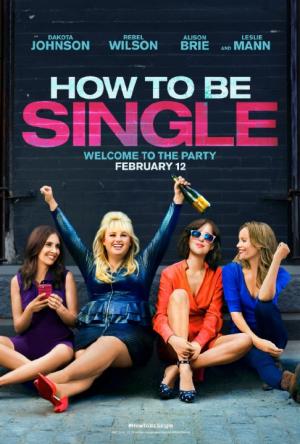 US Release Date: 02-12-2016
Directed by: Christian Ditter
Starring
▸
▾
Dakota Johnson

,

as

Alice
Rebel Wilson

,

as

Robin
Leslie Mann

,

as

Meg
Damon Wayans Jr.

,

as

David
Anders Holm

,

as

Tom
Nicholas Braun

,

as

Josh
Jake Lacy

,

as

Ken
Alison Brie

,

as

Lucy
Jason Mantzoukas

,

as

George
Colin Jost

as

Paul

Reviewed on:
March 3rd, 2016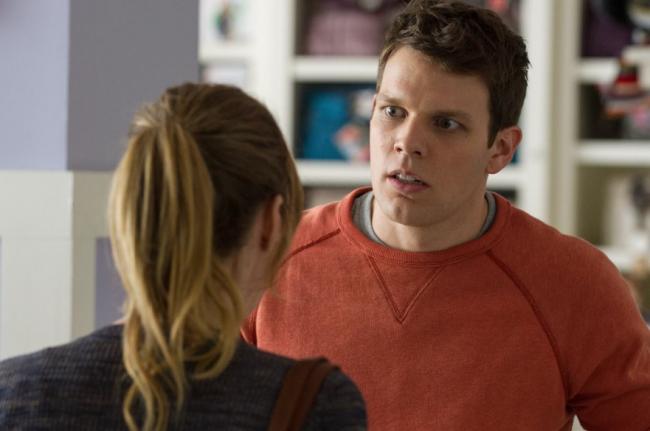 Jake Lacy as Ken finding out that the woman he loves, played by Leslie Mann, is pregnant in How to be Single
The previews for How to be Single heavily feature Rebel Wilson doing her usual obnoxious schtick. Although her part in the film is substantial, she is actually in a supporting role and the least interesting, or realistic, character in the film. Some may find her funny while others may be put off by her crude dick jokes and her character's irresponsibility.
The story is actually about sweet Alice (Dakota Johnson), who decides she wants to experiences life and sex as a single girl in New York. She takes a break from her equally sweet boyfriend, Josh, and accepts a position as a paralegal in a Manhattan law firm. There she meets Robin (Rebel Wilson), a non-stop party girl who takes Alice under her wing and shows her how to have a good time in the big city. As defined by Robin, that means heavy drinking, spontaneous sex, and hangovers. We are shown Robin's routine of waking up with a stranger, getting a free change of clothes, food and a make over at a department store so as to get ready for work. The punchline comes when she and Alice arrive at work, confidently prepared to be professional, but are told that they are 3 and a half hours late. The optimistic Robin smiles and remarks that it means it is time for a lunch break.
The problem I have with this setup is that although it is played for laughs, that scene demonstrates how immature these ladies are acting. Such adolescent shenanigans should have been mastered in college and not so easily excused in the adult professional world. Of course, their actions are never shown affecting their professional careers, only their personal ones.
Alice soon hooks up with a local bartender, Tom, who pretty much bangs every girl who looks at him. He reveals his methods of avoiding commitment and of hurrying the girl out the door after coitus. She also meets and dates a single father who has a hard time dealing with being a single father. Through it all, she pines for her boyfriend Josh.
As if her love life was not enough, we have Alice's older sister Meg (Leslie Mann), a doctor who decides to get pregnant by an anonymous donor. Wouldn't you just know it though, just after getting pregnant, Meg meets Ken, the perfect man for her. Ken is played by Jake Lacy, who seems to be cornering the good guy market lately in small movie roles.
We also have Lucy, a girl who never shares a single line of dialogue with Robin, Alice or Meg. She hangs out at Tom's bar for the free WiFi. Tom falls for her while she spends all of her time online searching through dating sites for her ideal man. Yeah, this could all be episodes of Sex and the City.
All of these story lines play out but not all of them are satisfying. Most end on vague notes leaving the point of the story to be that there is no one way to be single and happiness can come with someone else or from being alone. We all know this. In fact, Alice knew this at the very beginning of the movie. It was Robin who confused her by trying to make Alice into a party girl. All of the people in this film become likable, except for Robin who belongs in a different film entirely. We end up finding out her secret but it makes little sense and adds nothing to the story. Although the films marketing centered around her character, the movie would have benefited from her being cut entirely from the film. It works better as a light drama than a comedy.
Photos © Copyright Warner Bros. (2016)