Movie Review
House at the End of the Street
Fear reaches out... for the girl next door.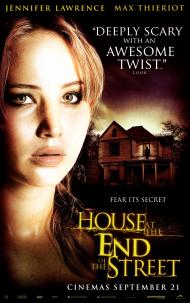 US Release Date: 09-21-2012
Directed by: Mark Tonderai
Starring
▸
▾
Jennifer Lawrence

,

as

Elissa
Max Thieriot

,

as

Ryan
Elisabeth Shue

,

as

Sarah
Gil Bellows

,

as

Weaver
Nolan Gerard Funk

,

as

Tyler
Eva Link

,

as

Carrie Anne
Allie MacDonald

as

Jillian

Reviewed on:
September 27th, 2012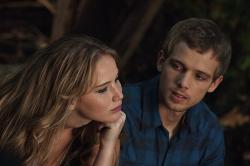 Jennifer Lawrence and Max Thieriot in House at the End of the Street
Since receiving critical praise in Winter's Bone (2010) and appearing in the blockbusters X-Men: First Class (2011) and The Hunger Games (2012), Jennifer Lawrence has become Kristen Stewart's biggest rival as Hollywood's go to young actress. Both were born in 1990. Whereas Stewart now only makes big name films, Lawrence seems still content to star in such "B" films as House at the End of the Street. She has yet to match Stewart's paycheck, but she definitely has greater acting range and far more charisma.
Lawrence plays Elissa, a high schooler who moves with her single mother into a very nice home that borders a forested state park. Through some trees they can see the neighbor's house that four years earlier contained a double homicide. As the opening scene shows, a crazed looking teenage girl named Carrie Ann stabbed her parents to death one night and ran off into the woods. The home is now occupied by the lone surviving family member Ryan. He was Carrie Ann's brother who was sent away to live with an aunt years before the murders.
Elissa and Ryan meet and she quickly develops feelings for him. Elissa's mother is weary of Ryan and she tries to keep them apart, even going so far as to invite Ryan over for dinner just so she can lay down some rules. She describes Elissa to a local police officer as someone who likes to help people, but will her kindness get her into trouble or maybe even killed?
House at the End of the Street has some twists. One is detectable about a third of the way in if you are paying attention. Another came out of left field and is a bit of a stretch to believe. There is hardly any gore to be found. If you want that, see Dredd. House at the End of the Street does have some jump-out-of-your-seat moments and is that not what we really look for in a horror film?
Lawrence is the star and her screen presence dominates the film. Elizabeth Shue as Elissa'a mother barely registers. Is she really an Academy Award winning actress? The only other person of note is Max Thieriot as Ryan, whose film debut was with Stewart in Catch That Kid (2004). With a shy stare, he affectively plays the sensitive loner. There is even a comment made, referring to him as a rebel without a cause. One look into his nervous eyes though, and you just know that Ryan has secrets you may not want to discover.
Thieriot has done horror films before and his next project is about Norman Bates. Lawrence's future acting career however, will likely not involve too many horror films. Big sequels and period pieces are waiting in the wings for her. It will be interesting to see if she will continue to rival Stewart or break away by winning awards that the sour faced Stewart can never hope to. Time will tell. In the mean time, enjoy her here in a genre she is not likely to revisit, unless of course her career hits the skids like Shue's.
Photos © Copyright Relativity Media (2012)