Movie Review
Hotel Transylvania
Where monsters go to get away from it all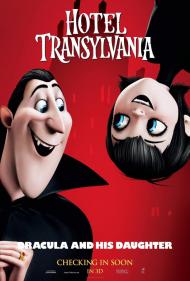 US Release Date: 09-28-2012
Directed by: Genndy Tartakovsky
Starring
▸
▾
Adam Sandler

,

as

Dracula (voice)
Andy Samberg

,

as

Jonathan (voice)
Selena Gomez

,

as

Mavis (voice)
Kevin James

,

as

Frankenstein (voice)
Fran Drescher

,

as

Eunice (voice)
Steve Buscemi

,

as

Wayne (voice)
Molly Shannon

,

as

Wanda (voice)
David Spade

,

as

Griffin (voice)
CeeLo Green

,

as

Murray (voice)
Jon Lovitz

,

as

Quasimodo (voice)
Brian George

,

as

Suit of Armor (voice)
Luenell

,

as

Shrunken Heads (voice)
Chris Parnell

,

as

Fly (voice)
Jackie Sandler

,

as

Martha (voice)
Sadie Sandler

,

as

Winnie / Young Mavis (voice)
Rob Riggle

,

as

Skeleton Husband (voice)
Paul Brittain

,

as

Zombie / Hydra (voice)
Robert Smigel

as

Fake Dracula (voice) / Marty (voice)


Reviewed on:
October 3rd, 2012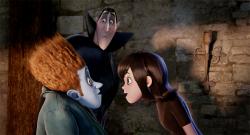 Jonathan and Mavis, while Dracula watches in horror.
If you are at all familiar with some of the earlier shows on Cartoon Network like "Dexter's Laboratory", "The Grim Adventures of Billy & Mandy", "The Powerpuff Girls", "Samurai Jack" and "Star Wars: Clone Wars", then you have already seen the work of Genndy Tartakovsky. Whether in animation, writing, directing or producing, the Russian born Tartakovsky has been a major influence on television animation for the past decade. With Hotel Transylvania, Tartakovsky enters into feature films, taking his trademark pacing with him.
After suffering a personal loss at the hands of a mob of torch bearing humans, Dracula decides to build and operate a hidden castle/hotel for monsters only. It is staffed by witches in housekeeping and Zombies for manual labor. His priority being to keep his daughter safe. He is an overprotective parent who does not even allow his teenage daughter Mavis, who has now come of the age of 118, to even leave the castle grounds. She of course dreams of traveling and seeing other places.
On Mavis's 118th birthday Dracula gathers all of their old friends at his hotel for a party. This includes such classic monsters as Frankenstein and the Mrs, who travel in several large boxes through the mail. The Wolfman arrives with his wife and their dozen destructive puppies. We also have the Invisible Man whom all we can see is his glasses. All is going according to Dracula's plan until a human arrives in the form of a world traveling, back packer dude named Jonathan.
As all monsters know, humans are evil creatures who want to kill any and all monsters, so Dracula makes an effort to get Jonathan to leave without the guests or staff seeing him. His plan fails and Dracula is forced to allow him to stay with the lie that Jonathan is a monster himself. Referring to all the other monsters, Jonathan asks Dracula, "Are they gonna kill me?" Dracula answers, "Not if they think you're a monster." Jonathan then comments, "That's kinda racist." Dracula's real problem starts when Mavis and Jonathan meet and of course fall instantly in love. What is a father to do when his own daughter has eyes for his worst nightmare?
Although not a Happy Madison Production, Adam Sandler is credited as an executive producer here. He gathered his usual group of friends to help voice the cast. His wife and daughter even have small parts. Miley Cyrus was originally offered the role of Mavis but Selena Gomez stepped in when Cyrus backed out.
Although clearly a harmless family film, Hotel Transylvania still manages to sneak in a few more mature jokes. When trying to sneak Jonathan out of the castle, Dracula and Jonathan walk in on a shocked skeleton woman showering and then two fleas on a bed celebrating their honeymoon. At one point Dracula tells a zombie bellhop to not take a female mannequin with him, wink wink.
The message of the film is that Dracula must learn to let his grown daughter make her own decisions and allow her to fly the nest. My wife and I enjoyed this film as we related to it, having children about Mavis's age, minus 100 years. The truth is though, it is not as hard to let go of your children as you imagine it will be when they are younger.
Hotel Transylvania steps all over the vampire lore, as most vampire movies do these days. Vampires cannot reproduce. A man needs a pulse to...well you know what I mean. It still manages to take a quick pot shot at Twilight at one point. The pacing is fast and wild one moment and then slow and tender as father and daughter learn to establish a new relationship. This is a fun family film for a fall viewing.
Reviewed on:
October 21st, 2013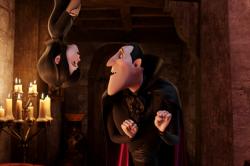 Mavis (Selena Gomez) and Dracula (Adam Sandler) in Hotel Transylvania.
Eric, I'm amused by your logic that a vampire would need a pulse to get an erection, but you have no problem with him being able to walk and talk without one. You don't think that the same supernatural force that allows him to live past death, turn into a bat and hypnotize people, couldn't also grant him the power to have sex? He's not exactly confined by the laws of nature.
Although I'm not as familiar with Genndy Tartakovsky as Eric, and neither do I have children the way he does, I too was able to enjoy this entertaining animated film. It is a family friendly affair with jokes, as Eric pointed out, for both children and grown-ups. It reminded me, in spirit and content, of 1960's TV shows, The Munsters and The Addams Family. It features plenty of monsters, but these are monsters with heart.
I'm not normally a large fan of Sandler's but he does good voice work here, as does his group of regulars. Along with the recognizable voices, the animators also modeled the look of many of the characters on the actors. This adds to the fun of recognizing who is playing who. Sandler is so childish in his own movies that making actual children's films is a natural fit for him.
For such a simple film, it had a complicated time making it to the big screen, floating in development for several years. Genndy Tartakovsky, who made his directorial debut with this film, was the sixth director attached to the project. Once he signed on, the production began to take shape. He rewrote the script and brought the energy Eric referred to, by pushing the limits of reality the way the best cartoons do, saying "I don't want to do animation to mimic reality. I want to push reality." He certainly keeps things moving right along.
Despite receiving lukewarm reviews, the film turned out to be a box office hit, both domestically and around the world. Predictably, a sequel is now in the works with a tentative release date of 2015. Unfortunately, Tartakovsky will not be directing. He is working on an updated version of Popeye. Hopefully, who ever does take over the directorial reins will follow the blueprint he laid down. If so, I'll gladly check back in for the sequel.
Photos © Copyright Sony Pictures Animation (2012)