Movie Review
Hot Rod
Smack destiny in the face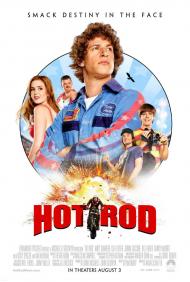 US Release Date: 08-03-2007
Directed by: Akiva Schaffer
Starring
▸
▾
Andy Samberg

,

as

Rod Kimble
Jorma Taccone

,

as

Kevin Powell
Bill Hader

,

as

Dave
Danny R. McBride

,

as

Rico
Isla Fisher

,

as

Denise
Sissy Spacek

,

as

Marie Powell
Ian McShane

,

as

Frank Powell
Will Arnett

as

Jonathan

Reviewed on:
December 31st, 2008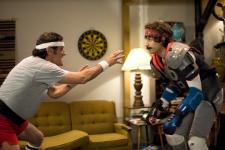 Frank and Rod sharing a father/stepson moment.
Hot Rod is one of my fifteen year old son's favorite movies. He first saw it on Comedy Central and repeats some of the lines often. He has been bugging me to review it and since he got the DVD for Christmas, I have no excuse not to.
Rod is a nerd in the vein of Napoleon Dynamite. He has bad hair and acts like a geek. The movie opens with him, an apparent grown man although the movie never states his age, about to jump a van with his moped, as his two friends and step brother, Kevin, watch. Rod emulates his dead father, who worked with Evel Knievel. His friends build him ramps that he jumps for fun. Kevin likes to hang out with them and dance to Stacy Qs "Two of Hearts" and sing Georg Michael songs to his stuffed animals. Of course none of them have a girlfriend, although Rod has the hots for the girl next door.
Rod and his stepfather, Frank, are always fighting. By fighting, I mean they throw down and physically beat the crap out of each other like a WWE street brawl. Their confrontations are some of my favorite scenes. Frank calls Rod a kid and makes fun of the fake mustache he wears when he does jumps. "You know I have a hormone disorder!" Rod yells back. One day, Frank has a heart attack and needs a very expensive transplant. In his sickly condition, he and Rod can no longer fight. This upsets Rod as he wants desperately to beat up Frank and earn his respect. He decides by charging people to see him jump he will raise the money for Frank's surgery. "You're wrong, Frank. I'm not a kid, I'm a man. I am gonna get you better, and then I'm gonna beat you to death!" He yells at the incapacitated older man.
Hot Rod has plenty of accessible dialogue. After his first viewing, my son was repeating several lines, "No, I like to party." "Who do you think would win in a fight between a grilled cheese sandwich and a taco?" My favorite bits are still his confrontations with his step dad, "Frank, I'm going to get you better, you old sack of shit, and then I'm going to uncork the ass beating of a lifetime on you! And you will respect me! Peace!"
Hot Rod has a plethora of sophomore jokes, but it does have a unique take on father/son relationships. Rod wants his stepfather's respect and love, but Frank is going to make him earn it. In effect, Frank turns his stepson into a man by beating the crap out of him. I do not think I could ever watch this movie with anyone but my son and enjoy it quite so much. This is a perfect Father's Day movie for anyone with a slightly dark sense of humor.
Photos © Copyright Paramount Pictures (2007)