Movie Review
The Hot Chick
The hottest chick in town, just switched bodies with the luckiest loser in the world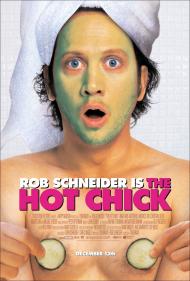 US Release Date: 12-13-2002
Directed by: Tom Brady
Starring
▸
▾
Rob Schneider

,

as

Clive Maxtone/Jessica Spencer
Anna Faris

,

as

April Thomas
Matthew Lawrence

,

as

Billy
Eric Christian Olsen

,

as

Jake
Robert Davi

,

as

Stan Thomas
Melora Hardin

,

as

Carol Spencer
Alexandra Holden

,

as

Lulu
Rachel McAdams

as

Jessica Spencer/Clive Maxtone

Reviewed on:
December 15th, 2002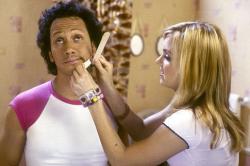 Rob Schneider and Anna Faris in The Hot Chick.
The Hot Chick is a funny and slightly touching film. Rob Schneider plays a thief who accidentally switches body with the most popular cheerleader in school. Actually she is not popular, but her self centeredness never allows her to see herself the way others do.
Oh no I have been turned into a teenage girl! Anyway! The foul little thief runs around telling, like, all her friends that she is this old, ugly guy now. It's just too weird. Like, they all want to see his, ooops! I mean 'her' penis. Then, things get even weirder. First, her dad thinks she is the gardener and tells her all about the lack of sex he and her mom are, like, not having. Then mom goes all horny on her and jumps her daughter's bones at the table. Eeeeeeuuw. Well actually it is the old guy's body, but its like really her daughter so it is just so totally gross.
Okay, I am back. This film is produced by Adam Sandler. He shows up in a cameo to make some unfunny drug jokes. One of the funniest scenes is when Schneider has to use a urinal for the first time. He ends up staring at the guy next to him to see how you do it. Later in the movie he gets into a fight with this same guy. She kicks the guy's ass and ends up with his ponytail in her hand. He then speaks one of the most original lines I've heard in awhile, 'You think you're so cool because you can pee with your penis. Get a new conditioner your ends are totally split.'
The movie is funny, but, it never reaches the hysterical level it could have. The set up is original but it stays in safe territory. It could have been funnier if they would have shown more of Schneider's character in the body of the highschool senior. How would a middle aged man act if all of a sudden he looked like a hot 18 year old chick? Instead, we are left with scenes of a girl in a middle aged man's body slapping a girl who's dating her highschool jock boyfriend.
The movie goes for a moral lesson as well as comedy. The hot chick, in the body of the guy, learns that the world does not revolve around her. Sure, it is a cliche but you gotta give some kudos to a comedy that teaches the lesson that you don't always realize what you have until you lose it.
Photos © Copyright Touchstone Pictures (2002)