Movie Review
Hoodwinked Too! Hood VS. Evil
Not All Fairy Tales Go By the Book.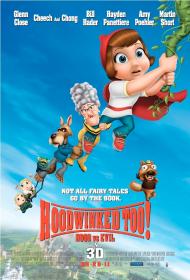 US Release Date: 04-29-2011
Directed by: Mike Disa
Starring
▸
▾
Glenn Close

,

as

Granny Puckett (voice)
Hayden Panettiere

,

as

Red Riding Hood (voice)
Cheech Marin

,

as

Mad Hog (voice)
Patrick Warburton

,

as

The Big Bad Wolf (voice)
Joan Cusack

,

as

Verushka the Witch (voice)
Bill Hader

,

as

Hansel (voice)
David Ogden Stiers

,

as

Nicky Flippers (voice)
Amy Poehler

,

as

Gretel (voice)
Cory Edwards

,

as

Twitchy (voice)
Martin Short

,

as

Kirk the Woodsman (voice)
Brad Garrett

,

as

The Giant (voice)
Andy Dick

,

as

Boingo the Bunny (voice)
David Alan Grier

,

as

Moss the Troll (voice)
Tommy Chong

,

as

Stone (voice)
Wayne Newton

,

as

Jimmy 10-Strings (voice)
Benjy Gaither

,

as

Japeth the Goat (voice)
Heidi Klum

as

Heidi (voice)
Reviewed on:
May 2nd, 2011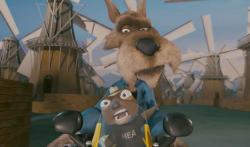 The always reliable voice work of Patrick Warburton as the Wolf is one of the few highlights of Hoodwinked Too! Hood vs. Evil.
In 2006, Hoodwinked debuted with a thud at the box office and general boos from the critics, which I always felt was a shame because I enjoyed its quirky sense of humor. It was a fractured fairytale with humor aimed more at adults than young kids. I was actually excited when I heard that finally, despite the original's weak reception, a sequel was going to be released five years later. Sadly though, despite some amusing moments, this second installment never quite lives up to the original.
Since the original ended, the group of heroes from the first film have joined the covert Happily Ever After agency run by the always dapper Nicky Flippers. Red, voiced this time by Hayden Panettiere instead of Anne Hathaway (whatever happened to that girl?), has taken a leave of absence to study with the Sisters of the Hood and the Wolf, voiced by the always reliable Patrick Warburton, has some abandonment issues. The duo and the rest of the gang are united though when Granny is kidnapped by an evil witch during a rescue operation to free Hansel and Gretel. Can our heroes rescue Granny before the witch gets her hands on the magical chocolate truffle that will maker her invincible?
Two of my favorite characters from the first movie were Twitchy, the hyper squirrel, and Japeth, the singing goat. They both make a return but with less humor. Twitchy is still funny, but Japeth has been reduced to a one joke character. He sings a non-funny bit of song and then something heavy falls on him, again and again again, with each time becoming less funny than the one before.
Speaking of songs, they are mostly gone here, which is a good thing as they were a fairly weak part of the original. Wayne Newton has a short appearance as a singing harp, providing the movie's only real musical interlude, apart from Japeth's short appearances.
Nearly all of the voices are provided by someone famous and recognizable, but to little real effect. Hayden lacks Hathaway's charm and is generically flat as Red, as is the normally talented Joan Cusack as the witch. Cheech and Chong, Heidi Klum and Brad Garrett are some of the famous voices thrown into the mix, but who add nothing to the finished product. Warburton is as good as always though, and Amy Poehler and Bill Hader are both quite good as Gretel and Hansel.
The animation is adequate, but nothing earth shaking. This was a problem with the first film as well, but I didn't care because I was distracted by the humor. With less to laugh at here though and because of yet another horrible and pointless 3-D transformation, the weakness in the animation is more apparent.
Despite this weak entry, I still actually believe there's life left in this franchise if they can come up with a better script than this generic supervillain plot. They should get back to basics and back to spoofing fairytales.
Photos © Copyright The Weinstein Company (2011)
Related Review