Movie Review
Home
WORLDS COLLIDE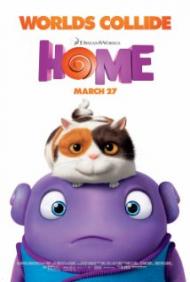 US Release Date: 03-27-2015
Directed by: Tim Johnson
Starring
▸
▾
Jim Parsons

,

as

Oh (voice)
Rihanna

,

as

Gratuity 'Tip' Tucci (voice)
Steve Martin

,

as

Captain Smek (voice)
Jennifer Lopez

,

as

Lucy (voice)
Matt Jones

,

as

Kyle (voice)
Brian Stepanek

,

as

Gorg Commander / Father / Boov (voice)
April Lawrence

,

as

Boov Announcer (voice)
Stephen Kearin

,

as

Boov (voice)
Lisa Stewart

,

as

Boov (voice)
April Winchell

as

Boov (voice)


Reviewed on:
April 1st, 2015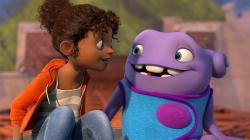 Home
Home is a perfect example of the value that an actor's voice can add to an animated film. Often a famous person lends their voice to an animated character only to have no one notice that they did unless it was heavily promoted. Too often it seems that an actor or actress was only given the job for publicity purposes. After all, if you cannot recognize the actor by voice alone, they probably should not be considered for animated voice work.
That is not the case with Jim Parsons in Home. His work as Sheldon Cooper on "The Big Bang Theory" has created an image that has become quite contemporarily iconic. Voicing a friendless annoying alien is the perfect matching of voice and character. Like Sheldon, Oh is blind to how others view him. He is intellectual but socially ignorant. It is Jim Parsons alone who raises this otherwise average cartoon above its mediocrity.
Oh is an alien whose race invades Earth by taking every human on the planet and forcibly relocating them to Australia. The exception is Gratuity Tucci and her cat. She and Oh meet and strike a deal. She will help him escape the other aliens as they now consider him an outlaw as he mistakenly sent his party invitiation to everyone in the galaxy including their worst enemy who has been pursueing them for years. He, in turn, will help her find her relocated mother.
Gratuity is from Barbados and is voiced by Rhianna, who is likewise from Barbados. It matters not as she has no accent to speak of or a distinct enough voice to make Gratuity any more interesting. Rhianna also provides most of the uninspired soundtrack. The only other person with any decent amount of dialogue is Steve Martin as the alien leader Grog, who is worth several laughs but I only realized it was Martin after the credits rolled.
These aliens are presented as mostly harmless yet their actions in moving people to Australia would have cost thousands of innocent human lives. They also destroy countless amounts of valuable property. They dread their enemy coming to Earth but after all the damage they have already done why should we care? Gratuity teaming with Oh is akin to a Jew teaming with a Nazi during the holocaust.
The animation is beautifully adequate but the story is predictable and the jokes mostly aimed at children. The saving grace is Jim Parsons who is able to elevate such limited lines as, "Oh, no! My hands are in the air like I just do not care!" and when he yells from the men's room, "Ahh! Do not eat the blue mints! Thankfully, there is a large bowl of lemonade."
Home tries for a heartwarming ending but we can see it coming from a solar system away. All it really has to keep us adults interested is some floating obscure objects and Sheldon Cooper disguised as a color changing alien.
Reviewed on:
July 15th, 2015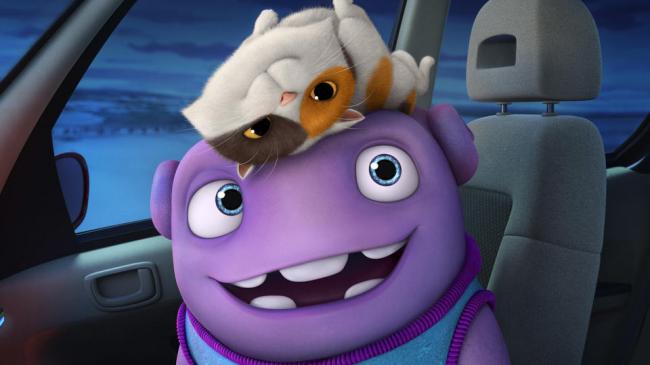 Jim Parsons voices Oh the Boov in Home.
Having just watched the celebrity voice filled Minions, I could not agree more about the value, or lack thereof, of hiring big names as voices. Minions features the voice of several famous actors, none of whom bring anything special to their parts. However, the same can not be said about Jim Parsons in Home. This is the perfect marriage of voice and character and it's hard to imagine anyone else in the part. Of course it helps immensely that Parsons is playing a character similar to the one he made famous on The Big Bang Theory.
The story is based on the 2011 children's book, "The True Meaning of Smekday". Smekday being the Boov word for Christmas, which was the day they invaded Earth. The title of the film was initially changed to Happy Smekday!, but was later changed to the inexplicably dull Home. One other notable change from the book was the name of the central alien character. In the book his name is J.Lo, but probably because Jennifer Lopez provides one of the voices in the film, was changed to Oh in the screenplay. Author Adam Rex has since written a sequel, but the tepid reception to Home, despite earning a hefty worldwide profit, leaves the question of an animated sequel up in the air.
Eric's comments about the emotional and physical cost of uprooting billions of humans to Australia can only lead me to believe that he was pretty bored while watching this and had time to consider such things. The comparison to the holocaust is hyperbole and shouldn't be taken seriously. This is such a lightweight children's film that the analogy doesn't hold up very well. The transported humans aren't physically mistreated, just uprooted. In any case, the whole thing is played strictly for laughs and silliness.
Although Rihanna doesn't bring anything special to the film, either in her performance or with her songs, it does make a nice change to see a minority child as the lead in an animated film. Despite the international box office becoming more powerful all the time, Hollywood still lags in showing diversity in their films.
Although the voice work is the opposite of Minions, the humor in both films is clearly aimed at the very young. This isn't a family film so much as a children's film. Parsons does provide a few laughs that the grownups can appreciate, but the shenanigans and pretty colors were clearly put together with the under-10s in mind.
Reviewed on:
July 17th, 2015
Oh and Tip in Home.
I've never watched The Big Bang Theory but I agree that Jim Parsons was the right actor to play Oh. He manages the difficult task of making the little color-changing alien both annoying and lovable by being coldly calculating and earnest at the same time. His delivery is better than the material however, which is pretty dull and unoriginal. Watching Oh's journey toward discovering human emotions vis-a-vis his friendship with Tip, provides the movie its sugarcoated heart.
I agree wholeheartedly with Scott that it's refreshing seeing an animated protagonist who's not white for once. Like the Boov, humans come in many different shades and hues. Is there any justifiable reason that characters in animated children's movies shouldn't reflect this diversity? I can't think of one. Hollywood money people are always far behind the curve on social progress but I'm still surprised it took this long.
Rihanna is fine as Gratuity Tucci, even if she doesn't bring anything particularly special to the role. I guess I'm a bigger fan of her music than my brothers are, because I enjoyed the soundtrack. Regardless of whatever impact she may or may not have in the future as an actress, her legacy as a singer is already set in stone. To date she's had 13 songs go to number one on Billboard's Hot 100 singles chart. Just 27 years old as of this writing, she's already tied with Michael Jackson for third place on the all-time rock-era list, behind only Elvis Presley and Mariah Carey (tied for second place with 18 each) and the Beatles (20).
In a sign that the years are passing quickly, Steve Martin and Jennifer Lopez are both reduced to supporting roles. Although they thought he was funny as the cowardly Captain Smek, most of the younger guys where I work don't even know who Steve Martin is. And I wonder how hard it was to talk J.Lo into playing Rihanna's mother! At 45 she's certainly old enough to be her mother, but this is the first time she's ever played an obviously middle-aged character (even if it is animated). She also contributed a song to the soundtrack.
Thanks mostly to Jim Parsons (with an assist from Steve Martin) Home has some humorous charm but, like my brothers, I found the story and 90% of the jokes to be strictly for the kiddies.
Photos © Copyright DreamWorks Animation (2015)