Movie Review
Home Alone
When Kevin's Family Left For Vacation, They Forgot One Minor Detail: Kevin. But Don't Worry... He Cooks. He Cleans. He Kicks Some Butt.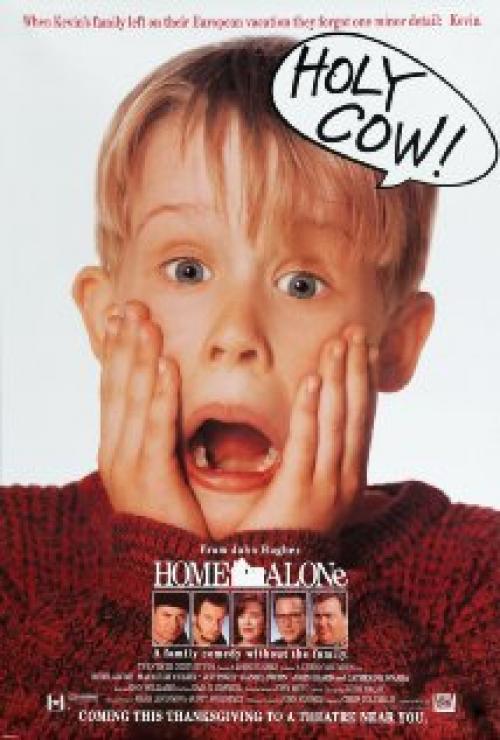 US Release Date: 11-16-1990
Directed by: Chris Columbus
Starring
▸
▾
Macaulay Culkin

,

as

Kevin McCallister
Joe Pesci

,

as

Harry Lime
Daniel Stern

,

as

Marv Merchants
John Heard

,

as

Peter McCallister
Roberts Blossom

,

as

Old Man Marley
Catherine O'Hara

,

as

Kate McCallister
Angela Goethals

,

as

Linnie McCallister
Devin Ratray

,

as

Buzz McCallister
Gerry Bamman

,

as

Uncle Frank
Hillary Wolf

,

as

Megan McCallister
John Candy

as

Gus Polinski


Reviewed on:
December 15th, 2015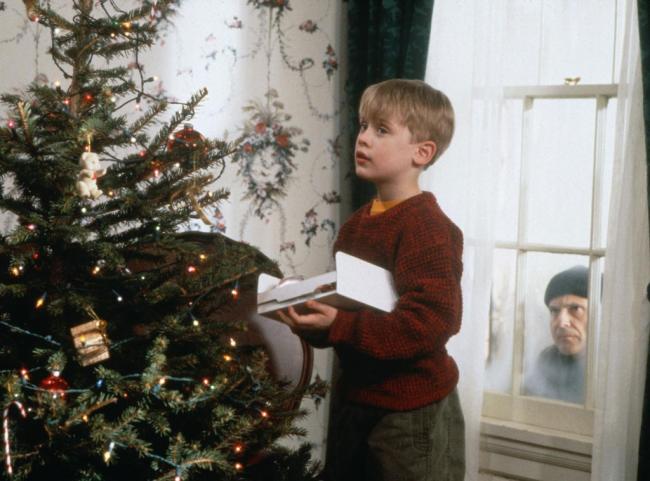 Macaulay Culkin and Joe Pesci in Home Alone
I recently saw a new show where an adult character gets hit in the head with something set up by some children. He remarks, "They Home Aloned me." Such is the legacy of this 1990 holiday classic.
In the role that will forever define him, ten year old Macaulay Culkin stars as Kevin McCallister. The film opens during a busy gathering of his family at a large Chicago home. The next morning the entire clan is flying to Paris for Christmas. Everyone is scurrying about packing and dealing with a pizza delivered dinner. Kevin feels left out and his siblings and cousins harmlessly pick on him. He eventually acts out after hearing he has to share a bed with a cousin who wets the bed and he does not get a plain cheese pizza. His mother sends him to the attic where he will now sleep alone. The next morning Kevin awakes to find that his family has left for Paris without him. He thinks he made his family disappear, as the night before he yelled at his mother, about his family, "I hope that I never see any of you jerks again!"
At first Kevin is thrilled. He does all the things his parents scolded him for doing in the past like jumping on beds and eating junk food in front of a television show his parents would not want him to watch. While on the plane for France, Kevin's mother suddenly remembers that they forgot Kevin. As he deals with being home alone, she makes every effort to get back to Chicago. The plot gets a little stretched when absolutely no one they know is available to go over and check on him. Even the police simply knock, wait briefly and then leave.
He is a bit creeped out by an old man who wanders the street, shoveling and salting the sidewalks. Things get frightening when a couple of thieves start snooping around. This creates the scenes that this film has been most remembered for. Kevin sets up all kinds of booby traps for the unsuspecting criminals who too often seem to have the intellect of the Three Stooges as they fall for every one of Kevin's traps. When we were first married, my wife and I baby sat a couple of children and all we had to do was put this movie on and they sat glued to the television. They laughed hardest during the slapstick scenes of Kevin outsmarting the inept intruders.
Eventually Kevin begins to miss his family and this is where the movie warms the heart. He attends church and makes friends with the scary old man. He visits a mall Santa, that he knows is not the real Santa, and asks him, "Will you please tell Santa that instead of presents this year, I just want my family back." Meanwhile, his mother goes through an Odyssey trying to travel across an ocean and across a country during the holidays. She gets help from a John Candy cameo.
Much of the humor in Home Alone is slapstick that may appeal to children but there is also a sentimental message about family. Kevin learns to appreciate his relatives while we see that his mother loves him with all the heart a mother can. She feels guilt as only a parent can. Their reunion scene is truly touching. When I first saw this film, I found the mother's scene to be a bit superfluous as the humor was from Kevin hurting the villains. Watching it now, I see that it is the mother and child reunion, and their genuine need for one another that is the real climax of the film.
Christmas is about shutting out our problems, even if for only a day, and spending time with those who are important to us. Home Alone represents that perfectly and is nearly two hours of delightful holiday fantasy escapism.
Reviewed on:
December 17th, 2015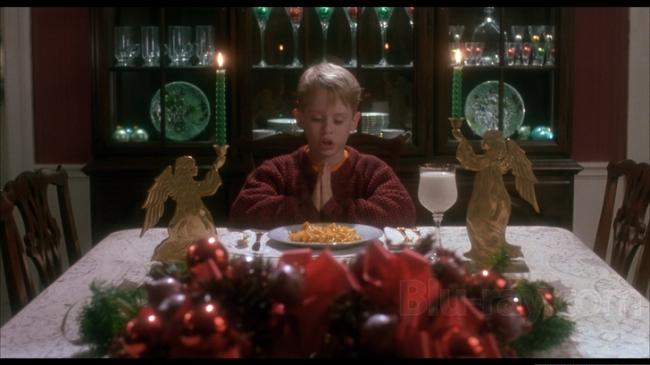 Macaulay Culkin in Home Alone.
I hadn't watched Home Alone since the early 1990s. In my memory it was all about little Macaulay Culkin setting booby traps for the inept burglars played by Joe Pesci and Daniel Stern. In reality those scenes take up only about 15 minutes of the movie's run time. Much more time is spent with Kevin simply adjusting to being home alone. I had forgotten how much heart the story has as well as how incredibly festive it all is.
Nearly every scene features snow and holiday decorations and the soundtrack is filled with Christmas classics like "White Christmas", "Please Come Home for Christmas", "Oh Holy Night", "Carol of the Bells", "Have Yourself a Merry Little Christmas" and "We Wish You a Merry Christmas". John Williams composed a theme titled "Somewhere in My Memory" that was both Oscar and Grammy nominated. Music played a huge role in the film's success.
Also adding to the festive feel is the inclusion of two classic Christmas movies. In one scene Kevin watches Miracle on 34th Street and the rest of the family is shown watching a French dubbed version of It's a Wonderful Life at the Paris airport. There is also a made-up movie that plays a big role in Kevin's schemes. It's an old black & white gangster picture called "Angels With Filthy Souls" that is clearly spoofing the James Cagney classic Angels with Dirty Faces.
This is a child's fantasy Christmas movie. An 8-year-old boy finds himself all alone in his house without adult supervision or annoying siblings. At first he is overcome with a sense of freedom but quickly begins to feel lonely. Kevin's emotional journey is treated in a very lighthearted manner but it is touching nonetheless. I agree with Eric that his reunion scene with his mother is nicely done. He turns around and there she is, reappearing as suddenly as she disappeared.
As pleasant and festive as it all is, the humor is definitely aimed at the kiddies. The slapstick is as broad as a Three Stooges short with Kevin making mincemeat of the would-be robbers at every turn. Still it's easy to see why it was such a hit. Macaulay Culkin was an adorable sprite of a child and his facial expressions remain hilarious. All these years later, Home Alone is now a bona fide Christmas classic.
Photos © Copyright Twentieth Century Fox Film Corporation (1990)