Movie Review
Hollywood Shuffle
Bobby Taylor was on his way to becoming a star, when a funny thing happened.....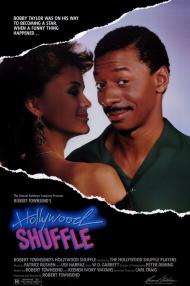 US Release Date: 03-20-1987
Directed by: Robert Townsend
Starring
▸
▾
Robert Townsend

,

as

Bobby Taylor / Jasper / Speed / Sam Ace / Rambro
Craigus R. Johnson

,

as

Stevie Taylor
Helen Martin

,

as

Bobby's Grandmother
Starletta DuPois

,

as

Bobby's Mother
Brad Sanders

,

as

Batty Boy
David McKnight

,

as

Uncle Ray
Keenen Ivory Wayans

,

as

Donald / Jheri Curl
Lou B. Washington

,

as

Tiny
John Witherspoon

,

as

Mr. Jones
Anne-Marie Johnson

,

as

Lydia / Willie Mae / Hooker #5
Don Reed

,

as

Maurice
Kim Wayans

,

as

Customer in Chair
Gregory 'Popeye' Alexander

,

as

Pimp / Eddie Murphy-Type
Conni Marie Brazelton

,

as

Hooker #1 / Beautiful Girl #2
Lorrie Marlow

,

as

Hooker #2 / Reporter
Sena Ayn Black

,

as

Receptionist / Missy Ann / Woman on Cliff
Lisa Mende

,

as

Casting Director
Dom Irrera

,

as

Writer
Eugene Robert Glazer

,

as

Director / Teacher / Amadeus / Chicago Jones / Dirty Larry
Jimmy Woodard

,

as

Advanced Student / Basketball Player / Tyrone
Damon Wayans

,

as

Body Guard #2 / Willie
Paul Mooney

as

President of NAACP
Reviewed on:
March 11th, 2012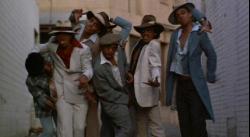 Zombie Street Pimps in Hollywood Shuffle.
Writer/producer/director/star Robert Townsend made Hollywood Shuffle on a shoestring budget. It was shot sporadically in just 17 days, spread out over a two year period while Townsend toured with his standup act to raise funds. The result is a somewhat dated, but still funny, satire of the treatment of black actors in Tinseltown. Townsend stars as Bobby Taylor, a struggling young black actor living in Los Angeles. As he makes excuses at his dead end job working at a hotdog stand called Winky Dinky Dog in order to make the rounds of auditions, he fantasizes about making it big in the industry.
Townsend takes aim at the limited roles available for black actors at the time (1987). These include television sitcoms featuring token black characters like "Batty Boy", and stereotypes like slaves, servants and jive-talking pimps and criminals. In most cases he is right on target. There is a funny segment where he pictures what an acting school for black actors might be like. He also plays a Sam Spade type film noir gumshoe, and pokes fun at Eddie Murphy. Thankfully, the humor never gets angry or mean spirited.
One of the funniest bits is a parody of Siskel and Ebert featuring African American movie critics Speed and Tyrone. They sneak into theaters to watch movies. Speed and Tyrone review spoofs of Amadeus as well as two iconic Hollywood movie franchises. Indiana Jones is changed to Chicago Jones, and Dirty Harry becomes Dirty Larry. The biggest laugh comes from a movie called Zombie Street Pimps (see photo), which earns two thumbs up for its realism and attention to detail.
The cast features a bunch of unknown actors and comics that have gone on to greater success. Several years before the television variety show In Living Color would make them household names, both Keenan Ivory and brother Damon Wayans appeared in Hollywood Shuffle along with their sister Kim. The often controversial comedy writer/standup comic Paul Mooney has a small part as the President of the NAACP.
The hilarious John Witherspoon and equally funny Helen Martin are among the cast. He plays Bobby's boss, the ambitious owner of Winky Dinky Dog. He comes up with the idea for a new product called the Winky Dinky Ho Cake because, "...Hoes gotta eat too." Helen Martin, of television's 227, plays Bobby's understanding grandmother. They would both achieve greater fame in comedies of the 90s, playing out-of-date fathers and foul-mouthed old ladies, respectively.
Hollywood Shuffle paints everything with broad, colorful strokes and is more like a series of sketches than it is a cohesive story. It lasts only about 80 minutes and moves at a breakneck pace. The jokes come fast enough that you never get bored and the eager cast is infectiously enthusiastic. With Hollywood Shuffle Robert Townsend proved he was certainly one of the most versatile and gifted comedy filmmakers (black or white) in Hollywood during the 1980s. He even pulled a Streisand by writing and singing the theme song to the fictional sitcom Batty Boy called "There's a Bat in My House".

Photos © Copyright The Samuel Goldwyn Company (1987)