Movie Review
Hollywood Hotel
Hooray for Hollywood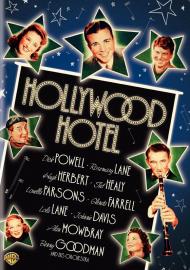 US Release Date: 12-20-1937
Directed by: Busby Berkeley
Starring
▸
▾
Dick Powell

,

as

Ronnie Bowers
Rosemary Lane

,

as

Virginia
Lola Lane

,

as

Mona Marshall
Hugh Herbert

,

as

Chester Marshall
Ted Healy

,

as

Fuzzy Boyle
Glenda Farrell

,

as

Miss Jones aka Jonesy
Johnnie Davis

,

as

Georgia
Louella Parsons

,

as

Herself
Alan Mowbray

,

as

Alexander 'Alex' Duprey
Mabel Todd

,

as

Dot Marshall
Frances Langford

,

as

Alice Crayne
Benny Goodman

,

as

Himself
Grant Mitchell

,

as

B.L. Faulkin
Edgar Kennedy

,

as

Callaghan
Ronald Reagan

,

as

Radio Host at Premiere
Curt Bois

,

as

Butch
Carole Landis

as

Hat Check Girl with Coat

Reviewed on:
September 23rd, 2012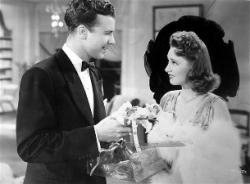 Dick Powell and Rosemary Lane in Hollywood Hotel.
This amusing little musical comedy was very loosely inspired by Hollywood Gossip Columnist, Louella Parsons' radio shadow, Hollywood Hotel. Parsons appears as herself in the film and her show plays a minor part in the plot, but the real fun is in the comical hijinks, although much of it seems designed simply to showcase Benny Goodman and his orchestra.
In the days before television, the movies were often the only chance audiences had to see musical stars of the day and Benny Goodman was one of the most popular bandleaders from the Big Band era. It's no wonder that Warner Bros. wanted to feature him so heavily. He starts the film in a memorable fashion as his band performs "Hooray for Hollywood" from the backs of automobiles in a motorcade on the way to the airport. This was the debut of that song, which has since gone on to become the unofficial anthem to Tinseltown. Goodman's other numbers, while occasionally toe tapping, aren't nearly so memorable, and tend to bog the story down, particularly in the later stages. They may have thrilled audiences of the day, but they don't hold up so well for modern viewers.
The plot is a silly little affair that manages to generate quite a few laughs. Dick Powell plays Ronnie Bowers, a saxophonist from Goodman's band who has been talent spotted by a movie studio and is flown to Hollywood where he stays at the titular hotel. Also staying at the hotel is movie star diva, Mona Marshall (Lola Lane). When Mona throws a tantrum and decides not to attend the premiere of her film, the studio hires a lookalike (played by Lola Lane's real life sister Rosemary Lane) to attend in her place and they send Ronnie along as her date. Naturally Ronnie falls in love with the stand-in, but when the real Mona finds out what the studio did she demands that Ronnie and the stand-in both be fired. Are Ronnie's dreams of stardom crushed forever? Or will an old friend and popular bandleader show up at the last minute to help save the day?
Although the songs don't hold up so well, the comedy is still quite funny. Lola Lane is terrific as Mona, constantly moaning in a highly theatrical manner about the difficulties of being a star. Reportedly the part was first offered to Bette Davis, with the idea that she would play a duo role as Mona and the stand-in, but she turned it down. Powell plays his typical eager young crooner persona with practiced ease and Rosemary Lane is sweet as the good girl.
The supporting cast is where the real comedy comes from. Mona's father, played by Hugh Herbert is quite bonkers and possibly insane, but also quite funny. He also has one scene in blackface during a Gone with the Wind type musical number that is so blatantly racist, it will have you laughing in shock at the sheer audacity of it from a modern perspective. Apparently there's a streak of insanity in Mona's family because her sister is also suspect. Played by Mabel Todd, Dot Marshall steals all of her scenes with her bizarre laugh and mannerism. Ted Healy, the founder of the Three Stooges, also generates some laughs as Ronnie's manager. As does Alan Mowbray as the male diva.
My favorite joke in the whole movie though, isn't even spoken, but appears on a sign. When Ronnie is hoofing it all across Hollywood looking for work, he stops in at Miracle Picture Studios, whose motto reads, "If it's a good picture, it's a Miracle".
Busby Berkeley directs the film, but without any of the surreal, larger than life synchronized dance numbers that were his trademark. He does a fine job, but if you didn't see his name in the credits, you might never guess that it's one of his films.
The real Hollywood hotel was quite the glamour spot back in the silent film days and into the 1930s. Rudolph Valentino met his first wife in the hotel and later married and honeymooned with her there. Other famous names of the day also reportedly stayed there as well, including Norma Shearer, Louis B. Mayer and Irving Thalberg, among others. It eventually fell into disrepair and was torn down in 1956. Today, the Kodak theater, home to the Academy Awards ceremony, stands on the same spot.
Not a classic of the era, Hollywood Hotel still manages to entertain and any movie buff with an interest in the glamour of old Hollywood will enjoy watching it.
Reviewed on:
January 5th, 2013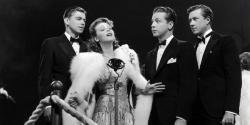 That's a very young Ronald Reagan on the left in Hollywood Hotel.
Hollywood Hotel marked the end of the successful Warner Brothers/Busby Berkeley partnership that had begun with 42nd Street in 1933. As Scott said, gone were his trademark overhead shots with legions of chorus girls creating intricate isometric patterns on spectacular sets. Public tastes had changed and Berkeley changed with them. He would continue to direct musicals (including several of the immensely popular Judy Garland/Mickey Rooney Backyard Musicals) over at MGM in the 1940s.
The closest he comes to one of his earlier over-the-top production numbers is during the song, 'Let That Be A Lesson To You' (by Johnny Mercer and Richard A. Whiting) performed at a drive-in diner by Dick Powell and nearly the entire cast, including Benny Goodman and His Orchestra. Patrons in cars join in on the fun while the owner of the diner reacts in frustration.
Hollywood Hotel is one of those fanciful behind the scenes looks at the movie industry wherein real life celebrities such as Benny Goodman play themselves while a famous star like Dick Powell plays an aspiring unknown. It is a wonderful homage to 1930's Tinseltown. During the famous opening number iconic landmarks float across the screen like The Brown Derby, The Ambassador Hotel, The Trocadero, and Grauman's Chinese Theatre (Sid Grauman himself appears in a cameo). There is also a romantic moonlit scene at the Hollywood Bowl.
Scott, I'm surprised you didn't mention a baby-faced Ronald Reagan makes a brief appearance as the radio host at the premiere (see photo). It was a part he would reprise a few months later in the James Cagney picture Boy Meets Girl. He looked the part of the movie star but wasn't a very talented actor. At least not until he made it to the White House anyway.
I agree Hollywood Hotel is quite funny. When Mona Marshall discovers that her double was sent to the premiere in her place, in an outraged voice she declares, "That's forgery!" When Mona's very effeminate costume assistant states, "I want a pair of very, very high-heeled jeweled sandals!" Glenda Farrell as Miss Jonesy quips, "What are you gonna wear 'em with?"
The Lane sisters bear a striking resemblance, which of course isn't unusual in siblings, but it becomes a bit more impressive when you learn that Lola was 8 years older than Rosemary. Rosemary had the more challenging role however as she had to play both the nice girl as well as impersonate the spoiled star.
Hollywood Hotel clearly influenced Singin' in the Rain. Lina Lamont is quite similar to Mona Marshall and the plot device of having one character dub the singing voice for another was done first here. Of course this movie cannot hold a candle to that one but it is worth mentioning.
Hollywood Hotel is not only an amusing little big band musical, it's also a genuinely priceless time capsule of the glamour of golden age Hollywood.

Reviewed on:
June 8th, 2013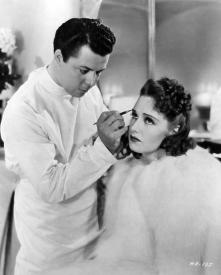 Rosemary Lane being made up to look like her sister Lola in Hollywood Hotel
Rosemary and Lola Lane were two of the five Lane sisters. Priscilla was the most famous, appearing opposite such stars as John Garfield, James Cagney and Cary Grant. The three Lane sisters starred in a series of films together about four sisters. Gale Page playing the fourth sister. Four Daughters (1938) was nominated for an Academy Award for Best Picture. It did not win but spawned two sequels, Four Wives (1939) and Four Mothers (1941).
As my brothers wrote, Lola hams it up big as Mona Marshall. Her diva over-acting is one for the ages and this is coming from a film loaded with obnoxious characters all vying for the spotlight. Mona's father and sister (not played by a Lane) do their best to steal every scene they appear.
That is the film's biggest asset. It throws so many wacky characters at the audience that at least one is likely to amuse you. Mona's father is good for one liners, "April fools in September." The fashion designer, that Patrick mentioned, who was sarcastically named Butch, says of a dress he created for Mona, "If your fans don't explode when you walk into that premiere tonight, I'll tear it to pieces!"
Hollywood Hotel though, belongs to Lola Lane as Mona Marshall. She shares one scene with her sister Rosemary at the film's conclusion. Lola walks up to her sister and demands, "How dare you go around with a face like mine!"
If memory serves, as kids Patrick borrowed a record album from the local library that contained this film's version of "Hooray for Hollywood." I recall at the time thinking that the lead singer was a woman, but this film made it somewhat clear that it was a man. The musical numbers do become intrusive near the end. Besides the theme song, the only other one that stayed at all with me was, "I'm Like a Fish out of Water." It is corny as all hell, but it is repetitive enough to stay in your head, "I'm like a fish out of water when I'm with you..."
Photos © Copyright Warner Bros. (1937)