Movie Review
Hitchcock
Behind every Psycho is a great woman.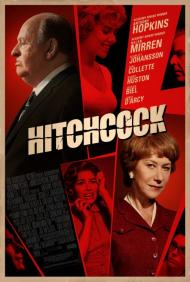 US Release Date: 12-07-2012
Directed by: Sacha Gervasi
Starring
▸
▾
Anthony Hopkins

,

as

Alfred Hitchcock
Helen Mirren

,

as

Alma Reville
Scarlett Johansson

,

as

Janet Leigh
Toni Collette

,

as

Peggy Robertson
Danny Huston

,

as

Whitfield Cook
Jessica Biel

,

as

Vera Miles
James D'Arcy

,

as

Anthony Perkins
Michael Stuhlbarg

,

as

Lew Wasserman
Ralph Macchio

,

as

Joseph Stefano
Kurtwood Smith

,

as

Geoffrey Shurlock
Michael Wincott

,

as

Ed Gein
Richard Portnow

,

as

Barney Balaban
Wallace Langham

,

as

Saul Bass
Richard Chassler

,

as

Martin Balsam
Josh Yeo

,

as

John Gavin
Paul Schackman

as

Bernard Herrmann

Reviewed on:
December 2nd, 2012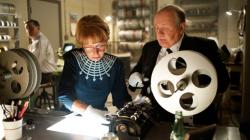 Helen Mirren and Anthony Hopkins in Hitchcock.
"Call me Hitch, hold the cock." is the slightly naughty pun with which Alfred Hitchcock introduces himself in Hitchcock. This gives you a good idea of the type of wink at the camera humor in this clever and well acted look at the behind the scenes goings on during the making of one of Hollywood's most celebrated horror films, Psycho.
Anthony Hopkins and Helen Mirren both give Oscar worthy performances as the iconic director and his wife of many years, respectively. Hopkins, who once met the real Alfred Hitchcock years ago in a restaurant, does a flawless imitation of the iconic director. He has the voice and mannerisms down pat. Mirren has the easier role in the sense that modern audiences aren't familiar with the way Alma Reville looked or talked. But she creates a believable woman who was, in her own way, as remarkable as her universally recognized husband. After playing Leo Tolstoy's wife in The Last Station she's got a great late career run going playing the wives of famous creative geniuses.
Hitchcock reminded me a bit of last year's My Week with Marilyn. Both are set during the making of a specific classic movie and both of them deal with the behind the scenes drama that ensued. Also like that movie, Hitchcock is at its most entertaining when recreating scenes from Psycho or showing the famous actors in the cast interacting off camera.
Of the cast of Psycho, Scarlett Johansson gets the most screen time as Janet Leigh. She looks the part in that blond wig, especially when recreating scenes of Janet Leigh as Marion Crane driving a car while lonely stretches of highway are rear projected behind her. Jessica Biel gets a few good scenes as Vera Miles (Hitchcock's former muse who angered him by turning down the starring role in Vertigo). James D'Arcy gets much less screen time as Anthony Perkins. Unlike Scarlett Johansson he doesn't get to recreate any of the scenes from the movie as Norman Bates.
Ed Gein, the notorious serial killer that inspired Norman Bates (as well as events depicted in The Texas Chainsaw Massacre and the character Buffalo Bill in Silence of the Lambs) gets shown in dreams and/or the imagination of Alfred Hitchcock throughout the movie. In fact he plays a bigger part in the story than the character he inspired, Norman Bates.
The focus often strays from the making of Psycho to petty jealousies between Alfred and Alma behind the scenes. In some ways it's more of a cinematic love letter to Alma Reville (aka Mrs. Alfred Hitchcock, the woman behind the famous profile in silhouette) than it is an homage to the movie Psycho. Still the story draws you in and gets better as it goes along. The ending is a fitting tribute to the legendary director (with arguably the most celebrated career in the history of film) and his loyal wife, a woman that played an essential part in her husband's success.
Like the man himself, Hitchcock the movie balances sly humor with hints of something sinister lurking beneath the surface. At any rate the man was a storytelling genius whose passion for film-making comes across in every scene. And for those unaware of her enormous contributions to his career, Hitchcock at long last turns the spotlight on Alma Reville. Together the two of them crafted a movie legacy that will echo across the centuries.
Reviewed on:
December 9th, 2012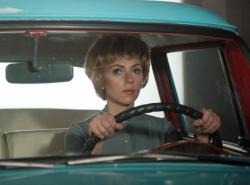 Scarlett Johansson as Janet Leigh in Hitchcock.
Alfred Hitchcock is arguably the most famous film director of all time, and yet he never won an Academy Award. He was nominated five times, with the final nomination coming for Psycho. In 1968, the Academy would honor him with the Irving G. Thalberg award, for which Hitchcock, who reportedly wasn't too impressed with this late career sop, would deliver one of the shortest acceptance speeches of all time. Perhaps the Academy dismissed him year after year because as a director, even though he advanced the art of filmmaking, his primary concern was entertaining audiences. It's an attitude the makers of this film seem to agree with. It's a very enjoyable look at the making of a classic Hitchcock film, but those seeking a deep or thorough look at the famous director, will probably be disappointed.
As Patrick wrote, the best scenes in the film are the ones that focus on the actual making of Psycho. Mirren is a great actress and the relationship between her Alma and Hopkins' Hitch is at the heart of the story, but their marital difficulties are the least interesting scenes. Featuring the Ed Gein character as a ghost like figure haunting Hitch is an attempt to add some darkness to the story, but they too simply take time away from the making of the film. Those other scenes aren't bad, but Hitchcock works best as a lighthearted glimpse into the making of a famous movie.
I was rather surprised at the limited amount of screen time that the Anthony Perkins character was given. This is probably due to Johansson being a much bigger star than D'Arcy as well as being much sexier. It's a pity though considering what a good imitation D'Arcy does. The few scenes we are shown of the movie being filmed mostly focus on Johansson, including of course, the famous shower scene. Giving Johansson plenty of screen time also allows the movie to comment on Hitch's well known blonde obsession.
Although I enjoyed the making of Psycho portions the most, at its heart, this is a love story between Hitch and Alma. It's not a passionate one, but a loving partnership that lasted decades. Hopkins and Mirren do excellent work, believably playing a married couple who have worked and loved together for decades.
I don't know that I would call Hopkins imitation of Hitchcock to be flawless, but his performance certainly is. Buried under mountains of prosthetics, he never allows himself to be hidden by them. I don't think I've ever seen Mirren deliver a bad performance and she certainly doesn't break her streak here.
This could have been an in-depth biography of Hitchcock or a psychological examination of the making of a movie, but instead the filmmakers went a route that surely Hitchcock would have approved of. They made a movie that might not satisfy students of Hitchcock's, but should entertain audiences.

Reviewed on:
February 3rd, 2013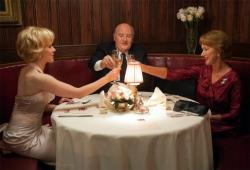 Scarlett Johansson, Anthony Hopkins and Helen Mirren in Hitchcock
As Scott wrote, this is not an in depth look at Alfred Hitchcock, but we do get some insight. Alma gets a bit jealous of how Hitchcock fawns over Janet Leigh. I got the feeling that Alma and Alfred went through similar arguments during every film they ever made together. At one point, Alfred wonders aloud to Alma whether or not Grace Kelly would be interested in doing the film. Alma snaps back that they cannot get her as she is now a princess
Although my brothers liked the parts featuring the making of Psycho, Hitchcock is very much a love story. Patrick wrote that it is a cinematic love letter to Alma, and although it does give her plenty of screen time, I felt the point of the film was to show just what each brought to the table. As Hitchcock surrounded himself with gorgeous blonde women, it would be easy to see him as a flirt with a wandering eye. However, He never garnered any such reputation and as far as anyone knows, he was always loyal to Alma.
Hitchcock has some very good lines. At one point Alfred is defending his contractual right to edit his own films. The studio suit responds, "It also states that Paramount doesn't have to release anything that might cause the studio embarrassment!" Alfred comes back with the snarky response of, "As opposed to those last five Martin and Lewis pictures you're so proud of?"
A scene near the end is quite romantic and also extraordinarily witty. Alfred says to Alma, "I will never find a Hitchcock blonde as beautiful as you." Alma exhales and smiles, "Oh, Hitch. I've waited thirty years to hear you say that." Alfred then gets in the last word, "That, my dear, is why they call me the Master of Suspense."
Photos © Copyright Fox Searchlight Pictures (2012)
Related Review