Movie Review
His Private Secretary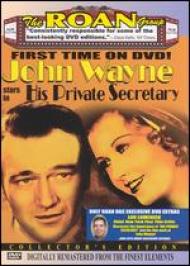 US Release Date: 06-10-1933
Directed by: Phil Whitman
Starring
▸
▾
Evalyn Knapp

,

as

Marion Hall
John Wayne

,

as

Dick Wallace
Reginald Barlow

,

as

Mr. Wallace
Alec B. Francis

,

as

Rev. Hall
Arthur Hoyt

,

as

Little
Natalie Kingston

,

as

Polly
Patrick Cunning

,

as

Van, Polly's Brother
Al St. John

,

as

Garage Owner Tom
Hugh Kidder

,

as

Jenkins, the Butler
Mickey Rentschler

as

Joe Boyd


Reviewed on:
January 14th, 2012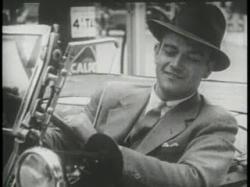 John Wayne in His Private Secretary
Until my brothers reviewed Baby Face, I never realized that John Wayne had made these types of films. His Private Secretary is a romantic comedy with John Wayne playing the romantic charmer. He pulls it off with a twinkle in his eye and a knowing smile.
The film starts like Arthur, with Wayne playing Dick Wallace, the son of a wealthy banker. Dick parties, drinks and chases women. His father grows tired of his son's lifestyle and forces him to get a job with him at the bank. His first assignment is to drive to a small town and deliver a foreclosure notice to a minister of all people. Dick also meets and falls for the Minister's granddaughter, Marion.
After plenty of pursuing, Dick finally gets Marion's attention when he gets an extension on her grandfather's loan. They marry and move back into Dick's place. Dick's father assumes his son's new bride is a gold digger, even before he meets her. To impress Dick's father, Marion accepts the job as his secretary, without him knowing it is his daughter-in-law.
This pre-code film is not big on sex but it has a few choice lines that might have been cut just a couple of years later. When Dick takes Marion to a party at his old girlfriend's, the old flame says to Marion, "Make yourself at home. Your husband always did. Didn't you Dick?" When Dick's father is looking for a new secretary, his nervous office manager finds a woman leaning over his desk saying, "I am a very experienced secretary." The manager catches her insinuation and says, "Too experienced I am afraid." "Aren't there any ladies left in the world?"
At only an hour long, His Private Secretary does not have time to overstay its welcome. It tries to say something about judging people, but it is really worth watching just to see John Wayne looking so young and playing a type of role you may have never seen him in before. Also, as a big fan of Fatty Arbuckle and Buster Keaton, I was surprised to see that their regular co-star Al St. John, has a cameo appearance in the film's funniest scene.
Reviewed on:
January 27th, 2015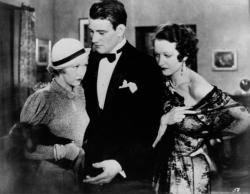 Evalyn Knapp, John Wayne and Natalie Kingston in His Private Secretary.
His Private Secretary is a Poverty Row production that has long been in the public domain. The quality of the surviving print is not good, couple that with the shoestring budget it was made on and it's a bit of a wonder the film is still around at all. If not for the presence of John Wayne it would almost certainly have been lost or destroyed long ago. This 60 minute motion picture makes for a nice rainy afternoon watch. It breezes by and for the most part is well acted.
The Duke acquits himself nicely in the role of a millionaire playboy. He handles the dialogue efficaciously enough. Early in the movie Dick comes home drunk. When the butler cautions him against waking his father, Dick whispers, "I'll let sleeping dads lie." Wayne is better than expected as a romantic comedy leading man. He pursues Marion with gusto and tenacity. He tells her the bus she is waiting for broke down in order to get her to agree to accept a ride home from him. Later, she sees the bus going by and realizes he lied to her. She is soon in love however, and once they are married she becomes determined to win over Dick's very disapproving father.
Evalyn Knapp had been in Hollywood since the tail end of the silent era. She played a leading role in the 1930 movie Sinners' Holiday but was overshadowed by her costars James Cagney and Joan Blondell, both of whom were making their movie debuts. She had a few other leads before making His Private Secretary. Her career peaked in 1933/34. In addition to this movie she was cast in the title role in the talkie remake of The Perils of Pauline serial – that had been such a hit with audiences back in 1914 starring Pearl White. In 1934 she made her most succesful film, In old Santa Fe, opposite Ken Maynard. She continued to act in movies throughout the 1930s before quietly retiring to obscurity in the early 1940s.
Knapp and Wayne make a nice onscreen couple. She was a solid little actress who was quite pretty and had great ankles, which she shows off proudly in several scenes. Seeing Wayne in a suit and tie, driving around in a fancy 1930's automobile, is indeed a curious sight. It's akin to seeing Andy Devine wearing a tuxedo in Midnight Mary (also 1933). Dick Wallace's transformation from playboy lush to faithful, hardworking husband is a bit on the abrupt side, but then love has been known to change a man.
His Private Secretary is a fun little romantic comedy starring a very young John Wayne in a role unlike any other in his long and storied career. That's reason enough to watch it.
Reviewed on:
November 29th, 2015
John Wayne and Evalyn Knapp in His Private Secretary.
John Wayne is given an acting credit 179 times on IMDB in a career that lasted from 1926 to 1976. An astonishing 83 of those credits came before his breakthrough role in 1939's Stagecoach. Although many of those early credits were bit parts, (1931's The Deceiver sees him credited as "Richard Thorpe as a corpse"), he also headlined many of these B-pictures for the Poverty Row studios, as he does with this one. Certainly, as my brothers said, it is his appearance in this one, in a character that is in such stark contrast to his later persona, that makes it truly worth watching.
Surprisingly, the film does have its charms even beyond the novelty of seeing Wayne in this atypical role. It's mildly amusing and features a cast of likable actors.
Eric mentioned a few of the racier lines. Wayne's horniness would likewise have been toned down after the Hayes Code went into effect. At the beginning of the film he has an eye for anything in a skirt. Although insanely innocent by today's standard, his leering, young man wouldn't have been allowed to be so overtly horny in a post code film. Even the odd choice of title seems to have a hint of raciness about it, with implications in the word "private". One of my favorite bits of humor was the perfectly innocent scene between Marion and Dick's father when she is able to give him advice, but when his male assistant tries it, he is fired for being nosy.
I agree with Patrick that the plot's weakest point is Dick's sudden transformation from playboy to monogamous husband. Knapp is cute enough, but her greatest attraction as Marion (I wonder if Wayne found it odd falling in love with a character who shared his real name?) seems simply to be that she's one of the only women to say "No" to him. He certainly falls back into his partying ways fast enough once his wife starts working late.
As my brothers said, at just barely over an hour, the film is quickly paced. It's ultimately rather forgettable, but pleasant enough as it goes along.
Photos © Copyright Colam Pictures Co. (1933)