Movie Review
His New Job
THE ONE AND ONLY CHARLES CHAPLIN IN ANOTHER IRRESISTIBLE ABSURDITY.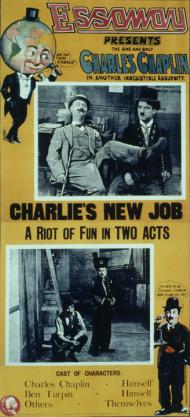 US Release Date: 02-01-1915
Directed by: Charles Chaplin
Starring
▸
▾
Charles Chaplin

,

as

Film Extra
Ben Turpin

,

as

Film Extra in Anteroom
Billy Armstrong

,

as

Extra
Charles Inslee

,

as

Director
Charlotte Mineau

,

as

Film Star
Jess Robbins

,

as

Cameraman
Charles J. Stine

,

as

Director
Gloria Swanson

,

as

Stenographer
Agnes Ayres

as

Extra, Secretary


Reviewed on:
December 6th, 2012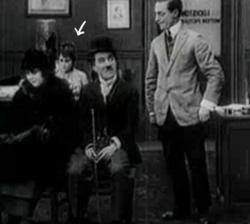 Yep, That is Gloria Swanson sitting behind Charles Chaplin in His New Job
His New Job is a significant silent film for many reasons. This was Chaplin's first film after leaving Keystone and moving to Essanay Pictures. Not only is the film's title appropriate, but the plot involves the Tramp getting a new job at a movie studio as well. Whereas Chaplin did it for a huge pay raise in exchange for his immense talent, the Tramp merely mucks everything up, whether behind the scenes or in front of the camera.
The film starts with Charlie being hired as a stagehand on a film crew. He works behind the scenes with Ben Turpin who was also just hired. They do not get along, resulting in Chaplin and Turpin disagreeing. Each argument seems to end with Chaplin lighting a match on Turpin, be it his neck, foot or butt. Chaplin eventually gets into costume and finds himself attempting unsuccessfully to be an actor. This all leads to a bit of a chase and more fighting.
This is likely not the first film to feature a plot about the making of a movie but it is certainly one of the first. As a fan of silent films, I found this to be a fascinating look at early movie making. Chaplin directs but the camera work is horrible. Several times an actor walks across the screen with most of their head out of the shot. Cameras in 1915 were often just placed in a stationary position but if the angle was not correct it resulted in an actors head being cut off or the action happening to one side of the frame, as also happens here. Chaplin and technology, had a ways to go in perfecting the art of film direction.
Another piece of history is in the casting. Agnes Ayres and Gloria Swanson both have very small roles. Ayres would go on to fame as the object of Rudolph Valentino's lust in The Sheik (1921). Swanson would soon star in her own comedy shorts before becoming one of silent films greatest dramatic actresses. As a fan of these silent stars it was quite a treat for me to see Chaplin and Swanson in the same scene. This was not Swanson's film debut but it may likely be the earliest surviving celluloid images of her. I found it interesting that this early film of her's is about the making of a Hollywood film and one of her last films was Sunset Blvd (1950) which also centered around Hollywood film making.
His New Job is not one of Chaplin's greater films. The Tramp merely messes everything up he touches, much to the dismay of all those around him. A few scenes caused me to smile but I mostly just found the value of this film to be in what place it held in silent film history.
Reviewed on:
December 8th, 2012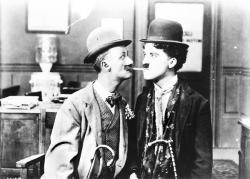 Ben Turpin and Charlie Chaplin in His New Job.
Any film buff could tell you that the motion picture industry began on the east coast, in New York and New Jersey, before moving West to Hollywood, but did you know that in the early years there was a motion picture studio in Chicago? Its name was Essanay (pronounced "S and A" after its founders George Spoor and Gilbert Anderson).
In 1914, Essanay lured Chaplin away from Keystone by offering him $1,250 per week, which is roughly equal to $30,000 in 2012. Chaplin only stayed with the studio for a year, leaving for even more money and more creative control, but during his one year with Essanay, he would create many memorable films, including The Tramp.
Because of Chicago's unpredictable weather, which reportedly Chaplin hated, Essanay also had a studio in California where most of Chaplin's work was done for them. His New Job is the only Chaplin film that was actually filmed in Chicago.
Although the character Chaplin plays in this short, looks like the Tramp and moves like the Tramp, he doesn't always behave like him. A trademark of the Tramp and Chaplin's later work is the pathos that makes the Tramp sympathetic and very human. This short is more like a cartoon. There's no real emotion and quite a lot of violence.
It's the violence that is intended to provoke the laughs, almost by the sheer quantity of it. Not much of it is particularly clever, but there is quite a bit of it. People get hit with hammers and planks of wood. Other times they're kicked, shoved and walked upon.
Much of the violence occurs between Chaplin and Turpin. Reportedly, Turpin didn't get along with Chaplin very well. He was impatient with Chaplin's directing style and probably didn't enjoy playing second fiddle to the Tramp.
I agree with Eric that this is not one of Chaplin's greater films. His best work provoked an emotion from the audience, something this short completely fails to do. It's as subtle as one of the many blows to the head featured within it.
Reviewed on:
December 11th, 2012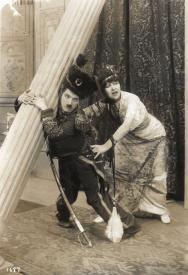 Charlie Chaplin and Charlotte Mineau in His New Job.
Having read Gloria Swanson's autobiography Swanson On Swanson as a kid, I have long been aware of the existence of Essanay Studios in Chicago, which was Swanson's home town. Although she didn't mention this particular film by name (not surprising since she has such a tiny role), she did write about meeting Chaplin...
"I worked for one whole morning with an English comedian who had just arrived from California. His name was Charlie Chaplin, and he was the highest-paid actor on the payroll. He had made some pictures in California and everyone said he was funny with his little mustache and seedy clothes. The management let him try out anyone he might like for a comic partner. He picked me and spent one morning trying to get me to work up routines with him. These all involved kicking each other in the pants, running into things, and falling over each other. He kept laughing and making his eyes twinkle and talking in a light, gentle voice and encouraging me to let myself go and be silly. He reminded me of a pixie from some other world altogether."
Eric mentioned Sunset Boulevard in which Swanson (as Norma Desmond) does a spot on impression of Chaplin's Little Tramp, no doubt helped by her memories of having spent that long ago day working with him.
As for this picture, I agree with both my brothers. It's a minor little effort in Chaplin's career. It has a few mildly amusing moments but is cruder than his better known later work.
Photos © Copyright The Essanay Film Manufacturing Company (1915)