Movie Review
High School Musical 3: Senior Year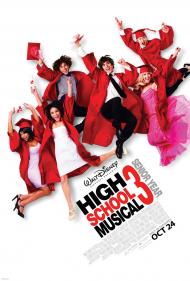 US Release Date: 08-27-2008
Directed by: Kenny Ortega
Starring
▸
▾
Zac Efron

,

as

Troy Bolton
Vanessa Hudgens

,

as

Gabriella Montez
Ashley Tisdale

,

as

Sharpay Evans
Lucas Grabeel

,

as

Ryan Evans
Corbin Bleu

as

Chad Danforth

Reviewed on:
October 29th, 2008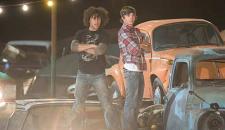 The boys are back, but do we really care?
Not since Mickey Rooney and Judy Garland played singing and dancing teenagers in a series of musicals, has a musical series been so successful. Like all of the predecessors before it, the High School Musical movies take place in Hollywood's most fantastic world; the place where a song and a dance routine can solve ones problems.
In a direct lift from Grease, the first Highschool Musical began with basketball star Troy Bolton meeting Gabriella over Christmas break, only to coincidentally have her start attending his school shortly there after. They fall in love and upset the schools musical stars, twins Ryan and Sharpay, by trying out for the school musical. The movie has a nice message of just being yourself.
Their budding romance, and love for singing and dancing carried them into a sequel. The plot was a bit stretched as the entire original cast ended up working at the same place during summer break. Sharpay's role increased as she had eyes for Troy. She also had one of the films most memorable songs, "Fabulous". The second film was about making your own decisions.
In this third film, it is now their senior year, and the plot is a mixed bag of both previous installments. Troy has a basketball scholarship to U of A and brainy Gabriella is going to Stanford. Their future together looks bleak, but who can think of that when there is prom, graduation and most importantly, a spring musical. By an extremely thin plot device, all of the cast members find themselves participating in it. Sharpay, has a side plot stolen from All About Eve.
Whereas this movie could have carried some emotional impact, it does not. These characters may never see each other again. Other than a convoluted plot of Gabriella moving away. This movie avoids the subject of growing up and parting ways for the most part. What we have instead is just a reworking of the other films. Troy is still at odds with his metro-sexual Dad, about what he wants to do with his future. Chad is still whiny about Troy not committing to basketball. Gabriella still hasn't learned to do anything other than smile. If any character has changed it is Sharpay. She is more unbelievable than ever.
The one thing that really sent the first two films through the roof was their soundtracks. They contain some of the most downloaded songs of their time. Now, the music seems a bit forced. The love songs between Troy and Gabriella are mushier than ever. The first two films had a "guy" song, "Getcha Head in the Game" and "I don't Dance." This time around it is "The Boys are Back." It features Troy, Chad and some other backup dancers in a junkyard. It seems tacked on as it has little to nothing to do with the plot. The only song that stuck with me and my 12 year old, who is a huge fan of the series, was the big finale.
High School Musical 3 had a big opening weekend. It has a huge fan base. It is good to see that a G-rated film can still make money. Troy and Gabriella barely even kiss. However, in the long run, the first High School Musical movie will far out last its sequels.
Photos © Copyright Walt Disney Pictures (2008)