Movie Review
Heroes for Sale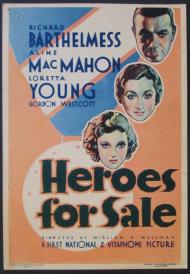 US Release Date: 06-17-1933
Directed by: William A. Wellman
Starring
▸
▾
Richard Barthelmess

,

as

Thomas 'Tom' Holmes
Aline MacMahon

,

as

Mary Dennis
Loretta Young

,

as

Ruth Loring Holmes
Gordon Westcott

,

as

Roger Winston
Robert Barrat

,

as

Max Brinker
Berton Churchill

,

as

Mr. Winston
Grant Mitchell

,

as

George W. Gibson
Charley Grapewin

,

as

Pa Dennis
Robert McWade

,

as

Dr. Briggs
G. Pat Collins

,

as

Leader of Agitators
Edwin Maxwell

,

as

Laundry Company President
Ward Bond

as

Red
Reviewed on:
January 28th, 2012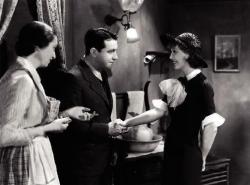 Aline MacMahon, Richard Barthelmess and Loretta Young in Heroes for Sale.
Heroes for Sale is another Pre-Code William Wellman picture with a social conscious. It tells the story of one Tom Holmes, from his capture by German troops during the First World War, through the 1920s and into the Great Depression years. Richard Barthelmess stars as Tom, a noble everyman who seems to encounter bad luck at every turn.
To begin with Tom is captured because a fellow soldier turns yellow. This coward's lies wind up getting him decorated with the medals that rightfully belong to Tom. During his time as a POW Tom becomes addicted to morphine. His junkie status causes him to lose his postwar job at a bank. The very same bank owned by the father of the cowardly soldier (a former friend of Tom's that begs him not to reveal his true actions on the battlefield).
Tom eventually gets clean in rehab, heads to Chicago and starts a new life. He marries (Loretta Young) and has a son. His enterprising ways allow Tom to work his way up in a laundry company. He helps an eccentric communist neighbor patent a laundry invention. Just when things are going swell, tragedy strikes when Tom gets mixed up in a protest rally that turns violent. There is a shocking death and Tom serves 5 years in prison.
Made during the depths of the Great Depression, Heroes for Sale paints a bleak picture of the American Dream as seen through the treatment of one returning war hero. Richard Barthelmess is quite convincing in the role. Although he sometimes had a tendency to overact he pulls off the role of Tom Holmes quite nicely.
Robert Barrat gives a properly broad-stroked reading to his showy role of the hypocritical inventor neighbor, Max Brinker. One minute he's condemning capitalism and the next enjoying the financial benefits of it, while callously turning a blind eye to the needs of the poor right in front of his face. At one point Tom says to him, "You used to hate the capitalists." Max replies, "Naturally. That was before I had money."
Loretta Young brings a touch of homespun class to her role as the devoted wife and mother. But character actress Aline MacMahon gives the finest performance of the movie as the kindhearted Mary Dennis, landlady and best friend to the Holmes family. She was as adroit at delivering a sassy quip as she was at affecting an emotional expression. Sharp eyed viewers may spot the ubiquitous Ward Bond in a bit part as a communist protestor.
The plot is a bit episodic and at times overwrought but Wellman stages the rally strike masterfully. It features a brutally realistic riot sequence that holds up beautifully all these decades later. Heroes for Sale is a fascinating, if flawed, Message Picture from one of the era's most prolific directors.

Photos © Copyright Warner Bros. Pictures (1933)
Related Review